Eclipse (@TheCegorach)
From PRIMUS Database

40
Changer of Worlds
Eclipse
Shadow Shaper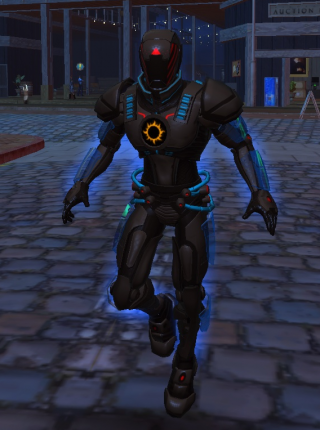 Freeform (Power Armor/Darkness)
Ranged DPS
Identity
Real Name
Gabriel Frost
Aliases
Birthdate
Birthplace
Chicago, Illinois
Power Origin
Magical accident
Religion
None
Alignment
Neutral Good
MBTI
ENTP "The Debator"
· Known Relatives ·
Caleb Frost (father)
Lena Frost (mother, deceased)
Jacob Frost (older brother)
Physical Traits
Species
Human
Ethnicity
Anglo-German
Gender
Male
Apparent Age
30
Height
6'
Weight
165 lbs.
Body Type
Fit
Hair
Black
Eyes
Blue
Skin
Caucasian
· Distinguishing Features ·
Other Characteristics
Scope
Superhero
Fame
Reclusive
Legal Status
Unregistered
Identity
Secret
Years Active
<1 year
Citizenship
American
Residence
Vibora Bay, Florida; Millenium City, MI; Paris, France
Headquarters
His home in Vibora Bay
Occupation
Antiquities Dealer
Education
MA, Archaeology
Marital Status
Dating
Powers & Abilities
· Known Powers ·
Darkvision
Summon shadow beings
Teleport via shadows
Form Shadow constructs
· Equipment ·
Powered Armor suit
· Other Abilities ·
Attributes
Strength
Weapon
Armor
Phys Res
Mag Res
Speed
Reflexes
Stamina
Dexterity
Agility
Combat
Regen
Energy
Psionics
Telepathy
Willpower
Sorcery
Tech.
Intel.
Knowledge
Charisma
Bravery
Wealth
Bio
Gabriel Frost was an antiquities dealer living in Chicago with an avid interest in Ancient Egypt and Hermeticism.  He made quite a bit of money selling genuinely magical artifacts to anyone who could afford them, heedless (even unaware) of the consequences, for Gabriel himself did not believe in magic.
This changed when he came into possession of a grimoire known as The Book of the Black Sun, after the black sunburst symbol on its front cover.  Though he could only decipher sections, Frost found himself captivated by the chronicle of a so-called "Plane of Shadow." Frost contacted a professor at the University of Chicago, Dr. Robert Carlisle, to help him translate the book. Unbeknownst to Carlisle, he also contacted several prospective buyers.
Frost hosted a meeting of the interested parties at Eclipse, his gallery in Chicago. It was tense from the onset; Carlisle was upset that Frost wanted to sell the book. Frost's girlfriend Devon took an immediate dislike to one of the buyers and threw him out. Frost and Carlisle were soon arguing about the translation, and the collectors started arguing about the value of the book.
In the midst of the discord, one of the buyers (Maya Devereux, an Ouroboros cultist), tried to simply take the book. She began firing magical rays, killing two of the other buyers. She attacked Frost, but he grabbed the Book and used it to block the ray. This opened a portal to the Shadow Plane, through which he and the others were able to escape.
They remained on the Shadow Plane for several days, until Frost gleaned enough from studying the Book to return them to Earth, where only minutes had passed. Repeated exposure to magical energies had affected all the survivors, albeit in different ways. Gabriel gained the power to summon a shadow creature, which he used to defeat Devereux, though the gallery burned down during the battle, killing all the employees.
In light of the loss of property and lives, Frost hired a tech genius to build him a suit of powered armor, which he now uses (with his few magical skills) in his crusade to stop evil cultists of all stripes, calling himself Eclipse in memory of those killed.
Powers & Abilities
Darkvision. Gabriel can see as normal in the dark.
Power Armor.
Summon Shadows. Gabriel can summon a variety of shadowy minions to aid him temporarily; they typically dissipate after a few minutes. In truth, this is simply an aspect of his ability to shape and animate existing shadows, rather than a true summoning power.
Shadow Demon (Void Horror) Gabriel is often accompanied by a levitating, shadowy creature of demonic appearance. Unlike the short-term shadows mentioned above, this Shadow Demon appears to have no restrictions on how long it manifests.
Shadow Shift. Eclipse can step into a shadow, and step out of another shadow. This is accomplished by passing through the Shadow Plane, so any magical barrier that prevents planar travel will block this ability. Also, at present, Gabriel's range is fairly limited--no more than about 50 feet. With preparation (and the Book), he can use this ability to transit between the Plane of Shadow and the normal dimension of Earth. Gabriel's studies in the Book of the Black Sun indicate that he should be able to use this ability to travel to the Shadow Plane, and from there to other dimensions, but he has not yet been able to determine how to accomplish this feat.
Shadow constructs. Eclipse can form semi-solid constructs out of shadows. At present, they only last about 30 seconds, and can be no larger than about one cubic foot in size.
Weaknesses
Gabriel's major weakness is his ignorance (and overconfidence) regarding the magical world. He was thrust into it unexpectedly with no preparation. He doesn't really comprehend the depth of the problems he's facing, and it remains to be seen how long it will take him to realize he's in over his head, and how he will respond once this realization sets in.
One prime example of this ignorance is the fact that, while his opponents have been (and are likely to be) primarily magical in nature, Gabriel has very little in the way of magical defenses. Another example is that he knows nothing of the organizations of the magical world. Though he was attacked by Ouroboros, and they are his primary opponent, Gabriel doesn't even know they exist. The only two magical organizations he knows of are the Trismegistus Council (who have contacted him through an intermediary), and DEMON, and though he knows there must be more to the puzzle than that, he doesn't even really yet know where to begin looking for more information. His only source of information so far on the magical world is a book written in the third century.
Gabriel is also somewhat impatient, and prone to leaping without looking. He loves to debate, maybe even lives to debate, a sentiment that few people seem to share.
Gabriel's ability to see well in the dark leaves him vulnerable to bright lights. This is not a concern while in his armor, which has automatic filters, but of course he doesn't always wear it. Even a bright day will give him intense headaches if he doesn't wear sunglasses.
Finally, without his power armor, Gabriel is simply an athletic human being, with all the vulnerabilities thereof.
Personality & Interests
Three-word description: Explorer, hands-on, bold
Interests: Gourmet food, Hermeticism, Ancient Egypt, sailing, auto racing, travel
Goals/Ambitions: Recover any magical artifacts he's sold; stop DEMON

Gabriel is pragmatic. He's fascinated by the Book of the Black Sun, and is avidly studying it, but he realizes it will take years to master the magical knowledge it contains. Therefore, he uses a suit of powered armor to supplement his limited magical ability.

Gabriel's father started out poor, but is now owner and CEO of his own (small) pharmaceuticals company. Gabriel himself took out a loan (rather than using his father's money) to start his own business, and built it up over a decade. He's a hands-on kinda guy, who goes for jeans and a mock turtleneck, rather than suits and tuxedos. He can dress up when necessary, but prefers not to. He regards himself as self-made and proud of it. He has a chip on his shoulder re: old money snobs who've never gotten their hands dirty.

Although generally pretty easy going, he hates being called "Gabe."
Family, Allies & Contacts
Caleb Frost - his father. CEO of a (small) pharmaceutical research firm in Chicago.
Jacob Frost - his older brother. An oncologist in Chicago.
Mary Elizabeth Frost - Jacob's wife; a hospital administrator. They have three children: Regan (20), Thomas (19), and Brigit (16). She is the older sister of the superhero Aegis, another member of the Black Sun SG.
Jan DeVries - his personal assistant. A friend of his sister-in-law, Mary Elizabeth.
Gwen Booth - manager of the new gallery, Penumbra.
Jason Price - senior partner at Lowell & Price (his accounting firm).
Mitch Warnigan - head of security (home + gallery)
Tiffany Hart - old friend from college, now his business manager, since he now devotes most of his time to being a superhero
Kassandra "Kassy" Lovett - local VB minor mage, and his link to The Trismegistus Council
Arshut Waddani, aka The Phoenician, a Middle Eastern superheroine who frequently allies with Black Sun.
Enemies
Ouroboros (the Dragon cult). Gabriel is currently unaware of their existence. They know of Maya Devereux's death during the incident at the gallery, however, and are sure to retaliate soon.

DEMON. Black Sun has been made aware of DEMON by the Trismegistus Council; in fact, the members believe (incorrectly) that Maya Devereux was a DEMON cultist.
Captain Nicholas Hammonds. Former Chicago police captain, and the first opponent the newly formed Black Sun group faced after Maya Devereux. Captain Hammonds is strongly prejudiced against any kind of superhuman. He is now serving time for his self-proclaimed War on Mutants, during which it is believed that he (and the officers under his command) killed 6 superhumans (2 villains, 4 heroes).
Dr. Robert Carlisle. One of the people present during the gallery attack; on the first night in the Plane of Shadow, he disappeared without a trace. Unknown to Gabriel and the others, he was kidnapped and held captive by residents of the Shadow Plane for several years. They tortured and disfigured him until they grew bored, then turned him loose. Time flows differently on the Shadow Plane; when he returned to Earth, only a few weeks had passed. He is now hell-bent on revenge against those whom he believes abandoned him.
Rana Sakhalov. A Serpent Mage working for VIPER in South America. Black Sun traced two magical artifacts to what turned out to be a VIPER Nest in the Andes. They defeated the Nest and recovered the items. Rana is quietly gathering resources to strike back.
Hideouts
Gabriel has used his wealth to buy penthouse apartments in Millennium City and Paris, and, most recently, a large house in Vibora Bay, where he has transferred his base of operations.
RP Hooks
Gabriel sold an unknown number of magical artifacts before realizing that magic even existed. He's now, with the help of Black Sun, working to recover any magical items he's sold.
He's also just made contact with the Trismegistus Council, and would be willing to work with other heroes working with the Council as well.
Trivia
Named after the Pink Floyd song.
Ideal evening: Steak and beer with a bunch of friends, followed by poker

Pet preference: Dogs

Would like to travel to see/do: Unexplored places
Most important value: Discovery
Favorite memory: First date with Devon
Least favorite memory: Driving through Indiana at night, caught in a torrential rain, with construction on the Interstate and virtually no visibility for two hours straight
Favorite movie: Alien & Aliens
Favorite band/genre of music: Godsmack
Likes: Taking risks, meeting new people, being direct, new ideas, debates
Dislikes: Beating around the bush; secrets; old money families; sitting around
Tropes
Comments & Feedback