Professor Kilimanjaro
From PRIMUS Database
The author of this article has marked this as a creative work, and would prefer that other users not edit it. Please respect this, and unless repairing a typo, spelling, or other minor technical error, think of this page as read-only.
Affiliations

Super Group
Rank
Science Consultant; Founder
· Other Affiliations ·
The Aces of Freedom; The Kilimanjaro Foundation
Identity
Real Name
Dr.Thaddeus Kilimanjaro
Aliases
Science Ape, 'Tad', True name untranslatable.
Birthdate
1947
Birthplace
Africa
Citizenship
African
Residence
City Center, Millennium City, Michigan, USA
Headquarters
Moon Base Prometheus
Occupation
Scientist; Ambassadorial Envoy
Legal Status
Foreign diplomat with pardoned criminal record
Marital Status
Single
· Known Relatives ·
Professor Sebastian Kilimanjaro (father)
Physical Traits
Species
Gorilla
Sub-Type
N/A
Manufacturer
N/A
Model
N/A
Ethnicity
Silverback
Gender
Male
Apparent Age
35
Height
6' 0" (183 cm)
Weight
435 lbs (197 kg)
Body Type
Simian
Hair
Black/Silver
Eyes
Black
Skin
Simian
· Distinguishing Features ·
None
Powers & Abilities
· Known Powers ·
Finger wiggling; rhyming; making colored lights
· Equipment ·
The Efficacious Emerald of Erdon; The Blood-Red Bands of Borturazz; The Mystic Mirror of Mirobol
· Other Abilities ·
"This will be where there will be text from a fake comic book of the era. It will describe the character in some way, or perhaps be a pithy description by another character. The quote will be attributed at the end in the usual manner, although the source itself will be fictional with no resemblance to any persons living or dead intended. Void in Guam, Bolivia, Iceland and Tennessee." - Some Fictional Book #102.
Costumes
Current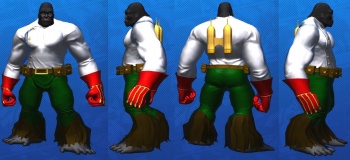 Field Work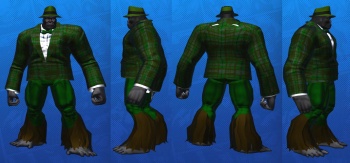 Origin and History
Secret Roots
the disguised story of the Secret City
Gorilla Delinquent
Dr.Thaddeus Kilimanjaro, then calling himself 'Tad', initially appeared in the early 1960's as the so-called 'Gorilla Delinquent'. Adopting the stereotypical image of a teenage rebel, he used his access to advanced technology to assist a number of minor criminals to evade and outwit law-enforcement until being captured by the hero known as The Molecule Man. He re-appeared intermittently over the next decade, almost always working for Mister Menagerie, and was frequently opposed by the Molecule Man. During this time, despite his criminal activities and antisocial attitude, he displayed an extreme reluctance to cause injury to bystanders or law-enforcement personnel.
Back to School
Dr.Kilimanjaro remained inactive for the next decade and a half, before re-appearing in the late 1980's, having received a Presidential pardon for his earlier crimes. Since then, and until recently, he has devoted himself almost exclusively to academia and scientific research, obtaining a number of academic qualifications.
The Aces of Freedom
In 2010, he and a number of other heroes joined forces to oppose the supervillain, The Green Man and thereafter, formed the superhero team, The Aces of Freedom. Since that time, he has served as the sponsor and sometime field leader of the Aces.
The Conclave
In 2010, he and a number of other heroes joined forces to oppose the supervillain, The Green Man and thereafter, formed the superhero team, The Aces of Freedom. Since that time, he has served as the sponsor and sometime field leader of the Aces.
Abilities
Powers
Power 1 - Put info on your power here. Be as lengthy as you like. Power 2 - Not every hero HAS powers, of course, in which case the powers section can be deleted. Power 3 - Just take everything from the HR tag above the Skills section, up to the "Powers" sub-header, and delete it. You can also edit the Main Header to take the word 'Powers' out of it as well.
Skills
Skill 1 - Skills are the things your character has learned to do, or has an innate talent at doing. Skill 2 - These skills can be as mundane as painting, to more fantastical things such as enchanting items. Skill 3 - If your character has no particular skills worth noting, feel free to follow the same directions as shown for the 'Powers' sub-header on how to remove this section.
Attributes
Attribute 1 - Attributes are physical or mental traits, separate from powers in most cases, though possibly enhanced by them. Attribute 2 - Attributes can be things such as flexibility, or being naturally acrobatic, or good eye-hand coordination perhaps. Attribute 3 - Again, like the last two, if you have no use for it, delete this section. You can also ALTER the section if there is something missing that you would find more fitting.
Equipment
Gear
Weapon - Gear and equipment are the things your character carries around and uses. These can be things like weapons and armor. Armor - Feel free to use this section to name and describe the gear that your character uses, if any. Be, again, as lengthy as you like. Gadget - If this section does not apply to your character, feel free to delete it. Also feel free to add more sub-headers as they apply, such as for a vehicle, perhaps, and that vehicle's statistics.
Relationships
Lover
This section is specifically for a spouse, lover, or some other form of paramour. Feel free to use any of the formatting from 'Friends/Allies' below.
Friends/Allies
Put any friends or allies your character may have in here. You may give them descriptions or simply list them. To make a numbered list, simply place a # at the beginning of each new line:
This guy
That guy
Some chick
For a non-numbered list, put an asterisk instead (the lines are optional. Simply remove the HR tags if you wish to remove them):
This guy
That guy
Some chick

Or, you could even use a smaller sub-header for each person, effectively creating a small section on them, like this:
That Guy I Know
Put info on the friend here.
That Chick I Met
And here.
Some Dude at the Bar
Don't forget this one.
Enemies
Put any rivals or enemies here. You can give descriptions, or simply list them. Same idea as the Allies and Friends.
Inspirations and Creator's Notes
Put here the way your character would be perceived by the general public. This means, the things that the general public would know, how the media would portray them, things people might know without ever having met the character.