Revelation
From PRIMUS Database
Revelation
Player: @Spiritdo3sarchon
Personal Data
Real Name:
Morgain-Alexandra Pearson
Known Aliases:
Rev, The Foresight of the Apocalypse, Christina Harrison
Species:
Dark Angel
Ethnicity:
White, British
Age:
3,554,312
Height:
5'9"
Weight:
150lbs
Eye Color:
Glowing Cyan/Light Blue
Hair Color:
Revelation: White, Morgain: Black with White highlights, Fusion: White-ish grey
Biographical Data
Nationality:
British Citizenship, American Citizenship
Occupation:
Bassist, Singer, Songwriter, Doctor, Fortune teller, Prophet
Place of Birth:
Morgain: St Albans, London, England. Revelation: Heaven
Current Residence:
Millennium City, Michigan
Marital Status:
Engaged to Jason Phillips
Known Relatives:
None

==Warning: This Page follows British laws==
==Warning: Adult themes==

"Who said the world ends? Me! So shut up.. You can keep your false predictions, My predictions are actually accurate. So make sure you don't contort my words with yours.. You say 2012? I say no.. Nothing. There's more chance of a sheep crashing into the earth from space and that is saying something"
History
Revelation's life has taken many turns within Three million years, The recent history is what has become of her from being a Teenager in Angel years all the way up to her life as a full grown angel
Life story:
Life of an Angel
Dark angel walking through the corridoors of time
Life in Heaven
Revelation from being a young age always was seen as a strange angel, Her real name was Micah, Her eyes glowing constantly from birth, non-stop, Even in her younger years she would get these terrible horrifying visions of this planet burning, destroying and catalyzing itself having no choice with her vision, some of the other angels even began to call her a "Weirdo" with these visions, Eventually she decided one day she would draw what she had seen in this strange book that her Grandfather had given her, The book was rather bland, Black and had a slight outlining beveled in, In which she carved her own name into the front of it with the title of the book calling it "The Book of Revelation"
This book appeared on her person quite a lot, She even attached a chain to it which would link with her belt, all the way through the school years up to being a teenager she kept it on herself like a handbag, The bullying only got worse in the Higher school before the academy, Causing her to always end up in fits of tears from the others, no'one would ever come up to her apart from the elders, Gabriel himself took it upon himself to look after her for a brief period of time until one day.. She had enough.. one day.. She decided to make it all go away, She stood back up to them which wasn't a smart move, At the time she wasn't much but a weak little girl to the others, They started to hit her and not stop until she had the most violent vision of her life, Causing her wings to shoot out of her back prematurely, Her wings black like the Under Earth, large and powerful for her age, Covered in Blood from her shoulders as they ripped through her skin gaps. This.. Changed everything. The other angels saw her as a blight now naming her harshly "Outcast" Constantly on at her, Every angel now apart from the odd few that felt sorry, Gabriel's stubbornness won over and he left on her own at the equivalent age for a human of 18, She fended for herself for a very long time, picking at the scraps, training herself, thinking how she can improve, obviously she learnt to hide her wings which came in handy, but the eyes always gave her away causing much more grief and name calling, finally she submitted herself to the overpowered nature of the other angels. Dropped herself down to the planet Earth using the great stairway to heaven.
The God being observed her action, Kept sight behind her watching her walk down the stairs as she teared up with that book in her hand, a small bag of items all runed so that they would fit into this teddy bear shape all very snuggleable. God couldn't stand to see such a thing so the being decided to pay her a visit on the stairway. Sitting in the steps in front of her as she kept her head down, Of course God always knew of Revelations issue. As she then bumped into the figure unintentionally, The being was wearing a long white robe covering its head and body, she couldn't hold herself up straight, She simply fell to her knee's on the steps in which the being caught her and its hood removed to reveal a beautiful woman with a radiant aura, Golden hair and glowing white eyes smiling upon Micah, Micah herself didn't know what to do as she simply didn't know who this being was the first words uttered by the being "I have seen you my child. I have watched you in such pain for years, I did not wish to watch, but I've never seen such a child as yourself be so powerful in here" The being points to her chest "And in here" Which is then followed up by the tap on the head "You can see.. What is needed.. You can give the people hope of this world you are leading to. You can change their path.. I wish for this my child. Please do so and I will take care of you like a parent. Sad tragic that your parents died in the Attacks.. But now they can be redeemed." She strokes Micah's face gently as Micah then rises her head to God "But.. I just want to leave.. I have done nothing.. Why do they hurt me?" The being frowns "Because you are different. I am different, but I ended up better then those because I held my head high. Will you accept the task of redemption?" Revelation stares at her "If this means I can end up the better person I shall.. I shall do it for you!" The being smles "Thank you my child." It then vanishes and the stairs still are laid out before Micah as she steps down them slowly making her way there.
Life on Earth
She kept stepping down the stairs eventually until the land was flat, in that moment the environment changed in an instance, She was stood in this room with a load of Latin men shouting at each other about a book what they wanted inside of it and what they wanted out, as soon as they noticed Micah, silence hit the room mainly in shock as she tentatively walked forward to this one dominant figure stood in the room, he simply stared at her, Micah herself heard a voice in her head, a familiar one, The being from the stairway as it whispered "Copy the book and hand it to him.. if you need to copy it, Just will it." Micah then holds out her hand as she starts to Will for this book to copy in every exact detail, The book then seemingly glows hanging from the chain before it imprints itself onto her hand causing it to form into a copy, The room stood in awe by her they did not know what to do. She gently and nervously hands out the book to this man before she runs to the nearest doorway out of there in a nervous manner, not knowing the year stood in these rather strange clothes compared to everyone else who were walking around a city dressed in white, then as she took a large breathe, air properly hit her lungs causing her to faint to the floor gently, a soldier spotted this act and took her to his house to be taken care of little did he know that after that moment she would not awaken for a Thousand years.
Her eyes slowly open with that glow in this rather dark room, her eyes illuminating the reflection of what she is in, walls around her a doorway sealed, she had no love for the darkness. her eyes peered up at the ceiling to see images of herself painted handing the book to a figure then disappearing into the darkness, She eventually got up after many degree's of trying to get used to her senses again, her mind racing at possibilities of her location and then.. She remembered what happened, her fainting, why she fainted, what caused it for so long but then, her hands starting to glow darkly, a black aura surrounding them as it started to feed from the environment around her building up around her wrists, she tried to shake it off in shock whilst she screamed out only to let it fling off her wrist and into the doorway causing it to smash completely outwards, The darkness then came back into her wrists and disappeared as she stared at the remains of that door standing up wearing a strange robe, Her book remaining on the chain around her waist, her body condition was almost perfect like the power kept her in this same form for such a long time, Nervously she stepped forward to the door to only find herself in a empty palace walls beautifully constructed with images of her in some of them, She couldn't believe what she saw with her eye's more shy then anything causing her to blush, almost like she was worshiped but even that wasn't the whole story, a single man came walking around in a completely different attire then what she seen last, a large robe dressed like a king as he approached her with a sword "I have always wanted to take your power, I'm so happy it has finally come!" In that moment she genuinely feared for her life causing that strange darkness to flair up around her wrists, The man charged towards her oblivious with the sword getting ready to slash her the blade slowly gradually getting closer to her, Somehow she then caught the blade with her darkness causing it to reform its position and shape into her hands slashing forward at the man slicing his chest open.
The sheer shock of her power caused her to drop to her knee's holding the sword in her hand, Blood started pouring onto her from the wound as the man fell back, She closed her eyes having a vision before they fired open, Four guards had appeared in front of her all armored up with swords and axes, in that moment the room fell dark, nothing could be seen, only the screams of terror from the men, After this moment she simply walked out the front of the palace covered in their blood, no'one trying to stop her because of the noises of terror, She had decided a new path from then on, to keep fending for herself but in this new world, keeping her visions for the future and her book to herself, The palace was on top of a hill looking over the city of Rome, On that moment she knew she had to make her way through time and survive somehow even with a power that terrifies her, left with a blade that she had shaped from her emotion and power.
After this moment she disappears completely from the public eye, only appearing in battles around the world, In Japan at first with the Mongol invasions, She retained her side to the Samurai, wearing armor that was made for her by them and her blade in the shape of a Katana that would reform larger with the power of darkness into a Naginata. She managed to hold off one of the Mongolian armies with the aid of a small group of Samurai, Clearly the Mongolian army thought that they couldn't be defeated by a mere woman and a small group. Little did they know how bad their loss would be. After the invasion's were repelled, the next time she appeared was during the Hundred years' war on the side of the House of Plantagenet, more notably the Battle of Agincourt, they said that Charles the VI's forces were swept up by this glowing dark figured lady with a large shining sword but not much else. Then more recently in the past 300 years they finally found her in another theater of warfare, The American civil war fighting on the side of the Union for the abolishment of Slavery, She tended to work alone but then in the battle of Five Forks, her projectile abilities came into use causing Major General Pickett to retreat against General Lee's orders. Which in future caused General Lee to Surrender afterwards. First World war and Second World war is unknown, Rumor has it she skipped out on both due to the life loss being too much to bare to watch for a angel.
She disappeared once again until re-appearing today after the Battle of Detroit, helping those in need at the time healing them and voiding the Qularr invasion's success Deciding to take up a life in Millennium city, Which she then met Caelite and the Remnants of Legends, Getting acquainted with them finally making friends after Thousands of years on Earth. And then.. God gave her a task... This task.. Was her most challenging.
Previous Life of a Strange girl
A Living Child's Hell Part 1
The name Morgain was a familiar one to some, Especially those that knew her before her death, Her beginnings dark and horrid, Her Mother was bitten before she was pregnant with her, only for her father to find out by his dismay when she was born, rather strange he never noticed why she disappeared for so long, what she told him that night changed everything for this child's life, An argument ensued between them major rage, Morgain herself in her cot did not seem disturbed by it, Of course this led to her father getting to the point of snapping the words "Fine! I will kill the child!" Caused her mother to Loose it, At that moment her mother drank her father dry, hid his body, no inquiry, no questions from the police, obviously this was St. Albans. Disappearances of people are common in that area for normal mortals, Simply put, this is the "Vampire's zone, Blood suckers and leeches alike!" When Morgain grew up without presence of her father she began to wonder why, Just before joining school she asked "Mummy? Where's my Daddy?" in which case her Mother cringed and replied "Your father left us my dear." Obviously this stuck in Morgain's head wondering why her Daddy had disappeared but then that was only the beginning of her troubles.
The Brief heaven in all of hell
When she was Ten Years old joining high school for the first time, she realized why her classes were in the day, why she had this strange urge to feed that she could hold, why the drinks she consumed tasted so strange, Obviously the tales were true, She was a vampire, Yet unlike the others she stared at her reflection and she got it back, finally, she discovered her fangs could extend, curious as she was she did not understand why other's of her age went into the sun, Then it dawned on her, that mind racing "What if I'm different. what If I'm weird compared to them? I really hope not.. I like my friends.." At this moment it all started. The calling of the names, The biting of her to taste that half human blood within, they always had to try and yet she remained strong until the age of 16.
This age was quite strange for her, She had to go under a different name in the day in the school if she went, The name was Christina Harrison, Taking on a second identity, Although she looked the same, Obviously some knew who she was, Finally her nervous self got the better of her at this age, Constantly getting bullied, one notable occasion was during the break time, Girls who knew what she was didn't hesitate to start hurting her, verbally and physically, of course her nervous nature and the threats from the other kids made her not tell, On this date she was getting hit by three vicious girls "You monster! There are no places for you in this school! why did they accept you? They bringing in blood suckers?" Hitting her body causing Morgain extreme pain, bruising and fracturing her mind more as her body gets dealt this punishment that is no fault of her own, hit after hit after hit, facing her face to the ground curled up in a ball whelping so much shaking and crying holding her hands over her ears.. Until..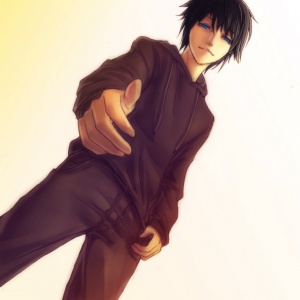 Silence.. No more hits.. no more anything.. She opens her eyes to see a glimpse of some guys feet between her hair, slowly her eyes widen to raise her head to him taking her hands off her ears only to see a man with a smile greeting her with his hand holding it out to pick her up gently, In this, She can't help but blush completely, The guy is out of uniform with black hair, Strange eyes, trembling gently as he offers his hand to her.
Her reply is that of the obvious taking his hand gently and getting pulled up, her blue and brown eyes looking into his a moment, as she still blushes trembling, The 16 year old introduces himself as being called "Ryan." of course. Morgain knew this as they have shared classes together yet she was always shy to say anything,still standing in front of him she doesn't know what to say "Are you alright? Your not too hurt are you?" Ryan speaks, still Morgain stays silent as If Almost stunned at which she opens her mouth to speak but words don't come out, "Come on. I'll take you to the Library. We can talk." Ryan Would gently lead her to the library slowly. clearly not knowing what happened to the girls Morgain would look back to find nothing there, Like they ran away, Ryan Escorts her gently by taking her hand leading her into the Library and sitting her down "Now.. Your Christina.. Aren't you? I've seen you in class.. You're very quiet.. I've seen you looking a few times at me. Thought I wasn't looking?" he Gives a little smirk to her, She then blinks a few times and replies "Well.. I admit that.. But.. I., was to nervous to Approach.. Ryan.." Her voice rather gentle as she then cringes a little sore putting a hand to her left side of her rib cage, Ryan frowns and looks a bit concerned "Are you okay?" He tries to touch it before she nervously moves away from his hand a bit before then entrusting him with it as he did just help her, His hand gently presses to her rib gently and something clicks inside Morgain's head, Blushing furiously looking at Ryan, Clearly Ryan was someone she had a attraction for, He gently analyses it "Hmm.. Bruised.. You need some rest.. I can take you to Medical?" She then shakes her head very fast "N..no not medical I don't like it" Which causes him to raise a eyebrow "Fair enough.. Its the end of the day soon got English next. which way do you walk home?" Morgain cants her head gently "I think the same way as you.. I can't remember.." Ryan replies "Well we can walk together if you like." Giving her a very kind smile Causing her to blush some more "I.. I would like that Ryan.." in which she then smiles a bit more confidently to him and then standing up without issue, He'd give a chuckle "Feeling better already?" which she replies by nodding her head "I can do today.. don't worry about me.. I guess.. I'll see you in English?" Gives him a little eyebrow raise smiling, Ryan nods slowly "Take care Christina." Morgain walks off slowly looking back at him exiting the library and walking to her class. Ryan then appears on time as Morgain tends to always be early sat in her seat watching him sit down in the seat in front of her which he looks at her for a moment then stares straight ahead at the board as the lesson begins.
When the lesson Ends. Morgain picks up her bag from underneath her table and taps Ryan's back gently with a finger, They are both being observed by two girls in the class, Two of the girls are regular bullies, they keep observing, Morgain then says "Still want to walk home?" to Ryan enthusiastically, Ryan turns around and smiles to her gently "Sure." they both get up slowly and walk out of the class together. heading down the corridor and out the doors "So tell me more about yourself Christina." later on that day when she has returned home.. She notices her mind constantly drifting onto the thought of Ryan, Lay down frontwards on her bed in her room with her boots off, In her white school shirt, Black pleated skirt and tights, Lifting her legs together, with both of her hands holding her chin up, Just thinking about him and that she'll now be safe from bullying for a evening completely. Not able to hold back a smile and blush not able to do anything because she's too busy with thought yet so nervous. Even when she went for dinner, She couldn't help but constantly think all dreamy her Mother saying "Whats up with you? Someone given you something?" Simply she didn't reply constantly thinking. During the night lay in her bed sleeping a blush comes across her cheeks as she smiles sleep talking "R..Ryan.." Dreaming of him, The next few days she saw him in school, they would talk, hug, The bullies wouldn't come near her as he seemed to keep her safe by his presence, Becoming really great friends. Sometimes even sharing their lunches and giggling about it later. of course Morgain's nervous nature caused her to blush a lot, Yet Ryan didn't point it out yet sometimes he blushed.
Going on Two weeks after the incident Morgain at the end of the day in English Seems to have Ryan's full attention, He is turned around completely talking to her about what aspirations he has for the future, She replies in kind yet then a thought pops into her head which causes her to blush severely during this talk, when the talk finishes she offers Ryan "W..Would you like to.. C..come to my house Ryan?" Very gently her voice speaks. quite nervously, yet his response what not what she had expected, He simply accepted with a Nod "Sure I'd love to come Christina." Morgain's nervous nature causes her hand to grasp his tightly, slinging her bag on her shoulder she pulls him out as he has barely enough time to grab his own bag but skillfully manages to collect it and follow, On their way home She keeps acting rather strange to his eyes avoiding eye contact for the moment and having such a blush on her face that she couldn't help it, Clearly the thoughts running through her head were so nervous to her, When they arrive she tries to unlock the door with her keys only to drop them nervously which Ryan then fetches "Here.." He gently unlocks the door letting her walk in first in which she shouts "Mother! I'm home! Brought a friend with me!" She sighs as there is no response "She must not be in.. I never know what she's doing at these hours.." Very tentatively she would lead him in to close the door behind her, The house is such a lovely large place. Clearly rich for a reason Morgain doesn't know herself, after giving him a tour slowly she would lead him upstairs. Him first as she gently pushes him into her room, she couldn't help it at this point, her nervous nature taking over as she didn't know what his reaction would be to her room and lifestyle, the posters of bands on the wall like Panthera and Metallica, by no fault of her own as she follows him in, she trips over the metal door separator at the bottom squeaking, Ryan is quick to react turning around to catch her only to loose his balance on stumble onto his back with Morgain on top of him. With her eyes closed at this point she then realizes this is it as Ryan starts to speak "Are you o-" She leaps forward with her hands pressing them to his cheeks grasping the moment letting her lips leap to his fastly in her first ever kiss.
Embracing those surprised lips of his, Clearly in shock Ryan doesn't know how to respond other then to just kiss, she pulls back slowly and looks down thinking she had did the wrong move as Ryan lays shocked, Whilst Morgain isn't looking he licks his lips to taste her more, slowly he brings his left hand to life her chin up slowly leaning in and kissing her so gently and passionate, This time Morgain's eyes widen before she submits clearly as this is what she wanted, Morgain really thought it would be a long shot using too much of her head, eventually that whirring mind shuts off, the feeling of his lips completely overtaking her thoughts, actions, wants. Ryan would continue kissing in that same nature, Morgain's hands would stroke against his chest, such relief from finally showing they have each other. Eventually they'd break, Holding each other so close on the floor, Morgain would then look in his eyes, unable to stop until Ryan would say "So.. this is what you brought me here for? So that we could.. Kiss." He'd give her a gentle smile grasping one of her hands gently squeezing it as she would blush furiously red, Nodding fast to him, her eyes don't turn, not wanting to turn, only wanting to stare into those pools, those arms of his gently lift her up slowly starting to approach the bed to place her upon it and look in her eyes "So finally I know why you stare.." From his voice Morgain blushes full faced to him as she lays there using her right hand slowly moving his left arm around her tummy and back "I.. I. I love you Ryan."
On that same night little did they know their love would expand in such a amount, Her Mother did not come back that night, no'one know's why. Morgain knew how to cook a few things but not many so she made what she could for him and her, clearly she was used to it by now having to make food for herself sometimes. Once they had finished eating she decided she'd take him upstairs and watch TV for a while.. The TV did the talking.. They did the kissing. kissing for hours and hours upon end before.. it was finally dark. The street lights outside radiating her curtains creating star patterns on the ceiling walls and all around. Morgain became more Confident after that time kissing realizing her shirt had come down a few buttons, Her skirt had come up a bit revealing that bit of thigh for her thigh-highs she was wearing, Not noticing until finally they separated a longing deep passionate kiss, Ryan's eyes drifted down to see the shirt and skirt up, giving a soft blush noticing what he had caused, his hands still gently on her sides as she stared at the cheeks "W..What? did I do something wrong?" Morgain asks clearly concerned, her eyes gently wander down herself to see those buttons undone to just above her bra. the skirt up slightly, this time she's the one that's radiant in blushing. Such a massive Blush allowing her eyes to wander back up to his and suddenly she pulls him down for another kiss, Taking his right hand gently to lead up to her shirt-covered left breast gently pushing his hand against it, Her Shyness totally visible by her face and the slight tremble of her hand, Ryan pulls back his lips slowly looking confused "Its a bit too soon.. Right?" He raises his eyebrow, Morgain simply stares in his eyes "I have no regrets.. I want you. I need you Ryan.. Make Love to me.." Her eyes tremble in such a manner to know she means every single word, Ryan's hand remaining upon her clothed breast yet hesitant as they lay, him on top, His eyes struggle to conflict of what to do. His mind only consisting of her, gently he then gives in.. allowing his hand to start kneading her clothed breast leaning in to kiss her again, His lips to hers. Her lips feeling and tasting his with such a amazing texture and feeling of his, her breathing would increase slightly, the movement of Ryan's hand clearly getting to her, Her right hand then leads his hand under her shirt to her Bra letting go then to give him control, that control he directly uses, his tongue slowly prodding into her mouth as she accepts to get a certain height of things. causing her to vocally express her view gently in the kiss as his fingers gently go under her bra to feel. lost in such powerful emotion feeling, His hands reach behind and un-clips the very bra so his hands are free as he flings it away somewhere, From then on the path was clear, totally crystal clear as they both started to remove more items of their clothing until.. eventually. they were left naked.. under the covers of the bed.. One on top of the other, Ryan being so gentle to this nervous Morgain the most gentle as he took her virginity with so much passion and softness. Morgain clearly felt it the expressions on her face of soft pain and pleasure as Ryan kept himself slow with her, until eventually.. it ended.. Ryan didn't come home that night.. They spent the rest of those hours cuddling.. Snuggling, kissing, kissing each other's skin. clearly so much love has been shared.. As they finally. Slept.
The next Morning, Ryan was the first to get up.. Stroking her hair gently watching her sleep on top of him. That gentle head of hers lay on his chest, clearly he's never felt so strongly about someone before, what was going through his head we will not know, but we do know that he feels the same for her as she does for him, such love, after a few more moments she stealthily wakes up keeping her eyes closed as a blush flushed on her cheeks to slowly press her lips to his chest before opening those heterochromia eyes to grasp his in a loving look, with this reaction it was like she wanted to be with him forever. Like nothing else mattered.. And then her words only spoke softly "I love you R..Ryan. So much." Such Vulnerability from her as she lay there with him, The Same Vulnerability from last night, he knew the cure, to hold her closely, his arms embraced her as if they were wrapping a present holding her so close to him, laying her head on his left pectoral, never before had she known this would happen or ever thought she would be so lucky to have someone so loving and gentle.. To even have someone at all, this was the huge shock for her and now.. She's lay there with him. After committing their love so gently, But that sound in the morning, a Door shutting downstairs, She was back.. At this point Morgain didn't care that her mother was home or what she'd find. Those words "I'm Home!" Shouted from downstairs clearly stated that. Ryan's face blinked confused "Is that your Mother?" Morgain Nods slowly still lay there "Its okay.. Don't worry. She wont bite." She smiles to him gently as her arms swing around him her words "I love you.." simply can't help but slip out neither can such a little cheeky giggle, Ryan gave a slight grin and replied "I love you too Christina.." Morgain's smile dropped a moment before she smiled again clearly wanting to tell him who she really is. Those Mis-matched eyes stare onto him, moving from under the covers, She sits up facing him, her hands embraced against the surface of the bed as the covers slide down to reveal her topless self to his eye sight. She couldn't help but blush and grab a section of the cover placing it around herself. Ryan just grins "You know.. You really don't have to hide your beautiful body. And it is so beautiful. You are beautiful." The voice turns more slow and quiet as those words echo out across the room, Those great gentle hands of his grasp onto the soft shoulders of Morgain, Slowly making her tumble to her front, he begins to lean down, slowly pressing his lips to her shoulder the gentle paws begin to pull the cover down exposing her soft pale gentle skin to his lips, unable to help herself Morgain buries her head into the pillow taking in all the feelings of his lips against her flesh bringing such sensations similar to what they felt the night before, eventually the cover did not cloth her anymore, in which Ryan's arms moved around Morgain's waist in such a loving embrace, Morgain would feel a slight tingle in her fingers, her body suddenly starting to get warmer. The Butterflies endlessly in her tummy, the want of him. totally fluxing her to not want him to let go. everything in this moment was perfect. Although the sudden shock of her Mother standing at the door. Ruined that perfection, Ruined it so much for them to both dive in-humanly beneath the covers, Such surprise on her Mother's face "Morgain... So this is what you have been doing?" there was no response "Hmph. Well.. We better feed him Breakfast.. Afterall he is still our guest." Her Mother Instinctively took all the clothing downstairs. With a slight tut in her lips. Morgain was in for quite a talk later.
Upon arriving in the following days in School, Morgain and Ryan would walk hand in hand through the corridors confidently, the Old Morgain was gone, Those who scolded her were Jealous upon sight of the two. Even at one time in English class. The same girl. Didn't want to know. Even then. Morgain became quite a rebel Suddenly in the middle of a Teachers Lecture before they started work She had times where she would recklessly kiss Ryan only to hear "You two again! Cease your Infatuations with each other!" Every single time. He was helpless to resist her though. as if she were his Kryptonite and heart holder. Months they spent together. Months which went without a Hitch. until. a few moments before following one moment. changed it forever. The Spring Holidays had come. the sun was out. Finally for Easter. Morgain thought it would be nice to take Ryan out to a Park. When the clock hit 11am in the cathedral She arrived at his place. Gently knocking on the door three times. in such a repetitive manner, Slowly Ryan Answered the door having a forlorn look upon his face, Seeing Her, He smiled "Hello Christina." he leans forward to Peck her, Morgain thought this was strange he usually kissed her fully "Is something wrong Ryan?" Slowly bringing her hand to his cheek, he didn't respond for a few seconds "N..No its nothing.. I'll be fine." The clothing he was wearing Consisted of a grey shirt with a grey under shirt upon him the same matching Jeans. "Hmm.. Okay.." She looked quite concerned "You know I love you right?" He then smiled wider "Yes.. Of course I do. and I love you too." His face was holding back something. She simply accepted his word trusting it fully and nodded "So the park?" Giggles "I have the picnic!" She held up a box packed full of food and drinks. Food she had made. He simply nodded and walked out holding her hand, his other hand closed the door and locked up "You know.. You complete me." His lips emitted. Simply as they kept walking and talking. Her concern mounting "What is wrong then Ryan?" In which Ryan looked back "Nothing.. please stop asking.. Right now all I want to do is hold you Christina.."
A living Child's hell Part 2
At this age she finally asked her Mother the real reason behind it, Little did she know what the story would be, Her Mother was temporally misplaced for three months, In that time she was bitten by a Vampire who started all the strange goings on in St. Albans, Morgain's Mother took a chance, She let slip the lie of her father's death to this being. Of course Morgain being protective and livid decided to act, She chose to avenge her Father in this way, little did she know that she was tricked into the other part, Just so her Mother could clear it up.
Morgain by pure willpower walked straight into finding this monster that had caused so much pain for her family, Finally after days and days of searching around St. Albans. She found what she was looking for, a temporal portal, this portal glowing in many colors had clearly ruptured the environment around it so she decided to take a chance to get through it diving straight into it, on the way in as she jumped, her leg snagged on the edge of the Portal causing a cascading shock to go through her entire body, Landing on the ground on the other side in the middle of a grassy area shaking and squirming around as electricity channeled out of her arms and legs, so confused and scared she didn't know what to do, until suddenly, it all stopped, she was simply left lying there for a day before she came to her senses, not knowing what happened at all, she stood up, starting checking herself over carefully, something strange occurred, Lightning came out of her fingers against the ground and she started to float, Obviously scared she screamed a little before managing to calm herself down "R..Right How do I get myself down.." Shaking constantly not knowing what to do.
Eventually figuring out how to get herself down she then stands "What the hell just happened to me!" She extends her right hand out to see if it does anything, out of shock literally lightning fires out of her hand igniting some of the grass in front of her, Her eyes widen in shock again "Holy.. Heaven and Hell..!" Something then bursts in realization, Her location, The date, The time, What to do next, Finally she saw the town in the distance and began to walk to it not knowing how to use her powers so she just tries to be normal looking out of place with her clothing but not really caring, walking down the street she tried to think about all the obvious things about Vampires in her head "Prowl in the dark, Hunt for the blood they can smell and want so badly.. rare blood like mine. Attracts the bigger fish.. But what if I could find him.. Convince him to seduce a Sixteen year old.. Hmm.. lets try it.." That day she spent asking people about vampiric incidents, obviously ended up with law enforcement to tell her to quiet down or she'd be spending a night in prison. Once night felt multiple screams were heard through the town, Morgain ran around trying to Investigate these screams finding a Victim, A pure human almost fully drained.. She couldn't just let her die so she bit into her own wrist and fed the woman saving her life but making her become what she was bitten by, She did not have time Sire her so she just continued on thinking "At least she'll live", He wound sealed faster then it would normally for a Vampire rushing off before stopping to the halt in the middle of the street able to sense the blood of her kind drawing near, A shadow would be behind her on a rooftop, she tried to turn but couldn't let herself. The shadow drawing ever closer to the young half-blood, A hand then suddenly landed on her shoulder gripping tightly, clearly a man's hand as he then talked quietly "Child.. Come inside.. I can help you. Such a rarity you are" Obviously she knew she had found the one she was looking for at this point she let herself get taken in.
That same night, He brought her into a rather large manor house, his intent quite clear to drink her and then have her for himself, after all Morgain was quite attractive to most yet she was mistreated "So child.. What can I do to make you better? You seem to be rather cold, You really do look naked.." Gently leading her to his rather large bedroom as she replies "Can you get me warm?" She fakes knowing what his intention would be clearly wanting to trick him, Eventually when they get into the bedroom he throws her onto the bed with some force "You will be my next bride. a young Vampiress.. Who can then take my children." Obviously Morgain decided this was the time. She put her right hand forward "No.. You've already bitten my mother.. And now.. I shall take her pain.. and kill you." The hand shoots out a powerful blast of lightning incinerating the Vampire slowly as he tries to rush to Morgain trying to grab her, She simply floats then off the ground away scorching the entire room around her, The vampire kept burning and burning until he was ash, once he was ash, She flew out of the window full speed crashing out into the outside of the manor gardens the fire spreading throughout the entire place now the gardens. She decided it would be best to let her power go. As she did she ran to the wall of the manor Scaling it easily with no effort trying to make her way back to the portal as she kept on looking back to the Burning Manor.
Eventually she returned to the portal. Making it back in one piece avoiding attention. She jumped through it her eyes closed. for some reason after she went through a feedback happened and it ripped itself apart in front of her eyes, reaching the other side just in time, Finally she knew she was back.. The sound of Police sirens in the distance and screams, obviously this was her St. Albans. Her life then took a turn for the better. She left high school went to college managed to do it successfully and went on her way in record speed in Cambridge University of becoming a Doctor of Medicine in two Years, Clearly quite a clever girl, She got recognized for it.. In which case she then became hunted again by vampires for a bit of that "Fresh Intelligent Blood." She had enough, Yet her sibling darkened by this being a pure-blood drove her out of England.
Vampire's Millennium Era
The merge of the two
Bonding with the past
TBA