Alex O'Rileigh
From PRIMUS Database
"Всяк глядит, да не всяк видит."
"Everything has beauty, but not everyone sees it."

---
The Devil's in the Detail (подробности)
Born Alexandria Kotov in Ostrovtsy, Russia, June 24th, 1993 to doting but strict parents Lev and Sofiya. Lev was a proud Russian police officer, Sofiya a part-time nurse and full-time mother. They were living the life, to be sure. All too soon, it was shattered when Lev was shot and killed in the line of duty during a home invasion arrest attempt. Sofiya was heart broken. With no family, and unable to support Alex on her own, she used the inheritance to move to San Francisco, California to start life anew and try to forget the pain.
Sofiya was remarried within two years to one Adam O'Rileigh. It was a loveless marriage for the most part. Adam found himself struggling with alcohol addiction, turning abusive to both Sofiya and Alex. Through the years, Alex's anger and resentment built. She began to feel violent urges toward him, and despite how tiny she was by comparison, she began to intervene when Adam began to get drunk and potentially dangerous. Sofiya's inner strength had crumbled, and she often pretended that nothing was wrong, living in a prescription medicated world.
When Alex turned fourteen, Sofiya was diagnosed with breast cancer. Her battle lasted a fuzzy and all too quick couple of years. Alex was shattered when her mother died. Screaming matches between Alex and Adam became nigh-constant, fingers being blindly pointed at each other, blame and guilt shifting back and forth surrounding Sofyia's death. Eventually, Alex snapped. She packed her bags one day, collected her passport and her portion of the money her mother had left her and hitch-hiked to the airport.
"I'd like to book a flight, please." Said the petite green-eyed girl, clutching her passport in her hand as though her life depended on it. "Where to?" Asked the attendant. "Anywhere but here."
Exploration of Self, Exploration of All (жизнь, любовь)
Alex spent the next few years following nothing but her heart and instincts. Friends were made and often disappeared just as quickly, but were never forgotten. Drunken nights in warm hotels, sober nights in cold hostels, high nights in low places, low nights in high places. Alex looked everywhere in search of herself. At the bottom of countless bottles, under rocks and shells on beaches on every corner of the planet. At the highest peaks of mountains, and in beautiful reefs in crystal clear oceans. Eventually the realization hit her that the novelty of the sparkling cities she explored would eventually and undoubtedly wear off, and that happiness was found in surrounding herself with people instead of objects, valuing self-improvement and memories more than the money she carried in her pocket.
Eventually she found her way back to the US. After a pit stop in California to find an empty house and no Adam anywhere to be found, one last trek was made to Millennium City.
(To be continued)
In Arm's Reach (приятель)


Jessica Rhodes- Blue, AKA Jessica Rhodes made fast friends with the steely and verbose Alex. Alex found Jess to be a bit of a softie, and often intervened when Jess didn't feel like she could stand up for herself. Alex finds the woman a pleasant friend and confidante, and has recently assisted Jess in some top-secret hero work.

Boss Hawkins- By far Alex's weak spot. Her devotion to the man is startlingly fierce, and her feelings border on obsession. She would legitimately rather put a loaded gun in her mouth and pull the trigger than be without him.

Tait- The short brunette was swift to make an impression on Alex. Forward, entertaining, fun and verbose, Alex thought there may have been a spark initially. His tendency to 'be all over the place' as Alex says makes him a bit hard to follow and requires a lot of energy. None-the-less, she values him as a friend and drinking companion.

Motley- Jess engaged in a brief relationship with the croc-man known as Motley. Because of this and the complications involved, Alex and Motley have sort of a love-hate relationship which normally involves a lot of yelling and butting of heads. She respects him for his unwavering attitude and the fact that he relentlessly protects the people he cares for.

Trish- To put it simply, the woman is a riot. Often curt, blunt and hilarious, Alex has a fair amount of respect for the woman and enjoys spending time with her. Trish can drink and swear like a trucker. Good times all 'round as far as Alex is concerned.

Dex- A man just a bit younger than herself. Alex approached him out of boredom one day, and it was discovered they had mutual friends already. He comes off as caring, kind of quiet, polite. And, best of all, he puts up with Alex's angry little outbursts.
Notables (сюрприз)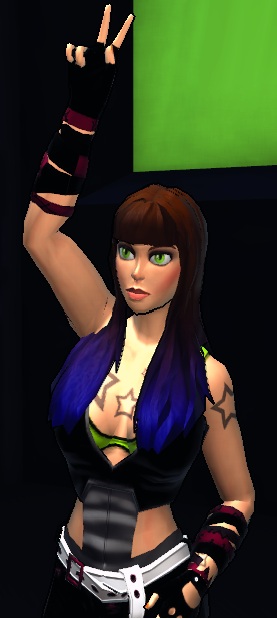 ♥ Alex's favourite colours are magenta and blue.
♥ Her favourite food is spicy prawn fettuccine.
♥ Alex has never owned a car in her life.
♥ The star tattoos were done in memory of her mother, and as a symbol reminding her to always keep her head up and reach for the stars. She also has a string of smaller ones along the right side of her hip.
♥ Alex was an underground drug dealer in London while she lived there.
♥ She adores antique knick-knacks, particularly old porcelain dolls and miniature anything.
♥ She fancies herself a bit of a photographer as an aside from her usual art projects.
♥ Her nails are usually decorated with flowers or hearts in black, blue and magenta.
♥ She -really- sucks at dancing.
♥ She secretly loves children, and is looking forward to being a mother one day.
♥ Alex carries a brass locket with her mother's picture in it, the lid inscribed with the word любовь.
♥ Alex usually prefers brutal honesty over keeping secrets.
♥ Alex loves being fawned over and being affectionate, despite popular belief.
♥ Alex donates blood and participates in community events whenever she can, everything from helping the homeless to spending time at the animal shelter.
♥ She loves to drink, and is an ex-smoker. When she gets stressed or flustered, it's not uncommon for her to shove two or three pieces of gum in her mouth. Old habits die hard.
♥ Alex loves dried flowers.
♥ Despises Christmas.
♥ Alex wants to live in the Australian outback when she retires.
♥ It's been rumoured that she's a bit of a germaphobe. Anyone who's lucky enough to have been in her humble abode knows this to be true. She has an entire closet dedicated to cleaning supplies, and things are kept immaculate.

Open Mic
(Giving your characters the chance to voice their opinion, nice or not!)
♪♫ Feel The Groove (музыка)♫♪