Black Blade
From PRIMUS Database
I've always equated "feelings" with "getting caught"...they both get in the way of my money.
—Garrett, Thief II: The Metal Age (2000)
The Black Blade is the second Nemesis for the character Runelord; where his first one was all rage and brute strength, I wanted the second one to be a finesse fighter-and make sure she wasn't solely dedicated to fighting Runelord; I wanted her to have a "career" beyond "just get the hero".
---
Black Blade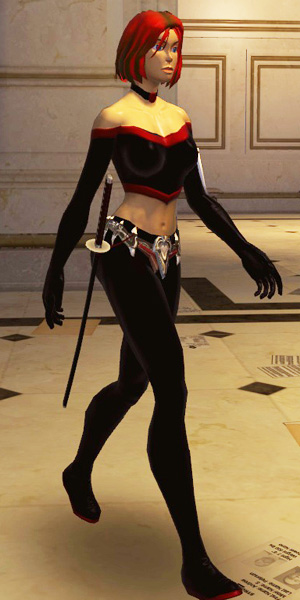 Willing to do what it takes to do the job-no matter how messy.
Player:
Identity
Real Name
Unknown
Aliases
Unknown
Birthdate
Unknown
Birthplace
Unknown
Citizenship
Unknown
Residence
Mobile
Headquarters
Unknown
Occupation
Professional mercenary and thief
Legal Status
At Large
Marital Status
Presumed single
· Known Relatives ·
Unknown
Physical Traits
Species
Human
Sub-Type
N/A
Manufacturer
N/A
Model
N/A
Ethnicity
American (?)
Gender
Female
Apparent Age
Mid-Twenties
Height
5'10"
Weight
145 lbs
Body Type
Athletic
Hair
Red
Eyes
Blue
Skin
Caucasian
· Distinguishing Features ·
None
Powers & Abilities
· Known Powers ·
None
· Equipment ·
The Black Blade
· Other Abilities ·
Highly trained swordmaster, lockpicking (mechanical and technological), and a fair amount of knowledge concerning arcane lore
Personality
Black Blade is a deadly serious woman-both in action and at ease. If she isn't working, she's studying up on her next crime. She isn't a natural killer-she will usually fight long enough to either defeat an opponent or to find a way to escape. She sees herself as a thief, not a murderer, and that informs her actions in the field.
Equipment
Black Blade bears a weapon from which she takes her alias. As far as can be determined, it is an ancestral weapon of some sort which has numerous enchantments upon it. These enchantments allow the Blade to strike for more damage than one would expect from the sword, and may imbue its wielder with superior skill in the weapon's use. Unfortunately, most of this is presently conjecture.
Abilities
By all appearances, the Black Blade is an extremely skilled swordmaster (but see Equipment, above). Indications are that she is skilled with the traditional "breaking and entering" in the stealthy application (as opposed to "blast the doors off"). She seems to have a preference for going after occult talismans, which indicates some familiarity with the mystic world.
Minions
The Blade is served by a number of ninja. Speculation is that they are somehow bound to serve the master of the sword she now wields.
Character History
The woman known as Black Blade is a bit of an enigma. She first became known to the authorities when she stole a mystic talisman from a museum in Washington DC. That it was done under the noses of a number of Federal agencies made the feat more impressive. Still, even then she was only known through reputation as opposed to actual contact. It was only after she began to field squads of ninja that she took a more open attitude.
Her first appearance in Millennium City involved an attempt to steal the Tablet of Time, as it was passing through from New York to Los Angeles. Her attempt to steal it was foiled by the activity of the hero Runelord; unfortunately for him, this made him interesting, as the Blade seemed to know of the Book of Runes that he has hidden in his secret sanctum. Her goals seem to be centering now on acquiring this rather potent book of knowledge.
It is uncertain as to what the Black Blade actually does with the items she steals; her acquisition of the weapon she has named herself for was certainly one of her early gains, but it's unknown as to whether or not she sells off in a mystic black market the talismans she steals, or if she keeps them as a growing arsenal.
---