Blackhawke
From PRIMUS Database

34
Armor Piercing
Blackhawke
Aerial Archer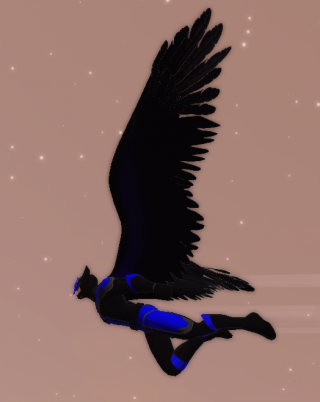 Freeform (Archery/Gadgeteering)
Hybrid
Identity
Real Name
William Easton Ayers
Aliases
Will
Birthdate
Birthplace
Chicago, IL
Power Origin
Unknown
Religion
Lutheran
Alignment
Lawful Good
MBTI
ISFJ "The Defender"
· Known Relatives ·
Elizabeth Meyer (step-sister), Shawn Meyer (half-brother)
Physical Traits
Species
Human
Ethnicity
White American
Gender
Male
Apparent Age
27
Height
Weight
Body Type
Lean
Hair
Brown
Eyes
Blue
Skin
Tanned
· Distinguishing Features ·
Large black feathered wings
Other Characteristics
Scope
Superhero
Fame
Unknown
Legal Status
Unregistered
Identity
Secret
Years Active
<1 year
Citizenship
American
Residence
Vibora Bay, Florida
Headquarters
Home in Vibora Bay
Occupation
(former) Lobbyist
Education
BA, Public Relations
Marital Status
Dating
Powers & Abilities
· Known Powers ·
Flight
· Equipment ·
Compound bow; several specialty types of arrows
· Other Abilities ·
Attributes
Strength
Weapon
Armor
Phys Res
Mag Res
Speed
Reflexes
Stamina
Dexterity
Agility
Combat
Regen
Energy
Psionics
Telepathy
Willpower
Sorcery
Tech.
Intel.
Knowledge
Charisma
Bravery
Wealth
The author of this article has marked this as a creative work, and would prefer that other users not edit it. Please respect this, and unless repairing a typo, spelling, or other minor technical error, think of this page as read-only.
Bio
Powers & Abilities
Weaknesses
Claustrophobia - Moderate.
Sensory vulnerability - Takes double effect from attacks that target sight and sound.
Crushing damage
Personality & Interests
Three-word description: Quiet, humble, service-oriented
Interests: Outdoors/nature--camping, hang gliding, hiking, horseback riding; military history
Goals/ambitions:

Cheerful disposition, with a warm smile. Very positive outlook. Engages in good-natured ribbing with his teammates.
Allies & Contacts
Irina Kudirka. His ex-girlfriend, still on friendly terms. Law clerk. Passionate about animal rights.
Erica Granville. His current girlfriend. Raised on a horse ranch, very outdoorsy.
Enemies
Hideouts
RP Hooks
Trivia
Ideal evening: Hiking or rafting in the early evening, then camping out under the stars.

Pet preference: Dogs, horses.

Would travel to do/see: Wild places

Most important value: Respect

Favorite memory: Visiting Niagara Falls

Likes: Animals, the color blue, mountains, yoga, cowboys

Dislikes: Selfish people, greedy corporations, airplanes, enclosed spaces, Florida

Catchphrase(s):
Favorite movie: Anything with Steve McQueen in it.
Favorite band/genre of music: Old jazz, cowboy music
Tropes
The Lancer. Gabriel's best friend and his foil. Reserved and thoughtful to Gabriel's outgoing and action-oriented. Heart to Gabriel's head. Lawful to Gabriel's Chaotic.
Comments & Feedback