Blue Shift
From PRIMUS Database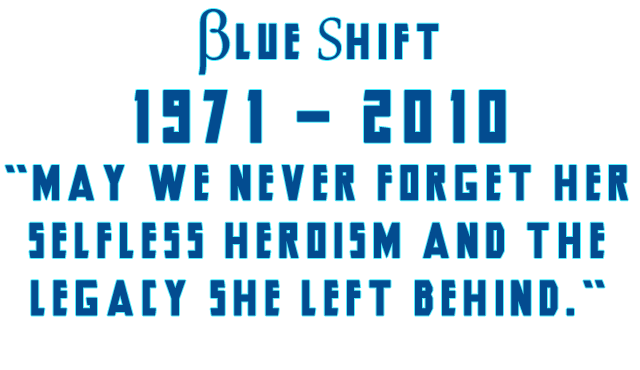 Identity
Real Name
Viola Sereza
Aliases
Blue Shift, Ultraviolet
Birthdate
September 23rd 1995
Birthplace
Detroit, MI
Citizenship
American
Residence
Millennium City, MI
Headquarters
Shift HQ + Global Defense Center
Occupation
Student
Legal Status
Citizen
Marital Status
Single
· Known Relatives ·
Lawrence "Red Shift" Sereza (Deceased), Patrice "Blue Shift" Sereza (Deceased), Martin "Microwave" Sereza (Deceased)
Physical Traits
Species
Human
Sub-Type
Mutant
Manufacturer
N/A
Model
N/A
Ethnicity
American
Gender
Female
Apparent Age
18
Height
5'7"
Weight
95 lbs.
Body Type
Fit
Hair
Short, black with dark blue streaks.
Eyes
Blue
Skin
Caucasian
· Distinguishing Features ·
VERY Blue Eyes. Constantly surrounded by a barrier.
Powers & Abilities
· Known Powers ·
Lasers, Barriers, Flight.
· Equipment ·
None.
· Other Abilities ·
Doesn't need a torch.
"We were destined for greatness. Right from the start we bore the responsibility to continue the family 'business' when our parents retired."
Pre-2010

Once, there were two heroes, Blue Shift and Red Shift. Happily married with two children, they fought crime so that their kids could grow in a safer world.
Though change comes slowly, and it soon dawned on the Shift-Duo that it will be down to their children to follow in their footsteps, to continue the Shift legacy.
Lawrence and Patrice Sereza raised Viola and Martin as best they could, allowing school to handle academia while they nurtured their childrens' innate special powers.
However, Lawrence and Patrice made sure that their children's heroic activities were secret. The rest of the world believed that Microwave and Ultraviolet, the Shifts' sidekicks, were orphans with superpowers.
This was the greatest protection the Shifts gave their children, protection from the media and the prying eyes of villainy.
Under the tutelage of their parents, the children became highly skilled in the use of their powers, the girl all too eager to become her mother's sidekick.
The boy, was less enthusiastic. Martin did not cope with the weight of responsibility, and so when asked to assist his father on missions as Red Shift's sidekick, he often refused, but not always.
At the very least, Viola had a heroic future ahead of her, so much so that she never turned down a chance to assist her mother.

2010 - Darkest Night
"That mountain...etched into my memory...can we talk about something else?"
It was a disastrous day when Blue and Red Shift, accompanied by their children, ventured into the lair of Nightvoid, a dangerous manipulator of shadows and true nemesis of the Shifts.
In truth, the Shifts believed victory was possible with the four of them combined. Yet they could not have been more wrong...
Microwave was the first to fall. Martin Sereza's courage faltered in the face of such impermeable darkness. No amount of light from any of them could illuminate Nightvoid's lair.
The loss of their child drove Blue and Red Shift into a reckless fury, they burned so intensely with light their bodies could not handle the strain. Nightvoid was severely weakened by the attack, but Blue and Red Shift perished in their own brightness.
Though Nightvoid was wounded, vulnerable, Viola fled, her heart shattered into black shards. Alone...

Shift HQ
"She was a queen and I am...less."
Viola keeps that traumatic day locked away. As the current Blue Shift, she doubts she could ever do justice to her mother's legacy.
However her parents did not leave her with nothing at all. She inherited Shift HQ.
Hidden under a set of mountains not too far from Millennium City, Shift HQ serves as Blue Shift's home.
Primarily a military installation containing numerous ranged and melee weapons, Shift HQ also contains bedrooms, a mess hall and garage.
The core of Shift HQ is a meeting room suspended above a chasm. There is a computer linked to SOCRATES, a tactical map of the city and a small armoury.
Shift HQ, however, has extremely minimal lighting. The reason for this being that every member of the Shift family could generate their own light and had no need of artificial light, so it meant very low electric bills and a lower carbon footprint.
Needless to say...the place is rather large and is arguably too much for one person.
Often times, it could be described as a lonely place...

"No, there is no Red Shift. No I am not looking for someone to be Red Shift. Stop fucking asking me about Red Shift!"
Dark Light - Blue Shift's primary ability. Originally as a hero-in-training she simply projected extreme high-power light from her hands. However ever since the disaster in the mountain, her light has always been of an eerily purple-blue hue that dims bright places, though still illuminating the dark.
Shift Skin - A power she claims to have no control over, like her heartbeat. She is always bathed in a skin-tight barrier that protects her from harm. Despite her small stature, the passive barrier is very durable, more so than any external shields she can generate.

Light Barriers - Alongside her passive shield, she is able to surround herself and others in an external 'bubble' of protective light. These are weaker than her passive shield but fairly durable.

Bright Flight - By rapidly emitting rays of light she can propel herself through the air. Flight with a lightshow.
Human - Break through her shields and you'll find the weak fleshy human beneath.

Impermeable Darkness - Though she is a bringer of light, her light is dim. A powerful wielder of shadows could overpower her.

Telepathy - Her mental fortitude is hindered by the loss of her family, psionics are very effective against her, worse still her shields do little to prevent psychic attacks.

Mirrors - Self explanatory, reflecting and refracting is an effective counter to her powers.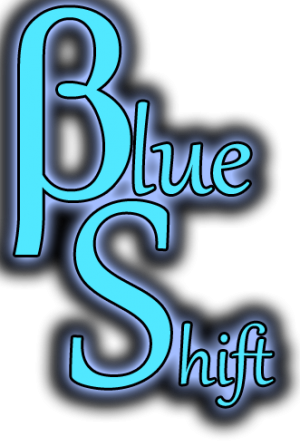 | | | |
| --- | --- | --- |
| Physical Attributes | Magical Attributes | Mental Attributes |
| Strength | Energy | Intelligence |
| Speed | Psionic | Willpower |
| Stamina | Elemental | Intuition |
| Reflexes | Dark | Charisma |
| Regeneration | Light | Wisdom |
| Durability | Time | Focus |
| Agility | Resistance | |
| Expertise | Aptitude | |
Appearance
Young Face, Old Eyes Overly saturated with blue, her eyes seem to be lit from behind. However...her gaze sees something far away and the light behind her eyes gives the effect of repressed tears. Or perhaps, she really is holding back her emotions.

Superheroes Wear Capes Despite the obvious shortcomings of a cape, Blue Shift wears her cape with pride. Mainly because her parents wore capes and...capes are cool, right?

In The Hood Because a mask just isn't enough to keep her identity secret.

Personality
Hurting Hero It's undeniable that Blue Shift hurts inside. Who can blame her after what happened? Despite this, she's a closed book on her past and can be slightly difficult in social situations.
Don't you dare pity me Though she tries not to give anything away, particularly intuitive people may coin her to be one plagued by a dark past. Any attempts at sympathy are met with hostility, which does essentially confirm any suspicions on the matter.
Pride As the descendent of two high-profile heroes, Blue Shift has a legacy to uphold. Does she think she'll ever match her mother? No. But she'll never do anything she believes could shame her parents. This mostly appears in the form of refusing to admit they are/have been/ever will be afraid of anything and that they are completely prepared to take on anything regardless of how large a threat it may be.

Combat and Skills
Frickin Laser Beams! Blue Shift shoots lasers from her hands. That is all.

Hard Light and Deflector Shields Light shields at face value sound ridiculous, you can't shield yourself with light! This is hard light, and it's durable as hell.

Yin-Yang Bomb Not quite an accurate description, Blue Shift does not use bombs. However her light is also dark, it is a mixture of shadow and light. In absolute darkness her power is still functional but can be snuffed out, as mentioned earlier. She is at a disadvantage against darkness, whereas pure light would not. However, her power dims bright places, so she is at an advantage against light, perhaps more so than pure shadows as her light absorbs other light, whereas shadow seeks merely to smother light entirely.

Morality
Good Is Not NiceIt's true that Blue Shift is absolutely a hero. Given the brutality she has witnessed at the hands of villainy, she simply isn't smiles and sunshine when it comes to heroism.

Legacy CharacterThere has been more than one Blue Shift, as such the moral compass has been passed on. Protecting those weaker than herself and so on.

Not so different Blue Shift avoids killing, that much is clear, her parents were very forceful about that. NO KILLING. However having seen her family killed before her eyes, she does tend to test the limits of a villain and often has to hold herself back before she goes too far.
This page was last modified on 29 December 2013, at 01:45.
This page has been accessed 9,705 times.