Cobalt
From PRIMUS Database

17
Cobalt
Front-line support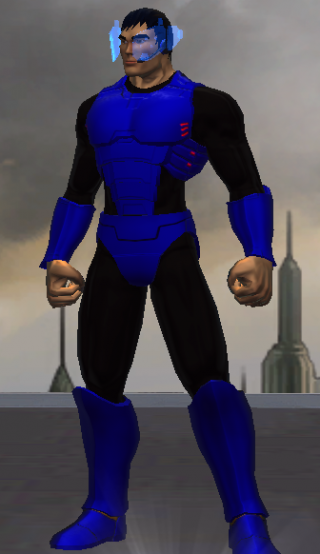 Freeform (Might/Telepathy)
Hybrid
Identity
Real Name
Charles Martin Taylor
Aliases
Charlie
Birthdate
Birthplace
Power Origin
Mutant
Religion
Baptist
Alignment
Lawful Good
MBTI
Unknown
· Known Relatives ·
Physical Traits
Species
Mutant
Ethnicity
White American
Gender
Male
Apparent Age
30
Height
Weight
Body Type
Bodybuilder
Hair
Black
Eyes
Blue
Skin
Caucasian
· Distinguishing Features ·
Other Characteristics
Scope
Unknown
Fame
Unknown
Legal Status
Unregistered
Identity
Secret
Years Active
<1 year
Citizenship
American
Residence
Vibora Bay, Florida
Headquarters
Vibora Bay
Occupation
Education
Unknown
Marital Status
Unknown
Powers & Abilities
· Known Powers ·
Strength
Telepathy
· Equipment ·
Communication equipment with holographic HUD
· Other Abilities ·
Attributes
Strength
Weapon
Armor
Phys Res
Mag Res
Speed
Reflexes
Stamina
Dexterity
Agility
Combat
Regen
Energy
Psionics
Telepathy
Willpower
Sorcery
Tech.
Intel.
Knowledge
Charisma
Bravery
Wealth
The author of this article has marked this as a creative work, and would prefer that other users not edit it. Please respect this, and unless repairing a typo, spelling, or other minor technical error, think of this page as read-only.
Bio
Powers & Abilities
Super strength
Telepathy. Cannot read minds; can telepathically stun or paralyze
Weaknesses
Personality & Interests
Three-word description: Traditionalist
Interests: Asatru, late-night TV, scuba diving
Goals/ambitions:
Raised Baptist, but is learning about Asatru (Norse Paganism), and is taking well to it so far. Hasn't officially converted yet.
Allies & Contacts
Enemies
Hideouts
RP Hooks
Trivia
His look is based on Henry Rollins in Johnny Mnemonic.
Ideal evening:
Pet preference: Birds
Would travel to do/see:
Most important value(s): Honor, duty
Favorite memory:
Least favorite memory:
Likes:
Dislikes:
Catchphrase(s):
Favorite movie: Johnny Mnemonic
Favorite band/genre of music: Punk
Tropes
Comments & Feedback