Columbia
From PRIMUS Database

40
Agent
Columbia
We Are Watching You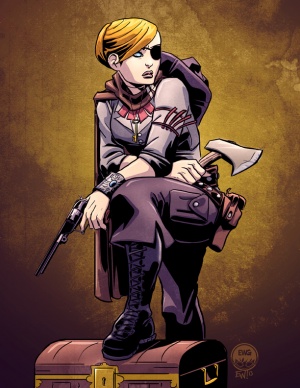 "Three may keep a secret, if two of them are dead."
― Benjamin Franklin, Poor Richard's Almanack
Freeform
Player: @Trinitite
Identity
Real Name
████ ████
Aliases
Columbia
Birthdate
12/22/████
Birthplace
Virginia, USA
Citizenship
American
Residence
█████████
Headquarters
Washington D.C, █████████
Occupation
DOSPA Private Contractor, █████████
Legal Status
█████████
Marital Status
█████████
· Known Relatives ·
██████ ████████, ██████ █████████
Physical Traits
Species
Human
Sub-Type
N/A
Manufacturer
N/A
Model
N/A
Ethnicity
Caucasian
Gender
Female
Apparent Age
18
Height
5'08"
Weight
136lbs
Body Type
Athletic
Hair
Blonde
Eyes
Blue
Skin
Pale
· Distinguishing Features ·
Eyepatch over left eye
Powers & Abilities
· Known Powers ·
Hermetic Magic
· Equipment ·
Access to the Black Room and numerous Artifacts Therein
· Other Abilities ·
Extensive Historical Knowledge, Cryptography, Sleight of Hand, Deception, Weapons Training, Parapsychology, Interrogation, Forensics
The author of this article has marked this as a creative work, and would prefer that other users not edit it. Please respect this, and unless repairing a typo, spelling, or other minor technical error, think of this page as read-only.

████████████ first contact with ██████████ occurred ████ years ago, while under the identity of ████████ ████████████ , blah blbah, more stuff to write.



---
'Image Gallery'
---