Detective Cross (Nightguard)
From PRIMUS Database
Player: @Crusader6628
OC Status: NPC (Toon coming soon)
Usages: Community RP (Anyone can use him if they wish.)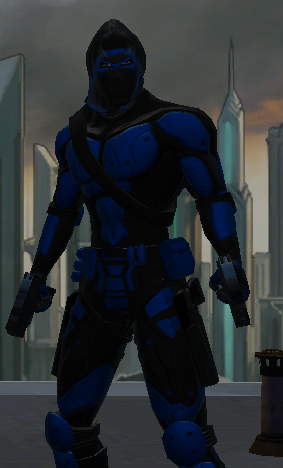 (Cecil geared up as Nightguard)
Background
Growing up on the Westside of M. City gave Cecil the tools and senses to excel as a beat cop with the MCPD. He married his high school sweetheart and welcomed a newborn girl into the world as he rose to the ranks of the S.W.A.T. division. It was here that he would pick up the skillset that would one day aid him in fighting crime.
Tragedy would strike Cecil's picturesque life in the form of a nemesis. [WIP Nemesis]; A crooked cop whom Cecil was responsible for exposing and eventually arresting - turned psychotic super villain whilst serving his time in prison. [Nemesis] kidnapped, tortured, and killed Cecil's wife and daughter whilst taunting the MCPD and Cecil, using the limitations of the law to prevent Cecil from saving his family.
This gives birth to Nightguard, the vigilante alter ego Cecil adopts, using the access and wit of a detective combined with his SWAT skillset to watch over M. City by night and exact justice on his own terms, free of the limitations of the badge.
Enemies
WIP Nemesis #1 (WIP) - A corrupt MCPD Officer, turned deranged criminal mastermind after being exposed and imprisoned by Cecil Cross.
---
Cold Case (WIP) - A mutant cryomancer and serial killer who terrorized Millennium City's Westside in the 1990s. His MO? Ambushing victims and freezing them in place like ice statues. The press dubs him the Ice Sculpture Killer, his body count numbering in the forties until Cecil cracks the case and locks him up, where he shares a permanent home with [WIP Nemesis #1].
---
WIP Nemesis #2 (WIP) - (WIP...)
---