Firewall
From PRIMUS Database


40
Master Control
Firewall
Hacker and cyber-warfare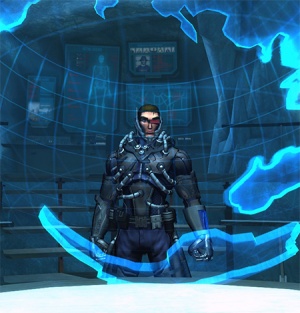 "I'm like the NSA. Except I'm honest about it."
Freeform
Player:

Identity
Real Name
Harrison Cole
Aliases
Firewall
Birthdate
6/5/80
Birthplace
West Hartford, CT, USA
Citizenship
United States
Residence
Millennium City
Headquarters
N/A
Occupation
Systems analyst, operations control, data retrieval and mining, etc. for Liberty Initiative and formerly U.S. DoJ
Legal Status
Unknown
Marital Status
Single
· Known Relatives ·
Clay Cole (brother)
Autumn McCarthy (sister)
Frank Cole (father - deceased)
Lorri Cole (mother)
Physical Traits
Species
Human
Sub-Type
N/A
Manufacturer
N/A
Model
N/A
Ethnicity
Caucasian
Gender
Male
Apparent Age
33
Height
6'2
Weight
185
Body Type
Athletic
Hair
Light brown
Eyes
Blue
Skin
White
· Distinguishing Features ·
Firewall has a highly powerful and sophisticated nano-CPU implant in his brain. The scar for the surgery is visible if you look hard enough, above the right eye closer the the scalp. In addition, the same surgery also altered his right eye. If you look close enough you will see the iris is in fact electronic. The right side of his face is where his data visor is attached when suited up, three metallic holes indicate where it attaches. He often has a five o'clock shadow.
Powers & Abilities
· Known Powers ·
No actual super powers
· Equipment ·
Telescopic right eye can switch between X-ray, infrared, and violet light filters. Nano-CPU implant is extremely advanced allowing all data input to be saved and stored within the brain. Wears a custom made, highly advanced and cutting edge technological suit made of medium weight, conductive micro-synth fibers. Resistant to small arms fire and radical temperature shifts it houses within it many technological capabilities; essentially it is a very protective super-computer in a suit. A utility belt housing hacking implements, cables, plugs, EMP grenades and a special adhesive sealant for the suit. Liquid crystal display on the left bracer displays code, internal systems and manual input for overrides. Eye visor compliments eye implant and can display facial recognition, blueprints, vectors, misc. information from weight and height to wind direction and temperature. Can also stream video and capture images and upload them wirelessly. Two modified fully automatic tactical pistols.
· Other Abilities ·
Great physical condition with intense special agent training. Adept marksman without using enhancements; 99.99% accurate when utilizing them. Can access internet, black web, intranets, databases, archives, government and local infrastructure, and much more via any wireless hook up; 4G cell service, WiFi, or a direct link through a computer or console. World class hacking skill and knowledge with security and computer systems.
Background and Origin
Sub-header
---
Copy and paste these DIV tags for each paragraph within a header or sub-header in order to get a nice, fancy indent.
Do not place the BR tag after the last paragraph.
---
Sub-header
---
Copy and paste the sub-headers, and rename them to your liking for each sub-header.
---
Powers, Skills, and Attributes
Powers
---
Power 1 - Put info on your power here. Be as lengthy as you like.
---
Power 2 - Not every hero HAS powers, of course, in which case the powers section can be deleted.
---
Power 3 - Just take everything from the HR tag above the Skills section, up to the "Powers" sub-header, and delete it. You can also edit the Main Header to take the word 'Powers' out of it as well.
---
Skills
---
Skill 1 - Skills are the things your character has learned to do, or has an innate talent at doing.
---
Skill 2 - These skills can be as mundane as painting, to more fantastical things such as enchanting items.
---
Skill 3 - If your character has no particular skills worth noting, feel free to follow the same directions as shown for the 'Powers' sub-header on how to remove this section.
---
Attributes
---
Attribute 1 - Attributes are physical or mental traits, separate from powers in most cases, though possibly enhanced by them.
---
Attribute 2 - Attributes can be things such as flexibility, or being naturally acrobatic, or good eye-hand coordination perhaps.
---
Attribute 3 - Again, like the last two, if you have no use for it, delete this section. You can also ALTER the section if there is something missing that you would find more fitting.
---
Gear and Equipment
Gear
---
Weapon - Gear and equipment are the things your character carries around and uses. These can be things like weapons and armor.
---
Armor - Feel free to use this section to name and describe the gear that your character uses, if any. Be, again, as lengthy as you like.
---
Gadget - If this section does not apply to your character, feel free to delete it. Also feel free to add more sub-headers as they apply, such as for a vehicle, perhaps, and that vehicle's statistics.
---
Relationships
Lover
---
This section is specifically for a spouse, lover, or some other form of paramour. Feel free to use any of the formatting from 'Friends/Allies' below.
---
Friends/Allies
---
Put any friends or allies your character may have in here. You may give them descriptions or simply list them. To make a numbered list, simply place a # at the beginning of each new line:
This guy
That guy
Some chick
For a non-numbered list, put an asterisk instead (the lines are optional. Simply remove the HR tags if you wish to remove them):
---
---
---
---

Or, you could even use a smaller sub-header for each person, effectively creating a small section on them, like this:
That Guy I Know
---
Put info on the friend here.
---
That Chick I Met
---
And here.
---
Some Dude at the Bar
---
Don't forget this one.
---
Enemies
---
Put any rivals or enemies here. You can give descriptions, or simply list them. Same idea as the Allies and Friends.
---
General Perception
Put here the way your character would be perceived by the general public. This means, the things that the general public would know, how the media would portray them, things people might know without ever having met the character.
---