Golden Eagle
From PRIMUS Database

21
Defender of Justice
Golden Eagle
Neighborhood guardian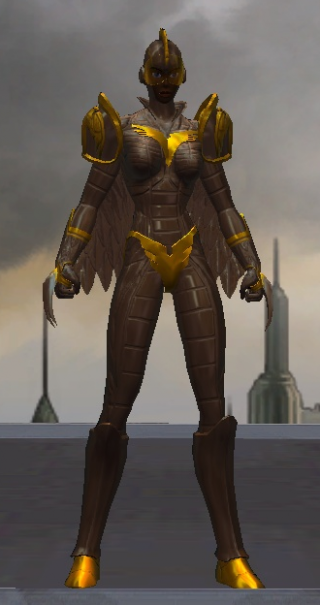 Freeform (Fighting Claws)
Melee DPS
Identity
Real Name
Catilia Woods
Aliases
Birthdate
Birthplace
Westside, Millennium City, MI
Power Origin
Training, Tech
Religion
AME
Alignment
Chaotic Good
MBTI
ESTP "The Entrepreneur"
· Known Relatives ·
Physical Traits
Species
Human
Ethnicity
African-American
Gender
Female
Apparent Age
26
Height
Weight
Body Type
Athletic
Hair
Brown
Eyes
Brown
Skin
Dark brown
· Distinguishing Features ·
Other Characteristics
Scope
Local
Fame
3
Legal Status
Unregistered
Identity
Secret
Years Active
2 years
Citizenship
American
Residence
Westside, Millennium City
Headquarters
Basement of her church
Occupation
Loan officer, Millennium City Bank
Education
Associate's degree in criminal justice. Working on Bachelor's.
Marital Status
Single
Powers & Abilities
· Known Powers ·
· Equipment ·
Power armor suit
· Other Abilities ·
Attributes
Strength
Weapon
Armor
Phys Res
Mag Res
Speed
Reflexes
Stamina
Dexterity
Agility
Combat
Regen
Energy
Psionics
Telepathy
Willpower
Sorcery
Tech.
Intel.
Knowledge
Charisma
Bravery
Wealth
The author of this article has marked this as a creative work, and would prefer that other users not edit it. Please respect this, and unless repairing a typo, spelling, or other minor technical error, think of this page as read-only.
Bio
Former MP in the Army. Enlisted for the GI Bill. Working part-time at bank while she finishes her bachelor's degree. Originally wanted to join a MARS team; she's enjoying the freedom of doing things on her own, however.
Amateur boxer.
Powers & Abilities
Armor: Light protection
Claws
Flight: Moderate speed only, low operational ceiling.
Sophisticated comm equipment.
Weaknesses
Her power armor is lightweight, and won't stand up to much abuse.
Personality & Interests
Three-word description: Tough, boisterous, high-energy
Interests: Boxing, MMA, local and state politics, her nieces
Goals/ambitions: Protect Westside

She's extroverted and constantly active. She doesn't even sit still when sleeping--tosses and turns. She's always been very active. She's not ADHD, though; she can concentrate just fine.
Allies & Contacts
Brother, Gus. Six years older. Car salesman. Married with three daughters, all young. Good-natured. Knows about her crime-fighting. Worries about her a bit.
Rev. Derrick Barnett. Her pastor. In his 70s. He's the one that got her started.
Ruth Barnett. The pastor's wife. Friend of the family forever.
Curt Cavanagh (Aegis). He built her suit; it was his first prototype. They were in the military together.
Meredith Palmer Cavanagh (Shockwave). Catilia encountered her a few times in Westside. They had an uneasy truce. They get along better now that Meredith is in Vibora Bay.
Friends from the Army.
Enemies
Bobby Angel. MC gangster operating out of West Side.
Hideouts
Operates out of the basement of her church. The pastor supports her efforts.
RP Hooks
Spends a lot of time at Carl's Gym in West Side.
Frequently patrols the streets of Westside after dark. Has been struggling to keep her schoolwork up as a result.
Trivia
Ideal evening: Roaming the streets, cracking heads
Pet preference: Big dogs. Has two Dobermans.
Would travel to do/see: No interest
Most important value(s): Community service, feeling secure
Favorite memory: Winning her first state-wide amateur boxing title.
Least favorite memory: When she was 15, someone broken into her family's house while they were out and robbed them.
Likes: The big city. Church. The military. Cajun food. Cecilia Braekhus is her idol.
Dislikes: Sand. Druggies. People who assume she's a lesbian because she boxes and works out.
Catchphrase(s):
Never leaves Millennium City, and rarely leaves Westside. Got all the travelling she never wanted in her time in the Army.
Tropes
Comments & Feedback