Danni Dash
From PRIMUS Database

Affiliations

Super Group
Young Renegades
Rank
Resident Badgirl
· Other Affiliations ·
Identity
Real Name
Dannica Quick
Aliases
Dash, Danni
Birthdate
March 23rd, 1994
Birthplace
France
Citizenship
French, American
Residence
Millennium City, MI
Headquarters
Her dad's garage
Occupation
Student, Racer, Teen Hero Villain?
Legal Status
Numerous Traffic Violations
Marital Status
Single
· Known Relatives ·
Nick Quick (Father aka Captain Quick),Melanie Quick (Mother)
Physical Traits
Species
Homo Sapien
Sub-Type
Meta
Manufacturer
N/A
Model
N/A
Ethnicity
Caucasian
Gender
Female
Apparent Age
18
Height
5'10"
Weight
147lbs
Body Type
Athletic
Hair
Black
Eyes
Blue
Skin
Slight tan
· Distinguishing Features ·
Pierced lip, bad attitude
Powers & Abilities
· Known Powers ·
Super Speed
· Equipment ·
Transforming Supersonic Streetbike
· Other Abilities ·
Mechanical Genius
The author of this article has marked this as a creative work, and would prefer that other users not edit it. Please respect this, and unless repairing a typo, spelling, or other minor technical error, think of this page as read-only.
Appearance & Personality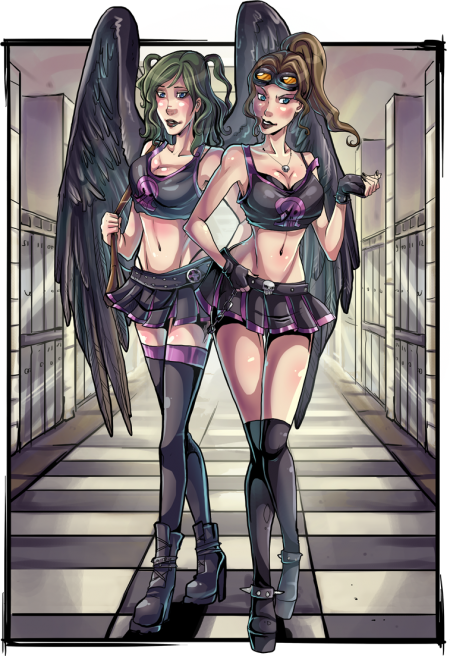 Background
Recorded Sightings
11-19-2012: Involved in the theft of a school bus from Grace Memorial High School. Dash and the rest of her Fearleader squad took the stolen bus for a joyride with the school mascot's costume chained to the front of the vehicle. Their attempt to crash the bus into the bay was thwarted by Victory, Devil Ray, and Power Play.
1-17-2013: Hunt of the Unicorn - Danni assisted Racer Red and seemed to team up with Soldier Boy in stopping Biker Blue and acquiring the powerful Unicorn bike. As it turned out, Danni was there for her own purposes as well, getting numerous detailed photos of both the Unicorn and Hellhound bikes, as well as collecting considerable amounts of detail on their operations. Shortly after implementing some of this work into one of her own designs after a bit of reverse engineering her father (not a Sergio fan in the least) caught her working with the designs in his garage and grounded her for a week, undoing the stolen work, and demanding that she should do the work herself, or work harder at not getting caught.
2-9-2013: Teenage Kicks - Danni made a couple quick appearances in the Grim Academy's efforts against heroes, though the speedster was quite difficult to follow, appearing as little more than a meddling blue blur.
Powers & Abilities
Super Speed: Danni is capable of moving at incredible speeds, breaking the sound barrier, though much to her chagrin she still can't quite match much less break any of her father's records. Still, her exceptional speed can make her a terribly difficult opponent to deal with due to little more than a blur often being visible when it comes to her movements. She definitely doesn't hit the hardest, but she can quite literally run circles around the competition.

Girl Genius: Gifted with a brilliant mind, Danni rarely found herself challenged academically in school, which often gave her a particular air of disinterest or laziness in the majority of her classes; she just couldn't be bothered, and knew she'd have no trouble blazing through the material on her own time. She could be a brilliant scientist if she applied herself but she doesn't have the desire to spend her time in a lab staring at bacteria, she wants excitement. This means that when it comes to science and the application of her own brilliance, it usually involves the thrum of a powerful engine, or just about anything else that can go fast and be made to go faster. She built her supersonic racing bike from the ground up, basing the engine designs off her father's work, though the transformation properties that she applied to the vehicle, turning it into an impromptu suit of armor for the speedster, are all her own. Danni's brilliance when it comes to speed and engines could possibly revolutionize travel, if normal people could just withstand more Gs, and if she cared enough to bother, she's more interested in making toys for herself.
Weaknesses
Allies & Enemies
Allies: The Young Renegades
Comments/Opinions
Views on the AWESOME Danni Dash go here.
Meta