Headcase
From PRIMUS Database
The author of this article has marked this as a creative work, and would prefer that other users not edit it. Please respect this, and unless repairing a typo, spelling, or other minor technical error, think of this page as read-only.
Identity
Real Name
Brannagh O'Dwyer
Aliases
Headcase
Birthdate
N/A
Birthplace
Dublin, Ireland
Citizenship
Ireland
Residence
Millennium City
Headquarters
Millennium City
Occupation
Guitarist
Legal Status
Unregistered Hero
Marital Status
In a relationship
· Known Relatives ·
None
Physical Traits
Species
Unseelie Faerie
Sub-Type
N/A
Manufacturer
N/A
Model
N/A
Ethnicity
Irish
Gender
Female
Apparent Age
N/A
Height
5'7"
Weight
140 lbs.
Body Type
Average
Hair
Raven Black
Eyes
Green
Skin
Pale
· Distinguishing Features ·
Powers & Abilities
· Known Powers ·
Strange Dullahan Crazy Shadow Stuff
· Equipment ·
Electric Guitar
· Other Abilities ·
Adept Guitarist
WHO IS Brannagh O'Dwyer?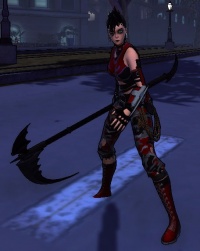 Brannagh O'Dwyer is a former Irish Grim Reaper and punk-rock guitarist. Her head does not attach to her body, she has to literally bolt it on when she wants to wear it. She perceives via unknown sensors that are not located on the head, even with it on. The physical strength she possesses is above human, though not quite on par with superhumans. She is also capable of manipulating a shadow-like, durable substance to form objects ranging from gloves to chariots at her will. Weapons made with this do not harm physically, but attack and subdue the soul directly, she cannot kill with her power. She generally leaves her head at home and goes out with a motorcycle helmet, using a comms device to communicate through speakers on the helmet, from home. She feels all pain just as a human would, but will not die unless her head is destroyed, she also bleeds black smoke. Brannagh has a slow healing factor, after a couple of days of rest she can be back on her feet at full power.
HISTORY
Initial Story
Brannagh had it good, a job that paid well, friends that she got along with and enough fans to call herself a success. Until she made the mistake of sleeping with the drummer. The singer of the band (the drummers girlfriend) had set up a trap for the two, a video camera to record them in the act, for blackmail purposes. What she didn't bank on in finding out was that Brannagh wasn't human, her head being taken clean off in an act of kinky sexplay.
The video spread amongst the fans of the band, Brannagh was a Dullahan, an Irish reaper. The superstitious of her fans shunned her immediately, others flocked to her in adoration, but it wasn't what she wanted. She had put that well behind her, so she fled Ireland, heading straight to Millenium City. Nobody even cared what she was in MC, she found the start of a new band quickly, even trying her luck at being a hero for a change.
Current events
Brannagh attended the first SUMMIT of 2013, listening to the problems listed, taking note of certain events and certain people at the event.
EQUIPMENT
POWERS AND ABILITIES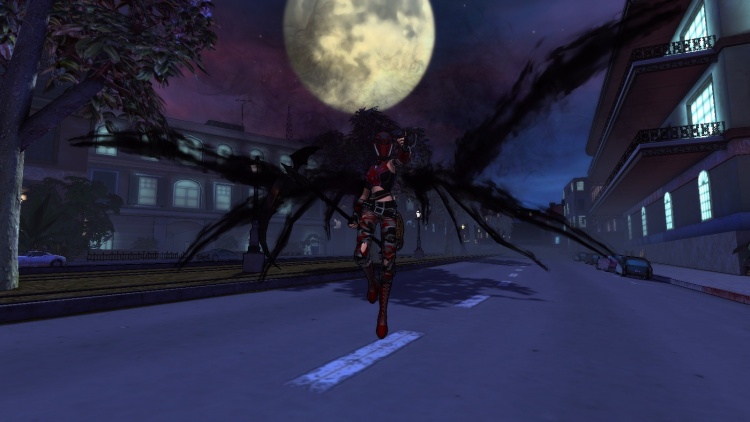 RELATIONS
Notable Allies
Abaddon: The lead singer of The Red Queens, Abaddon and Brannagh have gotten so close over their time together they seem to have 'hooked up' and are officially a couple.
Amelia Felin'iss: The drummer of The Red Queens, a crazy loon with a rubber frog toy that squeeks, Brannagh loves having her around. Note: The frog's name is Commodore Kerokero.
Crystal Sharp: The bass guitarist of The Red Queens, this girl has an unhealthy obsession with Brannagh, openly showing off her collection of candid photographs, hug pillows and home-made plushies of the Irish lady.
The Thorns in her Side
COMMENTS
SQUEAKSQUEAKSQUEAKYSQUEAKYSQUEAKYSQUEAK!* "Yea, nyukka! Das right!" -Amelia Felin'iss
RP HOOKS
PUBLICITY SHOTS