Farsight
From PRIMUS Database
The author of this article has marked this as a creative work, and would prefer that other users not edit it. Please respect this, and unless repairing a typo, spelling, or other minor technical error, think of this page as read-only.
Farsight
Powers & Abilities:
| | |
| --- | --- |
| Powers: | Confidential |
| Abilities: | Confidential |
| Equipment: | Confidential |
Attributes
Personal
Strength:
Speed:
Agility:
Durability:
Powers / Damage
Physical:
Mental:
Technological:
Environmental:
Magical:
Supernatural:
History: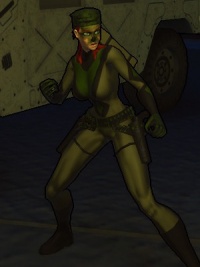 A child of a multi generation military family, Bernie spent her formative years on many a military base. Thus it seemed natural that she follow her fathers footsteps and enlist when she was of age. During her training she showed an almost preternatural skill with both bladed and ranged weapons (much like her father and his father before him). It was almost as if in close combat she could read what her attacker was about to do, before he had even decided. With ranged weapons, she was able to lock on and hit a target at incredible distance.
A tour of duty in the middle east was interrupted by an unexpected encounter with the members of the Champions which resulted in Bernie considering leaving military service to take on a new challenge - that of being a super hero. Rather than lose her talents completely, her superiors persuaded her to take on a liaison role with Millennium City Police Department. It has since been speculated by Witchcraft that her ability is more than just natural talent, but is in fact a result of a bargain made by a distant ancestor with a demon. Bernie is as yet unaware of the price she will have to pay for her skill, but expects that it will not be an easy debt to repay.
Equipment:
Grappler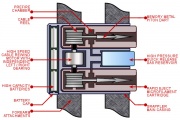 Attached to the left forearm and easily concealed, the dual barrel microfilament grappler. This device allows the wearer to quickly scale vertical or near vertical surfaces in order to reach strategic vantage points. In addition to this the device can be used to swing onto otherwise unreachable locations. Utilising a dual cable system with quick retract mechanism, the Grappler can be fired quickly in succession allowing the wearer to swing further than a single length of microfilament would allow. Each cable is tipped with an diamond sharp micro dart. These darts are designed using a nanomesh of memory metal memory metal. When an electrical charge is applied along the microfilament the darts form a barbed shape to embed within whatever surface they have penetrated; reversing the voltage of the charge reverts them to a streamlined needle allowing them to release their grip and retract into the Grappler. If the barb cannot be released for some reason the entire cable magazine is ejected from the Grappler to prevent the wearer getting tangled in a lost cable. The firing mechanism is an electrically ignited plasma generated from the integrated quick release gas reservoir. This device was built by Kid Steel, expanding on original designs created by his late father.


Specifications
Dual Cartridge 30 m Questionite nanofiber microfilament
Cable Weight Safety Limit: 500 lbs
Miscellaneous:
COMMENTS & IMPRESSIONS
---
If you have a connection with or an anecdote about Farsight, please leave a comment below.
(Note: Seperate comments with a <hr> tag)
---
Post a Comment
---
CommentBox

created by

@Maekada