Northern Star
From PRIMUS Database
The author of this article has marked this as a creative work, and would prefer that other users not edit it. Please respect this, and unless repairing a typo, spelling, or other minor technical error, think of this page as read-only.

Introduction
Background
Early Years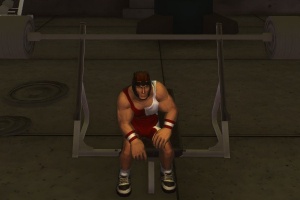 The Squared Circle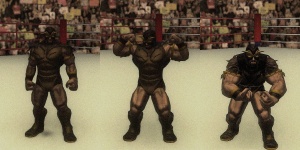 After college Gene was approached by a local promoter, Ed Hurt, who was scouting for new talent for his wrestling school. Despite his short stature, Gene's strength and acrobatic style allowed him to progress swiftly from the undercard to being a fan favourite. Between wrestling engagements, Gene also took part in competitive eating contests.
Subsequently spotted and contracted to the CFW (Canadian Federation of Wrestling) in Canada, and the CILL/ICW (Consejo Internacional de Lucha Libre / International Council of Wrestling) in Mexico. These engagements eventually led to a contract in the USA with WFCW (World Federation of Championship Wrestling), Vance Madden's wrestling promotion famous on American television channel WTFL (Channel 2).

A Star is Born
A Tale of Two Cities
Ammogh-thoth
Dark Star
A Light in the Darkness
Appearance
Equipment
Abilities
Enemies
No Nemesis
No Nemesis
| | |
| --- | --- |
| Status: | |
| Powerset: | |
| Mentality: | |
| Minions: | |
Details Coming Soon
Gallery
White Dwarf prior to encounter with elder god, Ammogh-thoth (Source: Project Checkmate Database. See Rook). Seen here wearing a fuller costume to protect against the harsh northern weather around Steelhead. This costume was to be the last he wore as White Dwarf.

Killed in a battle with the forces of the elder god Ammogh-thoth ,White Dwarf was resurrected to become his agent on Earth. His previous gravitational powers had been replaced by a supernatural arsenal and the name given to him by his new master was a corruption of his previous heroic identity - Obsidian Star.

Eventually subdued by Rook after a prolongued battle through his demonic minions. Upon his defeat the influence of Ammogh-thoth was driven from his body, leaving a surprised and alive White Dwarf behind. After spending some time recuperating and reconnecting with his former life he has returned to hero duties, taking the new identity of Northern Star.
Comments
COMMENTS & IMPRESSIONS
---
If you have a connection with or an anecdote about Northern Star, please leave a comment below.
(Note: Seperate comments with a <hr> tag)
---
Post a Comment
---
CommentBox

created by

@Maekada
Additional Information
Summary
Summary
Attributes
Other Characters
Logo Font: Chicago