Captain Collider
From PRIMUS Database


'
The Immeasurable
Captain Collider
Man of the Millennium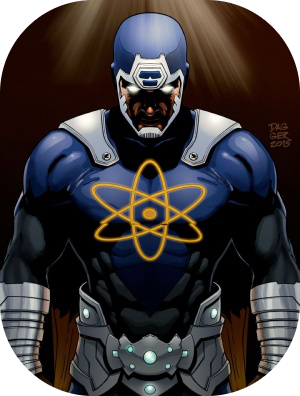 "There is nothing like a dream to
create the future." - Victor Hugo
Freeform

Player:

Affiliations
Super Group
Rank
Founder
· Other Affiliations ·
Unlimited Dynamics
Identity
Real Name
Dr. Malcolm Franklin Parton
Aliases
The Man of the Millennium, The Master of the Atom, The All-Powerful Pacifist, The Final Frontiersman, The Metaversal Man, The Best of the Brightest
Birthdate
12th May 1979
Birthplace
San Francisco, CA
Citizenship


U.S Citizen
Residence
Headquarters
The Tower of Power
Occupation
Particle Physicist at Unlimited Dynamics
Director of Research (Department of Applied Physics and Technology) at Arcadia City University

Adjunct Professor (Several Institutions)

Non-Fiction Writer
Legal Status
Registered Hero
Marital Status
Widowed
· Known Relatives ·
Vanessa Morello (Wife, Deceased), Gerald Parton (Father), Grace Parton (Mother, Deceased), Francine Parton (Sister)
Physical Traits
Species
Human
Sub-Type
N/A
Manufacturer
N/A
Model
N/A
Ethnicity
African-American
Gender
Male
Apparent Age
36
Height
6'4" (Previously 5'11")
Weight
260lbs (Previously 190lbs)
Body Type
Muscular, Large
Hair
Black
Eyes
Blue
Skin
Dark
· Distinguishing Features ·
Glowing Eyes (Captain Collider) - Gray Temples
Powers & Abilities
· Known Powers ·
Metaverse Conduit
· Equipment ·
Collider Stabilisation Suit - Parton Collider - Parton Portal
· Other Abilities ·
Super Genius Level Intellect - Brilliant Physicist - Expert Chemist and Biologist - Multilingualism
Once a brilliant physicist eager to change the world for the better, Malcolm Parton's life was instead changed forever when a freak accident caused him to be caught in a highly experimental particle collider mid-collision. Though he should have been killed, an unknown variable caused hyper accelerated Power Particles to destroy and reconstruct Malcolm's body, merging with his physiology at a subatomic level. The process radically altered Mal, transforming him into a conduit to the Metaverse and granting him extraordinary superpowers in the process. Imbued with power beyond his wildest imagination, Mal vowed to use it responsibly in keeping with his pacifistic beliefs and became Captain Collider, the immeasurable Man of the Millennium!
A gentle and reserved soul at heart, Captain Collider considers himself a scientist first and a superhero second, always prioritising thought and diplomacy over violence and confrontation. Though his wisdom, courage and compassion make him a hero among heroes, his idealistic pacifism occasionally borders on naivete. Still, with the potential for absolute power present within him, Captain Collider strives every day to ensure it doesn't corrupt him absolutely in his never-ending battle for a brighter tomorrow.
Currently, Captain Collider maintains his vigil over his hometown of Arcadia City and the world at large. He even devotes some time to adventures of a cosmic scale, travelling to alternate universes and alien worlds in a constant effort to protect the Multiverse from all who would threaten its existence.
Biography
Origin
"Humanity is a species of vast potential, and one spark of genius can change the future of our proud race exponentially. Just a few thousand years ago, we lived in primitive huts. And now? We build towers of steel that reach to the sky. In a world of limitless possibilities, where everything we know can become obsolete at any moment, what is the value of one man's quest for discovery? What is the power of an idea?" - Captain Collider
Born in San Francisco to renowned physicist Gerald Parton and firefighter Grace Parton, Malcolm Franklin Parton was the second child of the couple, born after his older sister, Francine. Born into well-educated, well-off family, Mal wanted for little and received all the love and support he needed from parents, siblings, friends and teachers growing up. From a very early age, the true value of companionship and community were instilled within him.
"I had a very normal life. Good family. Good home. Sure, it may not be the most interesting superhero origin, but I wouldn't have it any other way." - Captain Collider
Inheriting his father's natural genius, Mal showed a staggeringly high intellectual capacity very early in his childhood, especially with concern to the sciences. With his father's love of science and his mother's compassion for others, he would often spend his free time studying the world around him in the hopes that he could somehow use what little knowledge he possessed at the time to make the people in his life happier. Wherever there was a problem in his neighbouhood, a young Mal was never far behind with childlike inventions and a friendly disposition.
"My parents always used to tell me that if you had the potential to do something, you should always do good. It's a lesson not nearly enough people learn and even fewer remember, but it's one I live by." - Captain Collider
Throughout his school years, Mal often found himself on the receiving end of bullying and ostracisation from his peers to the point where he very rarely had any friends and could go through entire days without looking someone in the eye. His inventions and precociousness, likewise, earned him scorn from the teachers he eventually wound up surpassing. As far as romance went, he was almost invisible to most women and frequently felt the sting of rejection from them. Despite the self-doubt and insecurity that inevitably stemmed from a childhood of alienation, Mal maintained the belief that people were inherently good and sought to one day make them better. In his eyes, there was more to humanity than social hierarchy and popularity.
"I had a difficult childhood. There were times where I felt like there wasn't anyone in the entire world who understood me. Or who cared to, for that matter. But I wouldn't let it change me. I wouldn't let it undo everything my parents taught me about the world. There had to be more out there, and I wasn't going to give up until I found it." - Captain Collider
Mal was only twelve when a devastating earthquake hit San Francisco, endangering many of its citizens. Mobilising with the rest of the city's fire department, his mother, Grace Parton, bravely set out to participate in rescue operations. Dedicating herself to these efforts, she became one of the many firefighters who eventually gave their lives in the line of duty, becoming trapped in a burning building while evacuating civilians. Having died saving innocent people, she was honored as a hero by the people of San Francisco and would one day inspire her son to follow her example.
"My mother was more of a hero than I ever knew. Every day of her life, she went into the world and risked her own safety, her own happiness, for total strangers. Why? Because she saw the pain and suffering in the world around her and did the single bravest thing a person can do: she kept looking. That was when I knew there was nothing else I'd sooner be in this life than a hero." - Captain Collider
With dreams of using science to improve the lives of people around him, Mal quickly became an academic prodigy. Scholarships and college placements were offered left and right as many tried to get a hold of the promising young genius as soon as possible. Ultimately, he decided to study Particle Physics at one of the most prestigious specialised colleges in the country: Arcadia City University. It was during his studies that met the woman who would one day be love of his life, Vanessa Morello. A fellow student of Particle Physics at ACU, Vanessa's intelligence, beauty and warmness quickly drew the affections of Mal. Initially too shy to talk to her directly, he would spend his classes admiring her from afar and trying to gather up the courage to approach her.
"Vanessa was everything I could have wanted in a woman. And I never imagined I could have been anything she was looking for in a man." - Captain Collider
Eventually, however, the two were partnered up on a group project and forced to work together. Despite Mal's intense timidity, they quickly began to hit it off while discussing the science behind their work and, after the project was completed, began hanging out with each other. Fighting through his inexperience and lack of confidence, Mal managed to muster up enough determination to ask her out. To his surprise, she accepted and confessed that she had been interested in him since their project. Following their date, Mal and Vanessa quickly fell in love with one another and began a steady relationship which would last well into their doctorate studies.
"I was just a shy, geeky kid back then. Vanessa loved me not in spite of that, but because of it." - Captain Collider
It was during their tenure at the university that a twenty-one year old Mal eventually proposed to Vanessa, hoping that they could start a life together once their studies came to an end. Overjoyed by Mal's proposal, Vanessa enthusiastically accepted. Once they graduated from Arcadia City University with their PhDs secured, Mal and Vanessa set a date for their wedding. The ceremony was a relatively small one attended mostly by a close circle of family and friends, but it would always be remembered as perhaps the happiest moment of Mal Parton's life.
"In all my years, with all my scientific breakthroughs, nothing I've done has ever felt more right than asking Vanessa to marry me." - Captain Collider
While Vanessa got a job working at an up and coming industrial technology company called Steel Industries, Mal secured work within the physics lab of Arcadia City University both as a particle physicist and a trainee lecturer. In this position, he quickly established himself as a brilliant physicist with a bright future, helping to make a number of breakthroughs in the field of particle physics and gradually making a name for himself via his own personal discoveries and theories. One such theory would go on to form the basis of his life's work and would set into course events that would drastically influence his future: the theory of the 'Power Particle'.
"The Power Particle represented all that mankind could achieve -- a future so bright it was blinding. Imagine being able to cure terminally ill patients by giving them regenerative healing factors. What if we could give construction workers super speed or super strength? What if a little girl who has been stuck in a wheelchair her entire life could stand up and fly? With the Power Particle, I believed I had unlocked the secret behind the controlled activation of superpowers -- a common link between all superpowered individuals, regardless of origin. Limitless possibilities for anyone and everyone. That was the Power Particle." - Captain Collider
Quickly becoming a popular name for his various theses and books on the Power Particle, it wasn't long before Mal received the support he needed to turn his theory into a reality. Approaching the bold, young physicist with an offer of his own lab stocked with resources, a team of diligent physicists at his disposal and all the money he needed to make sure he made the most of them, Olivier Martin, President and CEO of Unlimited Dynamics, enlisted Mal's brilliant mind in the search for his much vaunted Power Particle. Though Mal was originally reluctant to enter a partnership with the fast-talking, pampered businessman, he eventually saw that he truly wished to make the world a better place and agreed to work at his company, establishing a professional and personal friendship that would span throughout the following years.
"Ollie was everything I wasn't. Where I was shy and reserved, he was outgoing and loud. Where I had worked my way to excellence, he was born into it. By all accounts, we should have hated each other. But, beneath all the bravado, Ollie was a good man. I knew that about him almost immediately." - Captain Collider
Tragedy struck unexpectedly in Mal's personal life, however. After returning home from a day at Steel Industries completely exhausted, Vanessa suddenly collapsed and was rushed to the hospital by a panicked Mal. Once there, the couple were devastated to find out that she had somehow contracted an extremely rare disease for which there was no known cure. She was given roughly three years to live. Consumed by grief and unwilling to accept the fact that Vanessa might die, Mal single-mindedly devoted himself to unlocking the Power Particle in the hopes that he could harness its power to cure his ailing wife.
"It was all so sudden. So meaningless. An inexplicably rare illness incurable through current medical science and I couldn't do a damn thing to stop it from poisoning her. I wasn't about to let the only woman I ever loved die in some hospital bed. Not in my world." - Captain Collider
As the months went by, Mal's attempts at unlocking the Power Particle met wall after infuriating wall as Vanessa continued to grow ill. As Mal's pursuit of the perfect 'cure' to her condition became obsessive and self-destructive, Vanessa implored him to stop his research, accept her mortality and spend what little time he had left with her. Outraged by what he saw as her willing resignation to the inevitability of mortality and irritable from a great many sleepless nights, Mal lashed out at her in anger. Ashamed of his outburst, he retreated deeper into his work and refused to see Vanessa again for fear of losing his will to finish it.
"I didn't eat if I didn't have to. I didn't sleep if I didn't have to. Every waking hour was dedicated to finding the Power Particle to...saving my wife. If I couldn't save Vanessa -- the woman who meant everything in the world to me -- then who could I save?" - Captain Collider
Mal increased his work hours and devotion to the Power Particle over the next year, even inventing a robotic assistant named QUARK to help reduce his workload. Eventually though, as if through sheer determination, his efforts bore fruit with the creation of the world's first Parton Collider -- a particle accelerator that he hoped would uncover the mystery behind the Power Particle through the collision of accelerated particle rays. On the precipice of finally proving the legitimacy behind his life's work and saving Vanessa from the claws of fate, Mal wasted no time in trying to put the grand machine to practice.
"I was so close. So close I could taste it. I could save Vanessa. I could save the entire world. And I was so close." - Captain Collider
With his life's work finally coming to a head, Mal worked up the nerve to visit Vanessa at the hospital again. Though he attempted to mend bridges with her and excite her with the possibility of a cure, Vanessa -- who had been wounded both by his previous outburst and his lack of emotional support over the last year of her life -- did not reciprocate his enthusiasm and, instead, revealed that the doctors had shortened her life expectancy to sometime within the coming weeks. Taken aback, Mal expressed an intention to redouble his efforts, but Vanessa stated that she'd prefer it if he would abandon his frenzied pursuit to save her and simply keep her company in her final days. Though Mal wanted nothing more than to make Vanessa happy, he refused to give up so close to a breakthrough and, wracked with guilt and self-loathing, left the woman he had devoted his life to sobbing in a hospital room alone.
"I was a fool. I thought that Vanessa had her friends, her parents, my father -- but she didn't need them. She needed her husband. I...I abandoned her. Because I was terrified of a world where she wasn't at my side. Because I was so busy ensuring a better future I could never truly live in the present..." - Captain Collider
Within a week, the preparations for the initial activation of the Parton Collider had been made. A gallery of esteemed scientists, interested investors, Unlimited Dynamics board members and a few representatives of the media gathered to observe history in the making. With the weight of the world on his heavy shoulders, Mal started up the Parton Collider and watched with bated breath as it began to pull humanity into a new age in a brilliant flash of light.
"It all happened so fast. Looking back on it, it's almost dreamlike the way my greatest creation became the biggest mistake of my career." - Captain Collider
Almost too suddenly to comprehend the situation, the Parton Collider began to fluctuate wildly out of control, its collisions shaking the entire laboratory violently. As Mal hurried to find a solution to the problem, the audience and scientists were trapped in the lab by falling debris. Though he was initially unwilling to give up on his dreams, Mal quickly changed his mind on seeing the lives of others endangered and, in a bold act of heroism and redemption for his mistakes, he climbed to the upper level of the lab and attempted to hit the emergency shut down switch. As he slammed the button, however, the walkway he stood on gave way beneath him, sending him hurtling into the path of the Parton Collider's accelerated particle beams just as it fired off one final time. As the beams collided with him on either side, Mal Parton ceased to be, exploding in a flash of blinding light and leaving only an echoing scream in his wake. Though the machine shut down due to his efforts, every person in the room watched in horror as the man behind it was disintegrated before their very eyes.
"A light, brighter than a million suns. A sense of clarity I had never felt before. And then...darkness." - Captain Collider
Roughly a month later, as Olivier Martin and QUARK oversaw the clean up of what was left of the late Mal's lab, the former lingered for a moment on the deactivated Parton Collider and ran a sentimental hand across its surface. As he reached a certain point, however, a jolt of electricity arced out and zapped his hand as he recoiled in pain, the Parton Collider reactivated itself seemingly of its own volition. Before anyone in the room could react, however, the machine collided two accelerated particle beams and, with an explosive shockwave of light and sound, a form assembled itself out of particles within the light. As the Parton Collider once again deactivated itself, the mysterious being stumbled from its origin point. Though he was far more muscular and nude than he had been the day he 'died', he was, without a doubt, Mal Parton.
"It's difficult to describe the sensation of being reconstructed at a sub-atomic level. It was like every part of my being was sentient and I could see through them...sense through them. When they became one, it was like being reborn anew." - Captain Collider
Though Mal appeared to possess the same memories and basic physical features he had prior to falling into the Parton Collider and being atomised, his body had been completely altered during the reconstruction process. Going from a lean, brown-eyed 5'11" man, he was 'reborn' 6'4" with extremely dense musculature, glowing blue eyes and the sides of his hair unnaturally whitened. Dazed and confused by his recent 'reincarnation', Mal's first thoughts immediately went to Vanessa. Pulling on a lab coat and pushing past Olivier and QUARK, Mal ran out of the building and onto the streets so he could get to the hospital as quickly as possible.
"I needed to see her. I needed to know she was alright. Nothing else mattered to me in that moment." - Captain Collider
As he emerged onto the streets of Arcadia, however, Mal's senses were overwhelmed. In complete agony, Mal attempted to run towards the hospital to get away from it all, only to break the sound barrier and crash headfirst through a store window; and as he pushed himself up and attempted to jump back through the opening he had made, he propelled himself into the air and came crashing back down in a heap, beams of energy firing from his eyes and into the ground wildly. Whatever had happened to Mal between his being disintegrated and being reconstituted had changed him.
"It was as I lay in a crater, huddled in a ball with a crowd of bewildered citizens taking pictures and talking around me that I truly woke up to my situation. When I first came to, my concern for Vanessa overrode all logic and reason but, in all the chaos that unfolded afterwards, I finally asked myself why I was still alive and what I had become." - Captain Collider
With his wits restored, Mal carefully made his way back to Unlimited Dynamics' HQ and requested that Olivier have scientists examine him. Further study of Mal's physiology quickly yielded rather shocking results. For all his altered looks and musculature, the most radical change to his body came at a more subatomic level: indeed, his blood, bone marrow and even saliva all radiated a unique type of energy which indicated that the very building blocks of his body themselves had been manipulated and warped to a significant degree. In his effort to create the Power Particle, Mal had seemingly become a living conduit of Power Particles. The unique subatomic particle had become bonded with his physiology on an intimate level, granting him vast powers which may have been the result of the subconscious manipulation of particles, influenced by the superiority of the Power Particle. In short, though Mal's life's work had born fruit, all known Power Particles were currently trapped within his body, unable to be used for the benefit of anyone else while simultaneously granting him tremendous power.
"It was some kind of ironic twist, almost. All that time spent searching for the Power Particle and I ended up trapping it inside of my own body, where it was no good to anyone. No good to Vanessa..." - Captain Collider
Still desperate to meet his wife, Mal refused to allow Olivier's scientists to detain him for further study and insisted that his friend informed him of the time lapsed between his 'death' and 'rebirth' and Vanessa's condition. Though he seemed reluctant to tell his friend the truth when he seemed so unstable, Olivier eventually relented and revealed that Vanessa had died of her illness a few days after hearing the news of Mal's supposed death, seemingly losing the will to go on. Crestfallen at the fact that he had been unable to save the one person he had valued above all others, Mal solemnly agreed to let Olivier further study his abilities.
"It was like losing the will to live. Vanessa was the world to me and, because of my obsession saving her from her own mortality, I never even got a chance to say goodbye to her. According to Olivier, I had powers beyond compare, but none of them could bring her back. So what good were they?" - Captain Collider
With the study of his altered physiology complete, Mal used the data gathered to create a 'stabilisation suit' capable of both regulating his powers and preventing the small but dangerous chance that the Power Particles in his body could become super dense and explode into a black hole with excessive use. Once his stabilisation suit was finished, Mal donned it, covered it with a layer of street clothes and, with Olivier at his side, journeyed to the cemetery where Vanessa was buried. There, he encountered her parents and, after a heartfelt moment of reconnection, reconciled with them for the mistakes he had made while Vanessa was alive.
"They told me she loved me, that she never truly resented me for what I did and I believed them. But it didn't change the fact that I wasn't there for her and it didn't help the guilt bearing down on me." - Captain Collider
After saying some final words to Vanessa and apologising for not being there for her when she most needed him, Mal broke down emotionally,convinced that he was a fool who had deluded himself into thinking he had the power to save anyone. Though Vanessa's parents assured him that he could still use his genius for good, Mal remained unconvinced and left with Olivier after recomposing himself.
"Never felt so hopeless in my entire life. For the first time since I could remember, there was no future for me. Not without her." - Captain Collider
As Olivier's limousine made its way over Arcadia City's Hyperion Bridge, the sudden arrival of a group of conspicuous motorcyclists raised alarm bells for both men -- especially when they closed in on an armoured truck a few cars away. Before either of them could come to terms with what they were seeing, the motorcyclists drew firearms and opened fire on the armoured truck, hoping to stop and loot it. Caught off-guard by the daring robbery, Olivier's hit the breaks, sending the car spiralling out of control and leaving it teetering precariously on the edge of the bridge.
"Olivier panicked. I definitely panicked. Then I remembered what I could do and...I wasn't afraid anymore. And I don't think I've been afraid since." - Captain Collider
After recovering from his initial panic, Mal mustered his courage and used his amazing new gifts to both thwart the robbery and save the lives of the other drivers on the bridge. When the smoke cleared, he stood over three would-be robbers wearing nothing but his stabilisation suit. Images of a man of god-like strength and presence standing over his enemies and lifting a grown man over his head with a single arm dominated news coverage and the media. Though no one could put a name and face to the mysterious strongman, they all agreed on one thing -- on that day, atop Hyperion Bridge, a hero had been born.
"When I got my powers, I never even considered using them to save lives. I was too caught up in how the Power Particles had affected me. I needed to start thinking about how they would affect the world." - Captain Collider
Meeting with his father and making up for lost time, Mal confessed that his accident had given him some sort of powers and that he had used them to save lives as the mystery man on Hyperion Bridge. Conflicted by his desire to help those around him and his apprehension towards his potentially dangerous new abilities, Mal asked his father for guidance. Though somewhat taken aback by the news, Gerald reminded Mal that his mother had died saving lives and that while her loss had forever impacted the lives of those closest to her, her sacrifice meant that those more vulnerable than her could live and grow to follow her example. Explaining to his son that the exceptional had a responsibility to use their gifts to better mankind, Gerald gave him his blessing to use his powers as his mother would have wanted. Touched by his father's words and the memory of his mother, Mal agreed.
"My father told me that if I have the potential to do anything in this world, it was my obligation to do good. It was then that I knew my life hadn't ended with Vanessa's. I owed it to her, to my mother, to the whole world to keep on living. To keep on doing good." - Captain Collider
Mal confided in Olivier that he wanted to start using his powers for the good of mankind while still pursuing the full potential of the Power Particle. Though Olivier was initially reluctant, he believed that the best way to do both things was to 'come out' as a superhero, allowing him to become an identifiable public figure while still enabling him to pursue scientific inquiry as Mal Parton. Pondering the idea, Mal noted that, with his powers being as potentially vast as they were, he wanted to ensure that there would always be accountability for his actions. This would both ease public opinion of him and humanise presence. Ever the opportunist, Olivier suggested that Mal premiere at the upcoming Wonderdome Science Expo, a representative not just of the city's shared goal of ushering in a better future, but also as a symbol of that future -- the way things could and should be.
"If I was going to help people, I needed them to know that I was, and will always be, just a man. Not a God or some figurehead, but a man trying to use extraordinary gifts to help his fellow man. And I had a feeling that I would need to remember that myself. A public identity would keep me human; it would keep me from ever believing I was anything more. How Vanessa knew me before she died...that's how I want to be remembered." - Captain Collider
Using Unlimited Dynamics' test grounds to train and explore the potential of his powers, Mal developed his already known powers of super strength, durability and speed while picking up others such as his various energy and radiation blasts and particle vision along the way. At the same time, QUARK worked on developing a more streamlined, mobile stabilisation suit and Olivier began to figure out how to 'sell' the would-be superhero. After months of preparation, all three parties came together and gave birth to a new breed of superhero.
"My mother always said that the only difference between a man and a hero is the willingness to do the right thing no matter the cost. If I was going to help save the world, I would have to sacrifice all hope of a normal life and commit fully to being something more. I could do that." - Captain Collider
Eventually, the expo drew near and it was there that Mal would make his official debut as Captain Collider, trained in the use of his powers and fully ready to use them for the benefit of mankind. In a star-studded introduction heralded by music and fireworks, Mal Parton revealed to the entire world that he was not only alive and well, but better than ever. Swooping in from on high with a flowing cape and glowing eyes, the immeasurable Man of the Millennium, Captain Collider, was born.
"Personally, I like the name. Dr. Collider sounds kind of self-gratifying, when you think about it. Also, a little evil." - Captain Collider
In the coming months, Captain Collider went on to prove himself a hero worthy of his grandiose introduction. He devoted himself body and mind not only to fighting the various super criminals plaguing his home, but also to everyday criminals such as muggers, burglars and crime bosses. In addition, Captain Collider also contributed his powers and skill set to helping to further scientific inquiry both as his heroic alter-ego and as Mal Parton, promoting ideals of progress and forward thinking above all else. He has converted the uppermost levels of Unlmited Dynamics' HQ -- which soon became colloquially known as the 'Tower of Power' -- to serve as his base of operations and regularly allows civilians to approach him there with individual problems when not out on patrol or on some parallel world.
"If you have the potential to do anything, you have the obligation to do good. Thanks, dad." - Captain Collider
Antithesis
"It all started, as always, with good intentions..." - Captain Collider
During his early study of his Power Particles, Captain Collider hypothesised that the Power Particle most likely existed in another dimension before manifesting itself in his atomic structure. In order to test this theory, he developed the Parton Portal -- an interdimensional portal generator intended to allow him to travel to other dimensions in search of Power Particles. Things took a turn for the worst, however, when the Parton Portal was activated for the first time. When Captain collider stepped through its gateway, he found himself in a desolate extradimensional world ravaged by war and entropy, Before he had time to truly take it all in, a chittering swarm of winged, reptilian creatures emerged from the portal and began to tear through the Tower of Power. As Captain Collider and QUARK struggled to restrain them, a towering lizard-like amazon wielding a unique staff stepped out of the Portal and with a screech, led the creatures out of the tower and towards Arcadia City, where they began to devour all in their path. As they did so, she used her strange staff to convert matter into antimatter, annihilating everything in sight.
"It was mortifying. A mindless creature that only knew how to destroy. For the first time, I was facing a foe that couldn't be reasoned with. That couldn't be talked down or understood. It was a parasite, and it wanted to devour everything." - Captain Collider
This 'Antimatron continued on her rampage as Captain Collider rushed to stop her, fighting off her 'Ravening Horde' with QUARK and the ACPD's assistance. Eventually, through their combined efforts, they were able to force the Antimatron and her army back into the Parton Portal, sealing it within the barren dimension that would be further known as 'Point Z'. Thought he had managed to drive the Antimatron's army back, Captain Collider felt intense guilt for the creation of the Parton Portal and resolved to destroy it.
"It was an unmitigated disaster. I couldn't allow the Parton Portal to exist because of me. At least, that's what I believed initially..." - Captain Collider
Before he could, however, Olivier Martin and Timothy Bowman reminded him that the device had been used to seal a seemingly unstoppable threat away where it could no longer do any harm. Reluctantly, Captain Collider decided to keep the Parton Portal for the sake of imprisoning superior threats to Arcadia City, modifying it to ensure that the Antimatron and her Ravening Horde would never break free again.
"In many ways, the Parton Portal has been a powerful asset. In other perhaps more haunting ways, it was the first grim reminder of my own hubris. It wouldn't be the last." - Captain Collider
The Men of the Millennium
"Any scientist worth his salt hopes that his work might one day influence humanity in a positive way. Unfortunately, discovery is oftentimes a double-edged sword..." - Captain Collider
When a group of human and alien individuals donning uniforms resembling Captain Collider's costume materialised in the middle of the Eli Arcadia Memorial Park, Captain Collider quickly responded to the situation, approaching the mysterious strangers with caution. Led by a human man who referred to himself as the 'Alpha Collider', the group identified themselves as the Collider Consortium -- an intergalactic law enforcement organisation modelled after Captain Collider himself. From a future where an all-powerful Captain Collider decided to spontaneously retreat from the universe, the Collider Consortium used suits infused with sophisticated Power Particles to mimic his abilities, allowing them to fill the void of his absence. After assuring Captain Collider that they were there to help Arcadia City, Alpha Collider informed him that they had travelled back in time to apprehend a time-travelling fugitive who had taken up residence in the past and threatened the future of the Collider Consortium -- Captain Collider's arch-nemesis, Blacksmith. Still somewhat skeptical of the strange group's somewhat religious reverence for him, Captain Collider agreed to help them capture Blacksmith and take him back to the future.
"I probably should have known better, but I guess a part of me wanted to believe that the Collider Consortium were my legacy, protecting the universe from harm." - Captain Collider
With the Collider Consortium protecting the city, Captain Collider and Alpha Collider went on a manhunt for the fugitive Blacksmith. During this manhunt, however, Alpha Collider's increasingly unstable and authoritarian sentiment began to arouse Captain Collider's suspicions. These suspicions were confirmed when, upon fighting and defeating Blacksmith, Alpha Collider attempted to murder the man in cold blood. Quickly intervening, Captain Collider demanded to know what Alpha Collider's true intentions were. Duty bound to answer, Alpha Collider informed the hero that the Collider Consortium was more akin to a cult than an organisation, worshipping Captain Collider's power and using their share of it to oppress the universe. Repulsed, Captain Collider demanded that they leave his time period, but was quickly interrupted by an alert from QUARK informing him that the rest of the Collider Consortium had begun tearing the city apart in search of something. It was then that Alpha Collider incapacitated Captain Collider by catching him off guard, revealing the true reason the Collider Consortium had travelled to his time: to procure the Parton Collider and use it to increase the power of their suits.
"They were there to use my greatest invention to help them conquer the universe. I had never even considered the Parton Collider as a force for anything but good, but, in some unknown future, a group of lunatics had found a way to turn it into a weapon..." - Captain Collider
Refusing to let them do so, Captain Collider struck a truce with a reluctant Blacksmith to stop the Collider Consortium from getting their hands on the Power Collider. Together, the two enemies fought back the Collider Consortium and its leader, using the Parton Portal to trap them in Point Z. Though Blacksmith used the chaos of the situation to slink away, Captain Collider managed to procure one of the power suits used by the Collider Consortium. Beginning to have doubts about the influence of the Power Particle and the Power Collider for the first time, he began to study the suit and time travel, hoping to prevent a future where the Collider Consortium would ever come to be. But one question remained at the very forefront of his mind: who was Blacksmith, and where did he really come from?
"I was left with an abundance of questions and no good answers. The only thing I could do was swear to myself that I would never let the Collider Consortium exist. That I would die before I allowed them to take the universe in my name. And I stand by that promise." - Captain Collider
A Matter of Time
"They say you should never meet your heroes. I believe that should be doubly so if your hero is a man who has simultaneously been dead for centuries and will be born a thousand years from now." - Captain Collider
Through his adventures, Captain Collider eventually discovered the true nature of the Power Particle after an encounter with the villain known as Minuteman, in which he chased him to the year 3015 and met the time-travelling founder of Arcadia City, Eli Arcadia. While the two worked together to stop Minuteman as he rampaged through time, Arcadia explained that the Power Particles in Captain Collider's atomic structure actually served as a gateway to the metaphysical plane which governs the multiverse's physical laws -- the Metaverse. This meant that Captain Collider was, much to his surprise, a conduit for a greater cosmic force, granting him the power to use his particles to alter and manipulate the laws of physics as they act on him. When both men ended up trapped at the end of time thanks to the Minuteman, Arcadia helped Captain Collider change his perception of his powers and, as a result allowed him develop the power of chronokinesis. With this chronokinesis, the two men travelled back in time to stop Minuteman from killing Arcadia in the year 1700, trapping the villain between time and space. Afterwards, the heroes parted ways and returned to their respective time periods with Captain Collider resolved to further investigate the true nature of his powers...
"If's I'm going to fully understand what the Power Particle means to me -- no, to the multiverse at large -- I'm going to have to forget everything I thought I knew about physics and start all over again. Easier said than done..." - Captain Collider
The Battle of Arcadia
"Some secrets are better left untold." - Captain Collider
Eventually, after years of concocting schemes to destroy Captain Collider and using Power Particles to create enemies for him to fight, Blacksmith's secret identity as Maxwell Steel, the president of Steel Industries, was found out by his long-time nemesis. Backed into a corner, Steel revealed himself to the world via global broadcast as Max'ur Steel -- a time traveller from 200 years into the future. Having originated from an era where the hero had attained godhood through the mastery of his powers and used that godhood to rule over all life with an iron fist, Steel led a resistance against his tyranny and eventually used the Parton Collider to travel as far back in time as he could -- ten years before the accident that would turn Mal Parton into Captain Collider -- in order to stop him from ever unlocking the secret of the Power Particle. With only his knowledge of future technology and a few stolen canisters of stabilised Power Particles, Steel founded Steel Industries and became a billionaire, building the resources he would need to complete his mission.
"All those years spent in deep thought, pondering that man's identity, questioning his true motives -- analysing him from every conceivable angle -- and I still never saw the truth coming." - Captain Collider
His first attempt to discourage Mal Parton from creating the Parton Collider involved employing his wife, Vanessa Morello, at Steel Industries and exposing her to unique radiation which made her terminally ill. Much to Steel's dismay, however, this only prompted Mal to speed up his work on the Parton Collider, creating it ahead of schedule. With few options present to him, Steel sabotaged the first activation of the Parton Collider with a Metaversal Jammer of a future Captain Collider's own design. Unfortunately, it was this Metaversal Jammer's presence that acted as the unknown variable in activating the connection between the Metaverse and the Parton Collider, giving birth to the Power Particle and reconstructing Mal Parton into Captain Collider. For a while, Steel believed his plan had worked, having seen the Parton Collider deconstruct Mal. When he resurfaced with superpowers and went public as Captain, however, the villain had no other choice but to kill him before he became too powerful. Inventing the identity of Blacksmith, Steel used his stabilised Power Particles to create a number of Captain Collider's most formidable foes -- The Amorphous Man, Lady Winter, Obelisk, The Thunderer and ADAM to name a few. He also outfitted local gangs and super criminals with technology specifically made to counter the hero. Much to his frustration, however, Captain Collider always managed to overcome the obstacles placed before him, even becoming stronger with each new challenge. For the five years, Blacksmith conspired to eliminate Captain Collider and, for five years, Captain Collider sought to uncover the villain's true identity. When he eventually did so, however, Blacksmith had prepared one final contingency plan to dispatch his foe once and for all.
"This was a man who had broken free of the bonds of time and space to kill me. To undo everything I have ever done and ever will do. My very existence was an affront to him and, as I looked into his eyes on that screen, I finally understood the unfathomable depths of his hatred for me." - Captain Collider
After revealing his true identity and purpose before a world which had begun to doubt Captain Collider as a result, Blacksmith put this plan into action by activating a legion of A.D.A.M drones with one singular purpose: to destroy Captain Collider and level his city. These A.D.A.M drones blitzed Arcadia with its vast numbers, targeting Captain Collider's loved ones and destroying the Wonderdome to draw him out. To protect his city, Captain Collider met the A.D.A.M drones in battle. Despite his strength and perseverance, the hero was overpowered by the army of A.D.A.Ms and was seemingly killed in the centre of Innovation Plaza. At the very last second, however, he had been rescued by one of Skeleton Key's portals, which transported him to the hideout of the Renaissance Men.
"The Renaissance Men have always been different from the rest of my enemies. There's nothing personal between them and I. There's no hatred for the city, or this planet, or life in a general sense. They're professionals. Businessmen, really. They see the line between good and evil, and they only choose to cross it in the name of prosperity." - Captain Collider
Asserting that the destruction of the city would be bad for business, the super criminals volunteered to truce with their enemy to protect Arcadia. While the Renaissance Men called in additional help from Vito 'Cash' Cardellini, The Fissioneer, The Wild Ones and Blockhead, Captain Collider activated the 'QUARK Defense Protocol', giving QUARK and Olivier Martin full control over a force of robotic drones to help protect the civilians and combat the A.D.A.M drones. Together, the fire-forged team, the police and the army united against their common enemy, destroying the A.D.A.M drones after a lengthy battle and saving Arcadia City.
"Despite all our differences, we are all human and all humans, at their core, understand the value of fighting for what's theirs. None of us were about to let Arcadia City fall and, because of that shared instinct, we trusted one another to ensure it didn't happen." - Captain Collider
Or so it seemed. Whilst the team of heroes and rogues had been protecting Arcadia City from the wave of A.D.A.Ms, Blacksmith had taken over Stonewall Penitentiary off the coast of Goldbrook to initiate the next step of his plan. Freeing some of the penitentiary's most dangerous prisoners, he offered each one a billion dollar reward for the head of Captain Collider and used a teleportation device to transport them directly to mainland Arcadia. With the likes of Obelisk, Lady Winter, The Amorphous Man, and The 3D Bandit now free, a second battle ensued between the combined forces of those protecting Arcadia City and the escaped convicts of Stonewall. During this fight, Captain Collider took the opportunity to pursue Blacksmith, chasing him to his safehouse and confronting him.
"We didn't really have to say anything. Somehow, we both knew that only one of us was walking away from this battle, and I wasn't about to let it be him." - Captain Collider
There, Blacksmith revealed his true role in Captain Collider's life, detailing how he indirectly caused the hero to be born, perverted the Power Particle to create most of the city's most dangerous threats and used his technology to kill Vanessa Morello. Furious, Captain Collider attacked Blacksmith, only to discover that he had used an experimental batch of short-term, high-yield Power Particles to temporarily establish himself as a Metaverse Conduit. With his new power, Blacksmith overwhelmed Captain Collider and took their battle to the streets of Arcadia in a devastating city-spanning brawl. As all hope seemed lost, however, Captain Collider used his own connection to the Metaverse to transfer his power to Blacksmith, overloading him with energy and causing him to 'burnout', losing all his power and collapsing.
"I had spent five years studying the Metaverse and learning to master it while he was out destroying lives and causing pain. I wasn't going to let him beat me at my own game." - Captain Collider
Weakened to near death by the whole experience, Captain Collider took a moment to relax as the battle for Arcadia City came to an end. As he lay there, however, Captain Chemo arrived from the battle and entertained the notion of simply killing Captain Collider while he was vulnerable. Ultimately, though, the villain reluctantly opted to help the hero to his feet, deciding that their truce was still in effect.
"People can always surprise you. Especially the ones you'd think you've got pegged." - Captain Collider
Over the next few weeks, Captain Collider, the Renaissance Men, the gangs of Arcadia City and those rogues who had opted to help defend their home all banded together with volunteers and relief teams to rebuild the city in a record period of time, even managing to reconstruct and improve the Wonderdome. Though some of Stonewall's convicts had successfully escaped in the chaos of the Battle of Arcadia, the majority of them had been defeated by the combined efforts of its protectors and returned to their cells. For her part in the protection of Arcadia City and its subsequent reconstruction, Mayor Elizabeth Rhodes was elected for another term by a landslide vote. Unlimited Dynamics bought out Steel Industries and provided new jobs to all its employees, notably promoting Francine Parton to a high-level position as CFO of the new amalgamated Unlimited Enterprises. The QUARK Defense Protocol was developed further, acting as a contingency measure in the event of another city-wide crisis. Those villains who helped defend Arcadia City were given full pardons for their efforts and Blockhead became a new provisional member of the Renaissance Men (much to the Fissioneer's chagrin). Finally, the man behind Arcadia's darkest day, Max'ur Steel, was placed in a specially-made maximum security cell at Stonewall.
"Those first few weeks after the Battle of Arcadia City showed me in the most spectacular ways the full potential of human beings. Strangers bled and sweat for the sake of people they would most likely never meet again. Criminals and scoundrels banded together to give, not to take. There was an unspoken unity between men and women as they poured themselves body and mind into rebuilding Arcadia City. And when they looked to the skies and saw their hero soaring over them, I looked down and saw heroism personified." - Captain Collider
With his power returned to him, Captain Collider visited his imprisoned arch-nemesis and asked him for the truth behind his future. With nothing else to lose, Steel forewarned the hero that his vast power would one day grow to corrupt him, causing him to destroy everything he loves in the pursuit of godhood. This would usher in an age of darkness, in which all universes are controlled by a single man: the fallen hero once known as Captain Collider. Despite his concern over Steel's words, Captain Collider assured him that he would do everything in his power to ensure that future never came to pass. Skeptical, Steel simply dismissed him, urging the hero to leave him to his failure. With mixed emotions, Captain Collider left to continue his watch over the reconstructed Arcadia City and its people, thoughts of a potentially cataclysmic future still lingering in the corners of his mind. Though most of Arcadia City's populace still saw Captain Collider as a paragon of virtue, there would always be the doubt that Steel's broadcast sowed in the people and their protector. Would Captain Collider always be there to protect them? Or would absolute power one day corrupt him as absolutely as he always feared?
"The future is a labyrinth of chance and consequence. Every decision we make and every action we take draws us closer step by unpredictable step into its maze. When we enter, we don't know when we'll reemerge. And when we reemerge, we have to ask ourselves if we were right to enter. I don't know which route my future actions will take me down, but I know that I'll do all I can to ensure that I emerge into a brighter tomorrow for my being in it, not a darker one." - Captain Collider
Absolute Power
"I should have seen it coming. At the end of the day, my Power Particles are similar in many ways to the cells which make up the rest of my body. And if there's one thing cells can be counted on to do, it's to replicate..." - Captain Collider
During a routine confrontation with the remaining members of the Power Company, Captain Collider was struck by a sudden sense of dizziness and a lack of control over his powers, causing him to severely injure Obelisk and the Thunderer on live television. Mortified and facing pressure from A.P.E.X, Captain Collider withdrew to his Tower of Power to run tests on himself and quickly discovered that his Power Particles, once thought to be a stable quantity, had been gradually replicating and taking over his body, increasing his powers to dangerous and unpredictable levels.
"Absolute power corrupts absolutely...I couldn't allow that to happen." - Captain Collider
As a host of new and erratic powers such as teleportation, intangibility, duplication and size manipulation began to surface in Captain Collider, he struggled to find ways to stunt the rapid growth in the concentration of his Power Particles and reduce them to their normal levels. After a number of failures, however, it was the rapid replication of his Power Particles that, ironically, provided him with a solution when the concentration in his brain grew to such an extent that he developed a mental connection to the Metaverse, granting him a unique type of 'cosmic intelligence.'
"It was like...waking up from a daze. Suddenly everything was clearer, and yet all so difficult to comprehend..." - Captain Collider
Siphoning off information from the Metaverse, Captain Collider became aware of the existence of a being known as the Superextant. Born in 19th century England, the man who would one day be known as the Superextant was once a super-genius Earth scientist named Noah Masterton. Unwittingly born a metahuman with the power of self-molecular manipulation, Masterton subconsciously used his powers to enhance his intelligence beyond that of the vast majority of humans alive during his time. Obsessed with the work of Charles Darwin, he developed several ideas and theories that would eventually be popularised as 'transhumanism'. Centuries ahead of his time, he became convinced that human evolution had been precipitated by some kind of transcendent non-human race and that the only way for humanity as a species to fully understand its purpose was to evolve beyond its current state. Though he was mocked and jeered for what had seemed like insane ramblings at the time, Masterton's theories were proven correct when he discovered a severely damaged piece of alien technology during an archaeological dig. With complete fanaticism, Masterton analysed and experimented on the piece of tech in secrecy, refusing to announce the discovery to the scientific world. His ministrations soon bore fruit when he inadvertently triggered the technology, transporting him from Earth to its planet of origin. What happened to Masterton when he materialised on this heretofore unknown alien planet remained a mystery, but eventually Masterton was able to transcend his own humanity, becoming an immortal post-human in possession of ancient Progenitor technology. With his newfound status, Masterton became the Superextant and spent a century travelling the cosmos, observing and manipulating entire species out of what appeared to be scientific curiosity.
"This Superextant was like nothing I had ever seen before. Here was someone who had managed to not only transcend the limitations of his species, but also the limitations of his own mortality. He manipulated evolution and genetics as casually as someone would flip through a book. If there was anyone capable of fixing me, it had to be him. " - Captain Collider
Seeking out the Superextant, Captain Collider implored him to find a way to slow the rapid replication of his Power Particles and eliminate the slew of unstable new powers they had bestowed upon him. Though seemingly reluctant to stunt Captain Collider's potential to be "more than what was intended for him" at first, the Superextant eventually agreed and began using his Progenitor technology to 'cure' the hero's condition, explaining that he would relish the opportunity to better understand the Metaverse.
"I don't know if it was my fear of what I was becoming or my eagerness to get back to some sense of normalcy, but I left my life and my powers in the hands of a mad scientist with a cosmic agenda. I should have been more careful..." - Captain Collider
It was during this process that the Superextant explained his true motivation for helping Captain Collider. Revealing that he had been observing Captain Collider since the moment he got his powers, the Superextant used his technology to cure the hero, but also siphoned off the excess replicating Power Particles for use in his own 'experiment'. With them, he planned to create an entire race of Power Particle infused creatures and accelerate their growth to observe whether or not they would be powerful enough to conquer an entire universe. Outraged at the notion of sacrificing trillions of lives for the sake of experimentation, Captain Collider used his regained control of his powers to oppose the Superextant.
"The man was willing to commit mass genocide just to see if he could. He had evolved beyond humanity and, in the process, he had forgotten what it meant to be human." - Captain Collider
Though Captain Collider was able to deal the Superextant no small amount of damage, the post-human proved to be vastly more powerful and eventually defeated him. Impressed with Captain Collider's tenacity, however, he opted to alter his plans, instead deciding to travel back in time and use the Power Particles to completely alter the course of human evolution from its earliest possible point, hoping to create an entire planet of Metaversal conduits endowed with the indomitable human spirit. Refusing to let him do so, Captain Collider used his own chronokinesis to follow him and the two fought once more to a near standstill on a primordial Earth.
"There we were, the only two sapient beings around for lightyears, duking it out at the beginning of all human life. And no matter what he threw at me, so long as I still had a shred of humanity in me, I would never let him win. I would fight him to my last breath." - Captain Collider
Though Captain Collider soon found himself being overpowered once more, he suddenly became aware of the fact that his mental connection to the Metaverse persisted after the procedure the Superextant had performed on him and, as such, he was able to draw upon its information on Noah Masterton before he became the Superextant. Using this information, Captain Collider implored to what remained of the Superextant's humanity and insisted that a universe in which all power is stacked in the favour of a single all-powerful species is not only a universe in which no evolution could possibly occur, but also one in which the core tenets of transhumanism would become irrelevant in the face of absolute power: it would create a universe in which progress would cease to exist and everything would become stagnant. Taken aback by the notion of his only reason for being no longer existing as a concept, the Superextant relented, disposing of the replicating Power Particles and returning himself and Captain Collider to the present.
"Evolution is progression and vice versa. Without one, the other cannot exist. Somewhere along the way, the Superextant stopped realising that." - Captain Collider
Back in the present, the Superextant explained that, although he had managed to significantly slow Power Particle replication and remove the unstable powers in Captain Collider, there was no guarantee that the same problem wouldn't surface in the distant future and his mental connection to the Metaverse could not be safely reversed. Though still concerned at the potential growth of his powers at the cost of his humanity, Captain Collider was able to accept that evolution is fundamental to life and that any attempts to fight or pervert it would only lead to complication. Bidding farewell to the Superextant, he returned to Earth prepared to face whatever the future would bring.
"So long as there is life, there'll be evolution. And maybe it's all we can do to let it do its job." - Captain Collider
As Captain Collider departed, the solemn Superextant immediately rematerialised the seemingly destroyed Power Particles and placed them in storage aboard his vessel. Though he had been discouraged from using them on this occasion, he remained convinced that, one day, they would serve a purpose and that he would most likely run afoul of the hero in the near future.
"Absolute power may tend to corrupt absolutely, but that doesn't mean it has to." - Captain Collider
Recent Events
"I've still got a lot of work to do..." - Captain Collider
Now thirty-six years old, Mal Parton has been Captain Collider for just over six years. In that time, he has encountered and thwarted a number of supervillains, cosmic entities, interdimensional conquerors and even time travellers to tirelessly push the boundaries of science and heroism as best he can. He has built a reputation for himself in Arcadia City to the point where an entire section of its star landmark, the science museum known as the Wonderdome, has been dedicated to the scientific principles behind his powers. Still, as the mystery behind the true origin of Power Particle begins to become clearer, the future impact of their discovery and Captain Collider's ultimate effect on all humanity become increasingly more dubious. Can one man, regardless of power, completely change the future? And if so, would it be for better or worse?
"When I look at the symbol on my chest, I see potential. Unlimited potential. I see the power to create or destroy. I see all the efforts of the world's greatest minds expanding outwards to a universe of infinite discovery and ceaseless wonders. It is the final frontier of all existence and I will always strive to be the Final Frontiersman. I am Captain Collider." - Captain Collider
Powers
"If you could see the universe through my eyes and manipulate it as I can, you'd be a little cautious too." - Captain Collider
Metaverse Conduit
"The Multiverse is like an atom. Each and every world is drawn together by a single nucleus that governs them all under the same fundamental principles. That nucleus is the Metaverse and, with the Power Particles that flow through me, I am its conduit. Ungoverned by the restrictions of physical laws, my Power Particles make me a literal force of nature. They allow me to do extraordinary things to protect the Multiverse from all who would threaten it." - Captain Collider
Though he initially believed them to be particles capable of granting powers to suit any situation, Captain Collider has recently discovered that the Power Particles that make up 37% of his physical form are, in fact, sub-atomic particles of energy from another universe made manifest in our own. These particles serve as a link to the Metaverse -- an abstract metaphysical dimension which governs the laws of physics across the entire Multiverse. Due to his accident, Captain Collider now exists as a conduit between our physical world and the Metaverse, granting him the power to manipulate physics in order to influence his own abilities and the world around him in extraordinary ways. As a result, Captain Collider has become a metahuman of extraordinary power and might with a potential restrained only by his comparatively narrow perception of the true nature of the universe and his humanity. In addition to this, Captain Collider's devout belief in pacifism often stops him from using his abilities excessively or in overtly destructive ways, further limiting the development of what might otherwise be godlike power. Still, as time marches on, Captain Collider's understanding of his powers and their upper limits becomes increasingly more intricate and his view of existence as a whole threatens to change with it.
Currently, Captain Collider's existence as a Metaverse Conduit grants him the following superhuman powers:
Physical
Bioelectric Field

Superhuman Strength
Invulnerability
The Power Particles surging through Captain Collider's structure generate an imperceptible bioelectric field with a unique electromagnetic resonance around his body. This field can be shared through contact, allowing the hero to exert tremendous strength and force through physical contact. It also acts as a dermal barrier which makes him extremely resistant to harm. The strength of the bioelectric field can be manually increased or decreased to suit Captain Collider's needs, allowing him some level control over his physical power. Though the exact upper limits of the field have yet to be seen, Captain Collider was once able to lift a monument weighing in at roughly 500 tons with some strain and notably pushed a small moon back into orbit to save a doomed planet. It also renders him nigh-invulnerable to the point where most physical attacks are incapable of even damaging his skin, let alone the flesh beneath. Given the source of the field's power, it is theoretically possible that Captain Collider's strength and invulnerability are limited only by the strain on his connection to the Metaverse, which may otherwise supply boundless energy.
By accelerating his Power Particles at high speeds, Captain Collider is capable of simulating several aspects super speed and achieving self-propelled flight. As a result, he can process thoughts, move, fly, run and react at approximately the speed of light when pushed to his limits. Though he has shown himself to be capable of moving his particles at the speed of light, however, he lacks the reflexes most high-level speedsters possess and, therefore, typically settles for more manageable speeds. He normally uses his powers to absorb the kinetic energy he releases when breaking the sound barrier in order to negate its damaging effects.
Enhanced Vision

EM Vision
Telescopic Vision
Microscopic Vision
By manipulating the Power Particles in his eyes, Captain Collider is capable of enhancing or otherwise influencing his vision through application of 'filters' across the electromagnetic spectrum. This 'EM Vision', as he calls it, grants him X-Ray Vision, Infrared Vision, Night Vision, Ultraviolet Vision and the ability to perceive microwaves and radio waves. In addition to this, he can also convert the Power Particles in his eyes to take on the properties of electrons and positrons, which enables him to see at great distances and concentrate his sight on otherwise imperceptible objects in a manner similar to that of a powerful telescope or microscope.
Enhanced Physiology

Enhanced Regeneration
Superhuman Stamina
Self-Sustenance
Decelerated Aging
As a result of the radiation from the Power Particles making up most of his atomic structure, Captain Collider's natural human traits have also been boosted to superhuman levels. His body's natural healing abilities have been increased tenfold, allowing him to recover from diseases, contaminants and any injuries he does receive significantly faster than the average man. He can additionally remain active for extensive periods of time without oxygen, food, water or rest and has shown evidence of significantly decelerated aging.
Non-Physical
Energy Manipulation

Energy Generation
Energy Absorption
Radiation Generation
Radiation Absorption
Collider Vision
Radioactive Vision
By charging his Power Particles with various kinds of energy drawn from the Metaverse, Captain Collider is able to turn his body into a living battery and project any number of distinct energies from it. For the purposes of concentrating this projection in a controlled way, he usually expels it from his eyes or hands, the former of which typically manifests itself as concentrated (and sometimes imperceptible) beams of hyper accelerated energy -- 'Collider Vision'. Though the nature of the energy Captain Collider projects is usually either concussive or atomic, he can alter exactly what he projects whenever the situation calls for it. He can also similarly generate radiation, often expelling imperceptible rays from his eyes or producing 'auras' around various parts of his body. In addition to generating his own energy to charge Power Particles with, Captain Collider can also siphon off energy and radiation from other sources, absorbing and storing it within his Power Particles to temporarily increase their strength and efficacy. Though, like any battery, he has his bursting point, Captain Collider has shown that he is capable of absorbing almost any kind of energy or radiation in massive amounts rivaling -- or, sometimes, exceeding -- even the greatest power sources in the known universe. Though he has often absorbed so much energy that it caused him pain, leaked out or damaged his stabilisation suit, he has yet to reach his actual maximum capacity.
Metaphysical
By channeling the Metaverse's dominion over the laws of physics through his Power Particles, Captain Collider is able to manipulate matter on a sub-atomic level, altering the physical or elemental properties of any given structure to an almost limitless degree. He has shown himself to be capable of manipulating things without touch, shifting the matter state of different substances, altering their density, atomically deconstructing and reconstructing substances, transmuting one form of matter into another, creating new elements and even completely dissociating subatomic bonds to disintegrate the subject of his manipulation. Despite the vast potential of this power, Captain Collider is seemingly incapable of manipulating the matter of living organisms.
Captain Collider discovered his chronokinesis when he was forced by Eli Arcadia to go backwards in time to stop a newly empowered Minuteman. Since then, Captain Collider has developed some control over the ability. With his chronokinesis, he can travel backwards and forwards in time by hyper-accelerating his Power Particles, divorcing his physical structure from the flow of time to 'insert' himself elsewhere. As a side-effect, he is also capable of subconsciously perceiving time, allowing him to detect those who come from alternate timelines and periods and sense temporal complications. He has also shown a resistance to temporal alteration, retaining his memories of pre-altered timelines in all but the most extreme cases. Due to the dangers of manipulating time and the difficulty of doing it accurately, however, Captain Collider almost never resorts to using his chronokinesis.
As a side-effect of being a physical conduit for the Metaverse's cosmic energy to flow through, Captain Collider possess an instinctual cosmic awareness of what transpires throughout the Multiverse at large, acting almost like a sixth sense of sorts. Though the vagaries of this 'Meta-Vision' are little understood by Captain Collider himself, it usually manifests passively and allows him to detect significant threats to the Multiverse's well-being, wide-spanning changes to its status quo and powerful cosmic energy signatures among other things. Perhaps the most advanced use of this Meta-Vision, however, is harnessing its detection of cosmic energy signatures and events to track them across the Multiverse.
Captain Collider recently developed this power when the concentration of Power Particles in his brain replicated to the point where it began to influence its function. As a result, his brain has a connection through which it is able to transfer the bio-electric signals associated with brain activity between itself and the Metaverse. Due to the development of this power, Captain Collider gradually reached a level of intelligence that exceeded his previous human capabilities and has a potentially limitless capacity for intellectual growth. By replicating memories in the Metaverse, Captain Collider is effectively able to 'back-up' information in a 'cosmic hard drive'. He is also capable of drawing upon his Metaversal connection to 'download' information on certain phenomenon throughout the Multiverse and "sense" disturbances through his surrounding atoms. He possesses a level of non-linear thought and can potentially carry out infinite thought processes at once. It is even theorised that, in the event of his death, his consciousness could live on within the Metaverse.
Equipment
"Usually, it's my enemies who need to equip themselves against me." - Captain Collider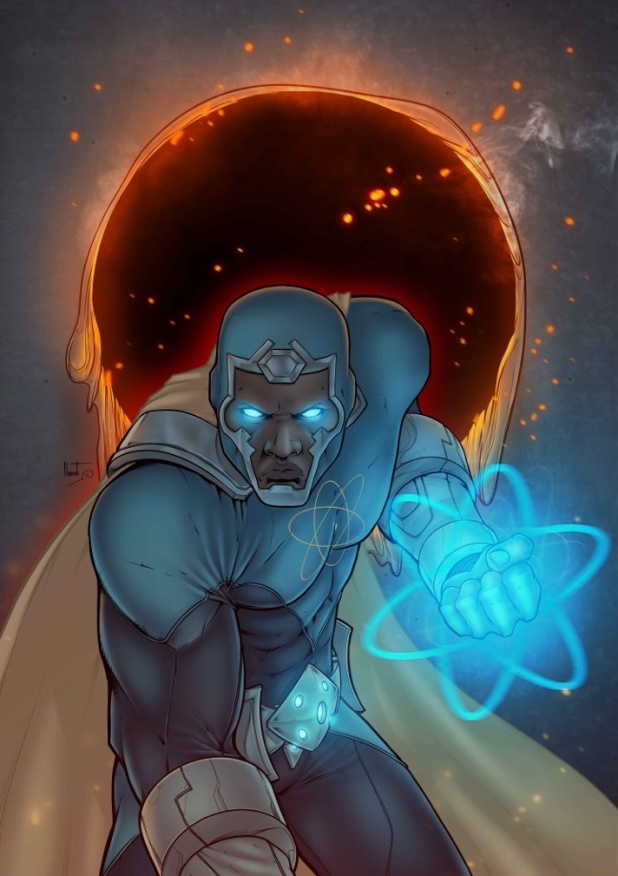 Collider Stabilisation Suit
"My suit is what helps hold me together in more ways than one. It makes me feel human." - Captain Collider
When Captain Collider's powers first began to manifest themselves, the difficulty he had controlling them gave him cause for concern. Theorising that, if he ever lost control he might wind up combusting into a black hole, Captain Collider constructed the Collider Stabilisation Suit. Made out of a patented protective material known as Omniflex, the Collider Stabilisation Suit is capable of both containing Captain Collider's fluctuating power levels and offering resistance to all manner of destructive elements, making its exceedingly durable.
In addition to the Omniflex, the stabilisation suit is outfitted with a number of focusing devices which allow the hero to better control his powers. Crafted out of a kendrium alloy designed to make them both durable and adept at funneling unstable energies, the suit's bracers and boots allow for more focused energy projection while also acting as power limiters. The belt -- crafted from the same material -- acts as the essential element in keeping Captain Collider structurally sound under strain. Finally, the headpiece comes with an airtight visor and ventilation system for underwater and space missions. The cape is made out of the experimental polymer known as Nullymer, created by Mal Parton himself. Through the use of a unique and subtle vibrational frequency constantly resonating through it, Nullymer is able to 'negate' most harmful substances and elements to a significant degree, making it ideal for defending its wearer from harm.
When not operating as a superhero, Captain Collider usually uses his connection to the Metaverse to store the stabilisation suit's particles within it. From there, he can call upon it at will by infusing his hands with ionic energy and slamming his fists together, creating a flash that condenses the particles of his costume over him and atomises his civilian clothes (or vice versa).
---
Parton Collider
"The Parton Collider. Both my greatest creation and my most devastating failure. It will always be my responsibility." - Captain Collider
Created for the purpose of discovering the Power Particle through the collision of other accelerated particles, the Parton Collider was expected to allow superpowers to be reliably bestowed upon any given subject in any given capacity. After Mal Parton activated the Parton Collider for the first time, however, a spontaneous act of self-sacrifice combined with sabotage from Blacksmith caused an unexpected turn of events. In a freak accident, Mal was bombarded by its accelerated particle beams. Torn apart and reconstructed on a subatomic level, he became infused with stable Power Particles and gained extraordinary powers. With these powers he became Captain Collider, the Man of the Millennium.
Though he he has tried many times, Mal has yet to succeed in replicating the conditions that gave him his powers. Nevertheless, the Parton Collider remains in the centre of the Tower of Power and plays a vital role in Captain Collider's future. As friends and foes from other worlds and timelines appear, all somehow linked to the discovery of the Power Particle, the consequences of the Parton Collider's creation begin to weigh more heavily on Captain Collider's mind and the events unfolding around him.
---
Parton Portal
"The Parton Portal is a necessary evil; one I don't relish taking advantage of." - Captain Collider
An interdimensional portal generator created by Mal Parton to branch out to other dimensions to find Power Particles, the Parton Portal accidentally opened a gateway to a dimension of endless war and entropy known only as Point Z on its activation. From Point Z, the Antimatron arrived in our world and may have destroyed a large part of it if not for Captain Collider. Though he wished to destroy his creation, Captain Collider was forced to use it to trap Doctor Collider where he could do no harm, sequestered in a universe already ravaged by ceaseless chaos. The hero cannot bring himself to destroy it once and for all if because of its utility in containing global and cosmic threats.
Abilities
"Potential is just an abstract concept without application." - Captain Collider
Super Genius Level Intellect: Endowed with an IQ which has been cited as "immeasurably high", Captain Collider possesses a super genius level of intelligence and a brilliant scientific mind. With his keen intellect, Collider has ready access to an eidetic memory, a high capacity for academic progression and the uncanny ability to think faster and on a higher level of reasoning than most people, all of which make him well-suited to the mental toll of regularly and accurately using his powers. His recently discovered 'Cosmic Intelligence' only serves to further enhance his intellectual capabilities. Truly, his mind is his most valuable asset.
---
Brilliant Physicist: With a PhD and years of specialisation in particle physics as well as additional doctorates in astrophysics, mechanical engineering, electrical engineering, aerospace engineering, nuclear physics, quantum mechanics and theoretical physics, Captain Collider is arguably one of the world's foremost physicists, at times decades ahead of his peers in terms of innovation. His vast knowledge of physics is regularly applied to his crime-fighting and his expanding knowledge of the Metaverse as he makes leaps and bounds towards discovering the true nature of the multiverse at large.
---
Expert Chemist and Biologist: Though not as adept in either of these subjects as he is in physics, Captain Collider's knowledge of chemistry and biology is nothing to be sniffed at and he's usually able to put it to good use. Of particular note is his level of study in biochemistry, genetics, metahuman science and xenobiology.
---
Multilingualism: Having used a mixture of his super speed and his eidetic memory to greatly expedite the learning process, Captain Collider has become fluent in a vast number of Earth's many languages. It would be far easier to list the number he has yet to gain some understanding of than it would be to list all the ones he can speak. He knows no alien languages yet, though he has taught himself sign language and knows how to read lips.
Personality
"I may not always look it, but I'm one of the good guys. I'm just a little more...bioluminescent." - Captain Collider
Personable, perceptive and generally earnest, Captain Collider is an affable and dependable person inside and out. A generous, gentle soul, he only wants happiness for as many people as possible and truly wants to see the good in everybody. In his mind, altruism is the human condition and the only reasonable way to ensure mankind's progression as a species. As such, he always goes out of his way to make sure everyone is treated fairly and with a modicum of compassion, even the ones who may not deserve it.
This all-loving personality is reflected in his pacifistic philosophy, which he always strives to maintain. To Captain Collider, violence in any case where violence is not strictly needed is the result of a failure by people to act as civilised creatures. That isn't to say he completely avoids violence, however, as he understands the necessity of it and readily takes up arms when he needs to. Responsibility and duty are very important to Captain Collider. He believes it is his responsibility as a person to use his powers and intellect for good and frowns upon anyone who doesn't. As such, he usually exercises extreme caution to make sure he never crosses any boundaries -- perhaps to a noticeable fault, as he can be rather hesitant to show true force in all but the most pressing situations.
A man of science, Captain Collider has a boundless curiosity when it comes to the subject and approaches any opportunity to expand his intellectual horizons with an overzealousness that contrasts with his usual sobriety. He has an almost unquenchable thirst for understanding how all things work. In addition, he usually confronts obstacles with the lateral mind of a scientist, preferring to take the thinking man's path. He holds knowledge and invention in great esteem and can hardly stop himself from expressing awe and excitement at some of the many marvels he stumbles upon during his adventures. He can even become enthralled to the point where he enthusiastically compliments enemies on their death rays and giant robots while thwarting them. There is a dark side to this passion for science, however, as he can be single-minded in his pursuit of it to the point where he often neglects the social and emotional needs of the people in his life, or even disregards his own well-being.
Though it's easy to get lost in Captain Collider's larger than life presence, the hero readily indulges in his humanity, warts and all. He still conducts himself with some mannerisms of the meeker man he once was. For instance, he bottles up a discernible level of self-doubt and insecurity, can be very self-effacing, embarrasses surprisingly easily and tends to take most people at face value, often responding sincerely to facetious remarks. Captain Collider is also prone to rattling off information, going off on lengthy tangents or complicated scientific explanations. Despite his genius, he has a tendency to be absent-minded about more mundane things such as names and social plans. His pacifism, though admirable, can border on naivete, particularly when dealing with more morally grey scenarios. An outspoken liberal, he is strongly devoted to his own personal beliefs and can become volatile when they're infringed upon -- especially when science, power or authority are exploited. Indeed, the burden of Captain Collider's powers and the constant challenges to his idealism constantly weigh on him, making him brusque and cantankerous when it all gets to be too much. Likewise, the burden of responsibility he places on himself can make him very self-deprecating and emotionally withdrawn, coming across as inexplicably distant and private despite his warm nature and apparent openness. At times, it's almost as if he is wary of expressing too much emotion, a plausible notion considering his vast power and its potential hazards.
On a more personal note, Captain Collider loves people. He regularly tours the world on his college lecture circuits and frequently devotes time to attending public events or just helping many of the civilians he has met during his career. He has a fairly good sense of humour and rarely takes offense to the odd joke on his behalf -- though his own attempts at comedy are often groan-inducing. Open-minded to the extreme, he's always willing to try new things. Despite his friendliness, however, Captain Collider is still very much an introvert and likes to spend time alone with his thoughts when he can. In romance, he has a tendency to be predictably awkward, considering his history. If he develops romantic feelings for a woman he rarely, if ever, makes the first move and usually keeps his affections to himself due to a lack of experience outside of his late wife. It should be noted by any woman in his life, however, that they may have issues competing with his love of science and commitment to superheroics.
Captain Collider's Myers-Briggs personality type is INFJ.
Friends & Allies
"Love all, trust a few and do wrong to none. Not unless they do it first, at least." - Captain Collider
QUARK
Resembling a particle in design, the diminutive robot, QUARK, was made to maximise its mobility in the lab and in the field through the use of anti-gravitational electromagnetic propulsion. Built with a learning artificial intelligence, QUARK possesses the intuitive mind and personality of a human with the processing potential of an advanced robot. In order to make his robotic assistant more 'human', Mal also gave QUARK a 'voicebox' which allows him to simulate human speech patterns to create its own voice and the ability to express its simulated emotional states through the use of emoticons, which are projected on the screen it uses for a 'face'. In place of hands, QUARK utilises tractor beam projectors mounted on either side of its spherical body.
Apart from its various outer features, QUARK also possesses a number of secondary features implanted to better serve Mal during his day to day work. As well as using its 'face' to communicate, QUARK can present information on it and can even act as a two way video communication device. Its tractor beam projectors can be used to project force fields and fire defensive stun blasts. QUARK is also capable of tapping into various radio frequencies and remotely interfacing with technological devices of various shapes and sizes. A universal translator allows him to interpret any known language of human or alien origin and seamlessly translate it with a very small margin of error. An omni-scanner embedded in its visual sensors can scan any number of substances, organisms or energy forms to identify or further analyse them using the robot's wide database of information.
Since donning his cape and becoming a hero, Captain Collider has found QUARK to be an invaluable ally, albeit in a support capacity. With its somewhat timid personality, however, QUARK isn't too fond of having to risk its 'life' doing so and is always ready to voice its apprehension.
After the Battle of Arcadia, the 'QUARK Defense Protocol' used to ward off A.D.A.M drones was fully developed. Now, in the event of Captain Collider's absence, or a citywide (or even global) threat, a squadron of fully equipped modular androids can be dispatched from the Tower of Power for crowd control, prisoner/civilian escort, rescue operations and combat support. These drones -- colloquially known as 'HADRONS' or the 'HADRON Composition' -- resemble QUARK in design, with 'visors' instead of faces and Captain Collider's insignia on their chests.' They also possess voice functions for communication. They are almost fully controlled by QUARK, with some input from Olivier Martin when available.
NPCs
Chief Timothy Bowman: The youngest police chief in Arcadia City's history at the ripe age of twenty-four, Timothy Bowman is the latest in a long line of esteemed police officials in his family's history and is eager to continue his family's legacy. Though he can be cold and stringent to compensate for his relative youth and childlike looks, he has remained a trustworthy and invaluable ally to Captain Collider.
Olivier Martin: The president and CEO of Unlimited Dynamics, Olivier is Captain Collider's boss and his best friend. Born into money and having inherited his post from his father, he has a tendency to be somewhat spoiled and ignorant of other people but is an inherently good person beneath it all and a savvy businessman.
Vanessa Morello: Captain Collider's deceased wife and and a chemist of some renown. She died of a mysterious and terminal illness while Mal Parton was pursuing the Power Particle as a means of curing her. It was later revealed, however, that her terminal illness was deliberately caused by Blacksmith in a vain attempt to stop Mal Parton from discovering the Power Particle.
Gerald Parton: Captain Collider's father and a renowned physicist in his own right, Gerald Parton acts as an intellectual and philosophical mentor to his son when needed and does all he can to support his unique lifestyle. Having lost his mother, Captain Collider is extremely protective of his father, especially in the face of his waning health.
Francine Parton: A successful executive for Unlimited Dynamics' competitor, Steel Industries, Captain Collider's sister is ambitious and ruthless in business but very much cares for her older brother, despite their conflicting ideologies. Captain Collider worries that she may end up getting involved in the company's more shady dealings. She was recently promoted to CEO following Unlimited Dynamics' acquisition of Steel Industries after the Battle of Arcadia.
Grace Parton: Captain Collider's mother and a firefighter, Grace Parton died while he was still young, saving people from a burning building after a devastating earthquake. Though long gone, her example and teachings still inspire the hero in his darkest moments and remind him of the importance of doing the right thing.
Mayor Elizabeth Rhodes: The newly elected mayor of Arcadia City, Elizabeth Rhodes has become a fast acquaintance of Captain Collider through his attendance at various events and countless occasions in which he saved her life. A courageous, determined woman who deeply cares about her city, she has time and again earned Captain Collider's respect. She has also developed something of a crush on him, admiring his kindness, intellect and bravery in the face of hardship. Her romantic feelings aren't necessarily unrequited, either...
Rogues Gallery
"The brightest minds of a generation gone rogue, freak abominations of science, petty men wielding devastating power... Oh, and the odd otherworldly cosmic being bent on complete global annihilation. Welcome to Arcadia City." - Captain Collider
(Archived and maintained by QUARK using Captain Collider's personal files)
Threat Level Key:
| ██ | ██ | ██ | ██ | ██ | ██ | ██ | ██ | ██ |
| --- | --- | --- | --- | --- | --- | --- | --- | --- |
LEVEL 1: Trivial. Subjects pose no or mathematically little threat to Captain Collider, Arcadia City and its citizens. Priority Iota. Minimum Standard Containment.
| ██ | ██ | ██ | ██ | ██ | ██ | ██ | ██ | ██ |
| --- | --- | --- | --- | --- | --- | --- | --- | --- |
LEVEL 2: Minor. Subjects pose a minor threat to Arcadia City and its citizens, but not to Captain Collider. Priority Theta. Standard Containment.
| ██ | ██ | ██ | ██ | ██ | ██ | ██ | ██ | ██ |
| --- | --- | --- | --- | --- | --- | --- | --- | --- |
LEVEL 3: Low. Subjects pose a threat to Arcadia City and its citizens. May also pose a minor threat to Captain Collider under certain conditions. Priority Zeta. Above Standard Containment.
| ██ | ██ | ██ | ██ | ██ | ██ | ██ | ██ | ██ |
| --- | --- | --- | --- | --- | --- | --- | --- | --- |
LEVEL 4: Moderate. Subjects pose a notable threat to Arcadia City and its citizens. May also pose a minor threat to Captain Collider. Priority Epsilon. Maximum Standard Containment.
| ██ | ██ | ██ | ██ | ██ | ██ | ██ | ██ | ██ |
| --- | --- | --- | --- | --- | --- | --- | --- | --- |
LEVEL 5: High. Subjects pose a significant threat to Arcadia City and its citizens. May also pose a threat to Captain Collider. Priority Delta. Additional Containment Measures: Advised.
| ██ | ██ | ██ | ██ | ██ | ██ | ██ | ██ | ██ |
| --- | --- | --- | --- | --- | --- | --- | --- | --- |
LEVEL 6: National. Subjects pose a critical threat to Arcadia City and the rest of the country. May also pose a notable threat to Captain Collider. Priority Gamma. Additional Containment Measures: Necessary.
| ██ | ██ | ██ | ██ | ██ | ██ | ██ | ██ | ██ |
| --- | --- | --- | --- | --- | --- | --- | --- | --- |
LEVEL 7: International. Subjects pose a critical threat to the country and several others. May also pose a significant threat to Captain Collider. Priority Beta. Special Containment Measures: Advised.
| ██ | ██ | ██ | ██ | ██ | ██ | ██ | ██ | ██ |
| --- | --- | --- | --- | --- | --- | --- | --- | --- |
LEVEL 8: Global. Subjects pose an extreme threat to the entire planet. May also pose a critical threat to Captain Collider. Priority Alpha. Special Containment Measures: Necessary.
| ██ | ██ | ██ | ██ | ██ | ██ | ██ | ██ | ██ |
| --- | --- | --- | --- | --- | --- | --- | --- | --- |
LEVEL 9: Cosmic. Subjects pose an extreme threat to the universe/multiverse at large. Also pose an extreme threat to Captain Collider. Priority Omega. Parton Portal Containment: Advised.
Weaknesses
"My father always said that you should never be afraid to be less than perfect, and that you should never be too proud to admit it. - Captain Collider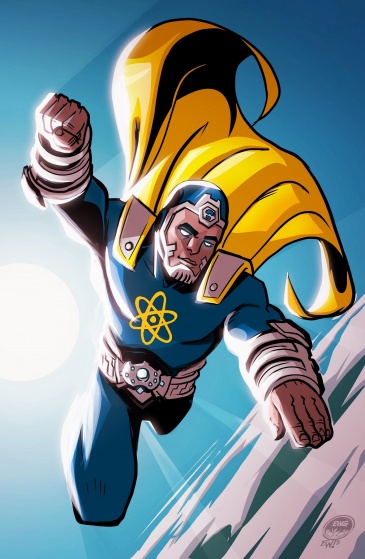 Vulnerabilities
The Cosmic Connection: As a conduit to the Metaverse, Captain Collider's powers are entirely dependent on maintaining his link to it. If this cosmic connection were to be interfered with or completely severed, his powers would be significantly reduced or outright nullified as a result. Concentrated tachyon bursts, certain types of cosmic radiation, inverted Power Particles, distorted physical laws and even overexertion have all been known to have a negative impact on Captain Collider's connection to the Metaverse.
Right in the Joules: He also runs the risk of losing his molecular stability if he absorbs too much energy, though the upper limits of the amount he can absorb is unknown.
Shock to the System: Captain Collider has shown more vulnerability to electricity than any other type of naturally occurring energy. Too much of it can scramble his bioelectric field, weakening his physical prowess and it overloads his energy absorbing abilities far quicker than other mundane energy types.
Abra Kadabr-ouch: As with many science-based heroes, Captain Collider has little resistance against magic based attacks and is almost as vulnerable to them as a normal person.
Mind Over Matter: In order to use his powers, Captain Collider needs to understand the particles he's working with and what he's doing with them. If you cut off his knowledge or screw around with his mind enough, you can cut off some of his powers. As such, Captain Collider has a notable vulnerability to psionics that is only slightly lessened by his cosmic intelligence.
Shortcomings
Earth-Shattering Kaboom: One of Captain Collider's greatest shortcomings is his lack of fine control over his powers. If the belt of his suit is damaged beyond repair and the strain on his powers is too great, it is a strong possibility that he could explode into super dense particles, creating a black hole in his wake. The fear of doing so constantly weighs on him and prompts him to limit himself both physically and emotionally.
Made From Concentrate: The more complex elements of Captain Collider's powers are extremely difficult to control with precision and require concentration to be used properly.
Plight of the Pacifist: Captain Collider is a textbook pacifist. A smart opponent can take advantage of this, so long as they remember that even most pacifists have a logical limit.
As You Live And Breathe: Either through his own unwillingness to do so or an actual limitation of his powers, Captain Collider cannot manipulate the matter of living organisms. While not a weakness in a traditional sense of the word, it's helpful to know which lines he won't cross.
Very Disenchanting: Captain Collider's matter manipulating powers are incapable of influencing items sufficiently cosmic or magical in nature.
Test Your Metal: Captain Collider is incapable of seeing through lead with any of his vision-based powers. While he can see through questionite, it's comparable to looking through a fog.
Projecting Problems: While Captain Collider can project all manner of energy and radiation, he is only able to channel and project one kind at any given time. He is incapable of mixing and matching multiple energy types and, instead, must settle for 'switching out'.
Soundtrack
"Science and music are more alike than you'd think. Although I don't expect Aerosmith to present a serious threat to Metaversal stability. " - Captain Collider
1. Sand of Time - Audiomachine
4. Flight Of Freedom - Aaron Sapp
6. Solaris - Christopher Drake
9. Defenders of the Realm - Twelve Titans Music
13. Starfleet - Two Steps From Hell
RP Hooks
"Behind it all and despite everything, I like to think I'm still just as human as anyone. Well, maybe not -just- as human." - Captain Collider
If you're a scientist or a science enthusiast, you might be familiar with Captain Collider's work and presence in the scientific world. You might even have worked with him before or after he became a hero.
A student studying physics at a college level? Perhaps Captain Collider has given you a lecture at some point.
It's not unlikely that you may have seen Captain Collider attending or participating in a charity event.
Captain Collider has published a number of books about the Power Particle and other key topics of physics in his long-spanning career as a physicist. Interested in the subject? Maybe you've read one.
If you're a business type, you may have encountered Unlimited Dynamics in the past, in which case you've probably heard of their pride and joy, Captain Collider.
If you're living in or near Arcadia City, you may be familiar with Captain Collider's reputation.
Trivia
"I'm probably one of the smartest men on the planet and there's still so much I don't know -- so much I can never hope to know. But i'm always willing to learn." - Captain Collider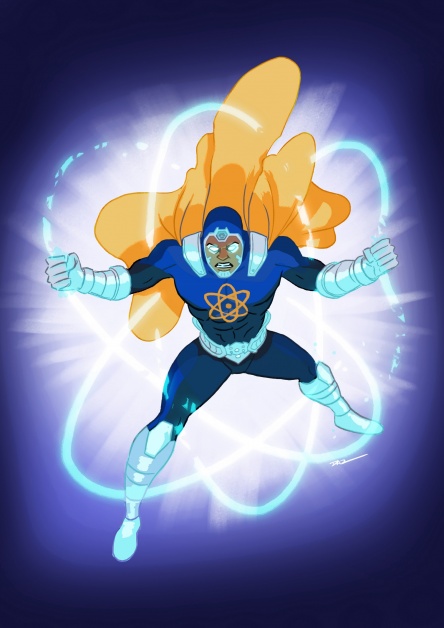 Captain Collider is primarily inspired by: Captain Atom (DC), Firestorm (DC), Superman (DC), The Flash (DC), Dr. Manhattan (DC), Blue Marvel (Marvel), Hank Pym (Marvel) and Mr. Fantastic (Marvel). Additional influences include: Captain Universe (Marvel), The Atom (DC), Mr. Terrific (DC), Green Arrow (DC) and Doc Savage.
The Metaverse is inspired by: The Firestorm Matrix (DC), The Quantum Field (DC), The Speed Force (DC) and The Uni-Power (Marvel).
QUARK is inspired by: Skeets (DC), H.E.R.B.I.E (Marvel), Ultron (Marvel), J.A.R.V.I.S (MCU) and C-3PO (Star Wars).
The HADRON Composition is inspired by: OMACs (DC), Superman Robots (DC), The Manhunters (DC) and The Iron Legion (MCU).
If I had to pick a voice actor for Captain Collider it would definitely be Phil Morris.
Captain Collider has written a number of books on particle physics including his best-seller, 'The Power Particle'.
Captain Collider regularly gives lectures on physics at various higher education institutions around the world. It's one of his greatest joys in life.
Captain Collider arguably ranks among the most prominent physicists in the world and is a strong contender for being one of the smartest men alive. He generally shows no interest in that sort of competition, however. Or, rather, he pretends not to...
Despite being generally amicable, Captain Collider prefers to work alone and tends to steer clear of supergroups. This is partially because he believes most supergroups take an authoritarian slant on being heroes, becoming more akin to military organisations and conflicting with his vocal liberalism. He has recently, however, started an ad-hoc supergroup of his own that might change his mind....
When Captain Collider's costume was first designed it had a red and black colour scheme. After wearing it once he quickly informed the designers that it was too 'menacing' and asked for a more calming primary colour.
Captain Collider's favourite film is 'It's A Wonderful Life'. His favourite books are 'Men Like Gods', 'The Stars My Destination' and 'The Adventures of Huckleberry Finn.' His favourite food is waffles with caramel syrup.
Captain Collider is an absolutely terrible cook. Just awful, really.
Captain Collider has a rather eclectic taste in music. He constantly bounces from popular genres such as jazz and pop to more obscure sub-genres such as political rap and mathcore with an almost baffling lack of consistency.
Captain Collider is an outspoken liberal progressive. Though he strives to remain impartial, there are times where his views influence his heroic actions.
Though he has the power to manipulate the laws of physics themselves now, Captain Collider hasn't retired from his role as a physicist. Far from it, he gladly uses his new powers to aid in his scientific investigation and to help other scientists.
It's good that Captain Collider is a pacifist because he has zero combat training. He compensates with strength, durability and, above all, intelligence.
Captain Collider adheres to the belief that magic is simply science which has yet to be grounded by a knowledge of its physical laws. His connection to the Metaverse, which seems almost mystical in its level of high science, only strengthens this view and encourages him to better his understanding of it.
Since his first appearance Captain Collider has accumulated a number of titles and nicknames. Most media outlets and Unlimited Dynamics itself use 'Man of the Millennium' or 'Master of the Atom.' Other heroes and law enforcement officials tend to use 'All-Powerful Pacifist' as a somewhat derogatory title and, in the scientific world, he is often called the 'Final Frontiersman'. After the Metaverse was discovered, some called him the 'Metaversal Man.' Lately, with Arcadia City's rebuilding and acceptance of him, he has been referred to as the 'Best of the Brightest' to tie in with the nickname, 'America's Brightest City'.
Gallery
"A picture is worth a thousand words. Sometimes it's all it takes to remind people that they don't have to be afraid of what they don't understand." - Captain Collider
Taste the glowing fist of science and shit. (Art by Banganger)

Squats and oats. And metaphysical particles from another dimension. Mostly squats and oats. (Art by Daggerpoint)

Great, now we're going to have to get him ANOTHER atom. (Art by Daryl Toh)

There's a hole in the wall where the man can see it all. (Art by DiegoLlorente)
Comments
"Constructive criticism is the mother of self-improvement. Just try not to be -too- harsh." - Captain Collider
Have you got something to say about the high-flying, pacifistic Man Of The Millennium? Feel free to get it down here. Just try to be courteous.
"Limp-wristed lefty." - All-Star
"Mal's as brilliant as he is powerful, a combination which has thankfully landed in his sane and capable hands. In the few times I've seen him action, I've gotten an impression on how compassionate and collected he is - and still, the upper levels of what he can do, I can only guess at." - The Peacemaker
"Our illustrious leader. Generous, driven, creative... but why do I worry for him so much? Time will tell." - Ultima King
"The good Captain has given me a chance to prove myself in the eyes of my love and go on the grandest adventure ever!" - Starlancer
"Mal and I tend to differ in methodology and philosophy, but I suppose that's what makes us unique in that regard. His brilliant mind and connection to the Metaverse are incredible assets to the team and may even be the reason why we're still alive. With all of that being said, Parton needs to be reminded that this team operates on a system of checks and balances. I pray that he doesn't get too carried away with our overall goal." - Watchman