The Progeny
From PRIMUS Database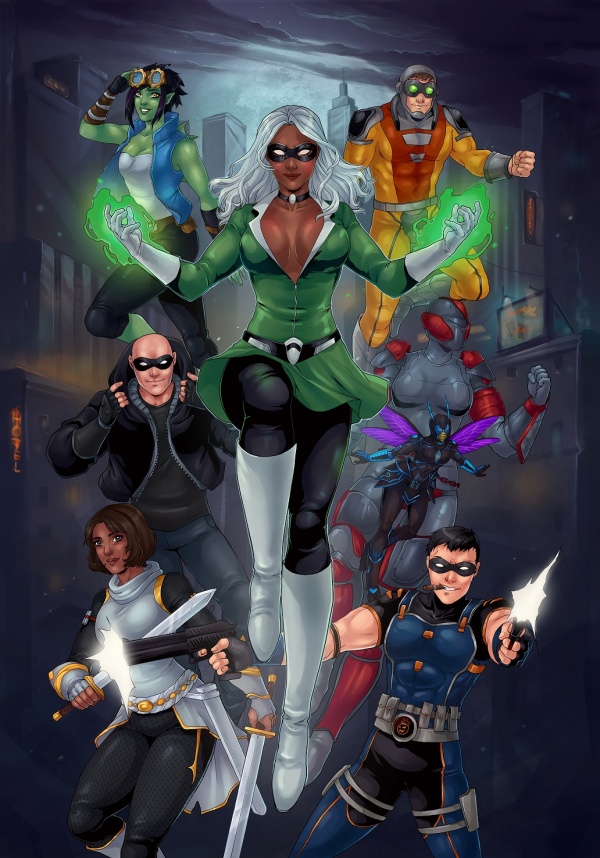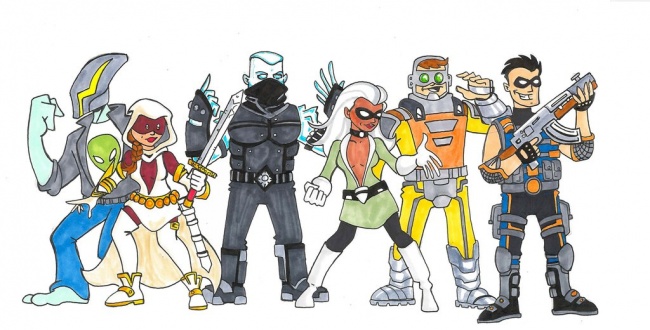 The Progeny is a super group much in the vein of THE TEEN TITANS and YOUNG AVENGERS. It is usually a bit more light hearted fare with the usual teen angst and melodrama that can sometimes follow. The members of The Progeny fall in the age range from mid teens to young adults and work together to fight city or world threatening terrors all while hoping to get at least a 'B' on their history midterm exam the following day. The team is very much a 'capes and tights' type group like THE PROTECTORS OF THE WORLD and look to gear their adventures towards that type of notion. They do not murder, steal or start crimes... they might, however, skip school once in a while. I mean, someone has to stop Therakiel, right?
We are not freely soliciting applications unless specified somewhere. This policy of 'please don't come to us, we will come to you' is so that the players can focus more on the role playing and less on the 'business side' of handling the super group. The Progeny is comprised mostly of veteran players who are comfortable with each others play style. From time to time open events will occur which anyone can be part of. In the event of an opening, it will be on a public forum for those to look into. This allows players who are not officially part of the team to still join in on the hijinks. We also enlist a 'no alts' policy and soft cap of roughly twelve members so everyone is familiar with the characters and no one feels left out or 'out of the loop' with what is going on.
The Progeny uses the PROTECTORS OF THE WORLD sub forums. To know more about these teen sensations, please click the logo below!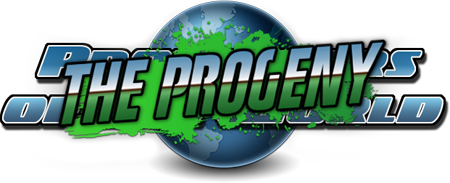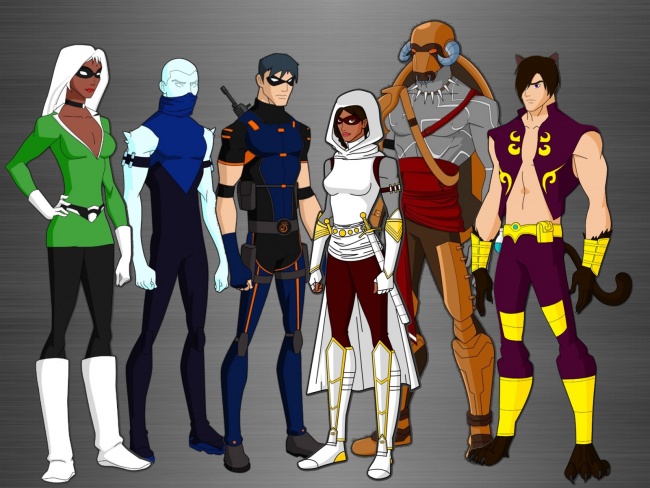 The Progeny were formed by a gathering of the old guard of New Vigil alongside new teen heroes who had never worked within a team before. Lash, known as Olevia Alvarez, had chosen to bring together a number of her old teammates for a reunion party. Several of them decided to meet at the downtown teen hotspot known as 'SWING'. As they chatted, little did they know others who possessed special talents were also there. They also could not guess in their midst was an alien princess whose life was in jeopardy as those she associated with attempted to assassinate her. The heroes quickly stepped into action, bringing their talents together in order to defeat an alien militia as well as save the princess. As she departed, the teens exchanged notes and ideas. They realized that they worked well together and the victory would not have had been possible unless they had done this as a single unit. Thus they formed The Progeny, whose purpose was for these young heroes to combat all kinds of menaces they may not be able to individually.
The team was, fortunately, able to bond quickly. The first few weeks were mostly socializing and getting to know each other while fighting petty crimes. They soon found themselves thrust into larger scale adventures, such as saving Westside High School from super-powered gang members. Soon afterward, they took on a new venture and a home of sorts. Arcade - O - Rama, a rundown arcade store set in a five-story building in Westside, was also a fully outfitted underground lair that a villain used at one time. Making it their own, they set out to renovate both it and the store and the area below, turning it officially into their base of operations. They even took in their first additional member, The Silver Scar, a teenage gladiator from another world.
As time has passed, the roster changed as well. Cobalt Crush, Stegoboy, and Maverick left for other ventures while Cait Sith found himself wandering in and out of the Arcade- O - Rama infrequently as he began to explore this world when passage to his own home was lost. Others found themselves welcomed into the family of heroes in their stead. Some included the Templar Faith, the quirky Communick and even the return of former New Vigil member Luctus to the team. HexBane stepped out of the shadows and was inducted into the team's membership, quickly cementing herself as a central figure for this new iteration of the Progeny. Their challenges grew as well, from small crimes in Westside to actually being forced to confront the sorceress Salei, who wielded powers of the gods themselves. The team managed to overcome against this powerful foe, but it came at the cost of the lives of two of their own: Heartbeat and Kl'vin.
The deaths of their teammates hit the Progeny hard, threatening to split the group as each member came to grips with the losses. Ace disappeared and Faith suffered a crisis in her beliefs, while other members simply withdrew from one another trying to cope. But the group's resident "brobot" and new member Deviate fought hard to keep everyone's spirits up. In time, the team came together, stronger in the wake of the tragedy. Together, they managed to save Lash when she was taken by former teammates of the previous Longwang, and in turn helped to reaffirm her wish to be a hero again. Terrific Tiger - grandson of the original namesake - joined, helping to breath new life into the group. With their new resolve and stronger bonds, the teens were able to come together to take on the threat of a gang of supernatural vampires, the Men in White, and the powerful vampire Kostadin the Black.
The Progeny have their sights set high and continue on as heroes within Millennium City, ready to carve a name for themselves next to their adult contemporaries.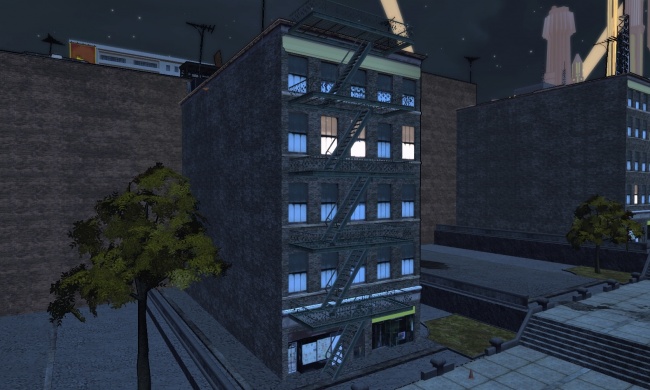 The team began its first few weeks spending far, far too much time at Darren's Pizza near downtown Millennium City. It was the 'go to' spot for many of the Progeny and the de facto headquarters, for lack of a better place. While it was good for them to have a place to unwind, it was also unhealthy to eat that much grease and the owners were not fond of Kid Ballistics's insistence at showing off his new weapons every time he arrived. It was quickly realized by some on the team that a place with a bit more permanence was required.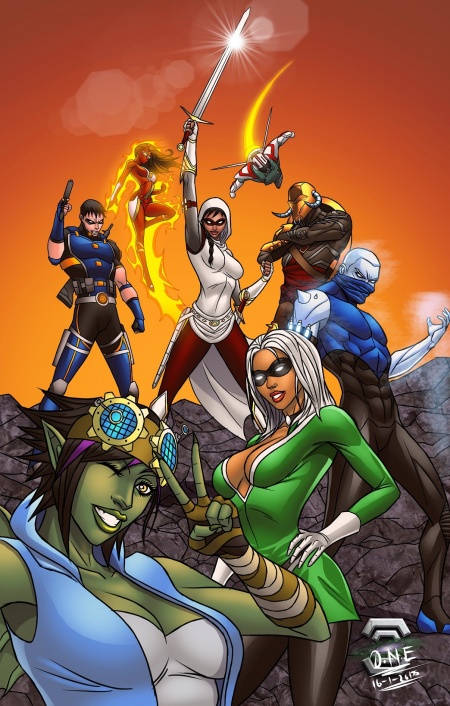 The team has ended up utilizing ARCADE-O-RAMA as their base of operations. Popular in the 1980s, it fell into disrepair after the Battle of Detroit. It is located in a rougher area of Westside and is in a five story brick building. It was purchased through the city as a joint venture through an invented, third-party identity that does not actually exist except on paper. The inside is partially rehabbed at the moment due to the financial assistance of some of the more wealthy individuals on the team. It contains working pinball machines and arcade games that the public can enjoy and doubles as a 'real' establishment that brings in money. It is a local place for teens to hang out, be safe and socialize. The first two floors are the arcade section. The third floor is a warehouse area for spare games in their inventory or ones broken requiring service as well as an office for the property and business. The fourth floor is home to several studio apartments that the team can use if they desire, though they have not been fully rehabbed. The fifth floor is gutted and was not in use until HexBane and Cait Sith wished to expand it as an area for those with magical abilities could gather... most likely unnerving several members in this revelation, but it has proven to be of value. Currently, the building is 'owned' jointly by the remaining original members: Kid Ballistic, Black Ice, Cait Sith, and Lash.
The lower level is where the team spends most of its time. It is the former lair of the villain known as The Pinball Wizard who was brought to justice by Lash and New Vigil member Whitecloak. Realizing that it was just sitting there, empty, the heroine brought it to The Progeny's attention that it could be used as a base of operations by them. Though it needed a bit of elbow grease at the time, the team agreed on it. The lair is accessible though a side panel off the upstairs first floor gaming room or a tunnel that leads out by the docks in Westside.
Arcade-O-Rama has the following in its lower level:
Social Hub. There is a decently sized area where the team can congregate and socialize. An 80 inch flat screen television with sound system gives them a good 'night at the movies' with leather sofas and a love seat. A few newer arcade games have been pulled down here as well so that the team can play games without having to go mingle with others if they do not want to. There is a 'Trophy Room' area located upon its far wall that is a large shelving unit.
Living Quarters. There are eight rooms located in the underground area that have been re-purposed as bedrooms. They are not large, about twelve feet by twelve feet each. If there are members who need to 'get away from it all' or just avoid their parents for the time being they can go here. Some members do live here permanently and as such have decorated their room to their own specific taste.
Kitchen/ Dining Area. It is mostly just a side galley area off the Social Hub, but its a small area that people can fix food and eat in relative peace.
Gymnasium. While not extremely large or state of the art, it allows most members to get a work out in that will be beneficial.
Tech/ Science Room. This room is basically for the tech geniuses of the team. It allows them to store, work on and test gadgets and other devices that they may use now or in the future. Several prototypes exist in here in various states of creation. It is decently outfitted and contains several things that mirror the labs in the Millennium City Police Department's Science Division.
Computer Hub. An area off of the Social Hub as well, this contains the computer systems that monitor upstairs, the downstairs lair, Millennium City alerts and world wide alerts. There is a system in place that will connect to the MCPD or UNTIL for updates if they are needed. It regulates the functions of the lair and protects the team from intrusions with defense systems.
Hangar. This actually is a large area that connects the lower lair of Arcade O Rama with the tunnel system that leads out to the Westside docks. The team stores personal vehicles or items there. A side area somewhat off the hangar has been claimed by Kid Ballistic for his arsenal and is a 'no touch zone' for the other members of the team.
Arcane Workshop. This area serves as both arcane storage and workspace for Cait Sith and any other members of the group who need a place for magic workings. It is located in the largest storage section within the hangar. Wards have been placed around the space, making it ideal for the containment and storage of magical items.

To view the most current state of the Arcade-O-Rama, see State of the Arcade-O-Rama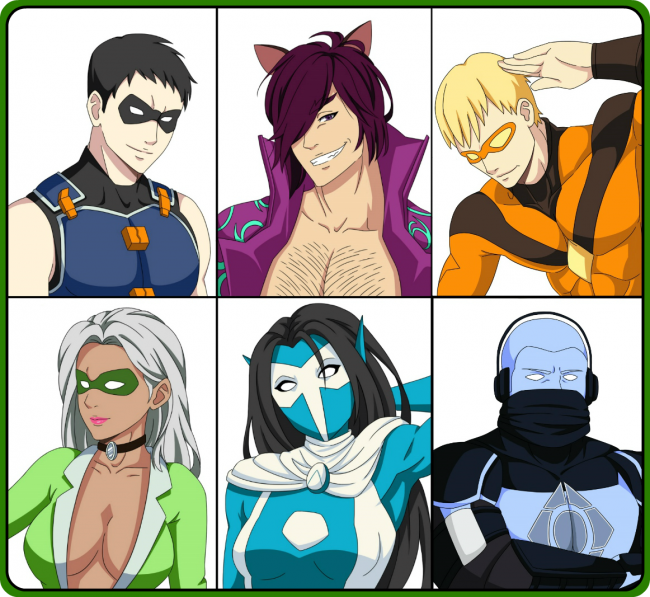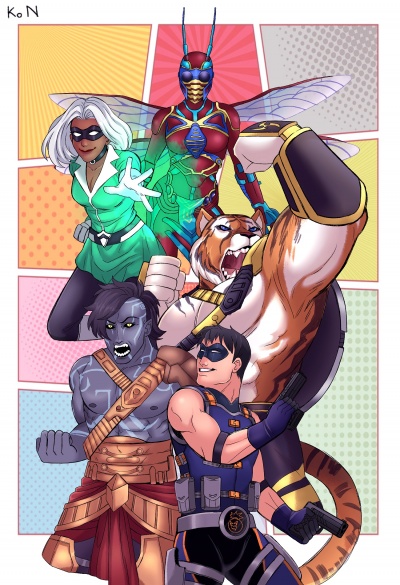 For adventures both within the bounds of Millennium City and without, the Progeny trust in the Buster, their very own armored personnel transport! Designed, created and funded in secret by team members Ace and Kid Ballistic, this beast of a bus made its debut during the Great Outdoors: Progeny Style when it was used to travel to the team's campsite.
Though styled after a shortened school bus, the Buster is actually based on a Humvee frame, and its school bus chassis is fully armored and custom machined to fit. The words "SCHOOL BUS" have been cleverly modified to say " C OOL BUS" on both the front and rear of the vehicle, but otherwise, the Buster appears to be nothing more than a very sturdy short bus.
Currently, there is only one Buster parked in the Arcade's hangar at any time.
Some of the Buster's features include:
A top speed of 90 mph or 145 km/h
Windows enhanced by a glass-clad polycarbonate transparent armor
Armor consisting of high-hardened Ballistic Steel armor and Spectra Shield materials
4-Wheel Drive and 4-Wheel Double Wishbone suspension
Front and Rear winches
Differential disc brakes on all four wheels for maximum control and mobiltiy
Runflat devices for continued mobility if tires are punctured
Central tire inflation system (CTIS) for optimizing tire pressure on soft ground or pavement
Rear exit for emergencies and onload/offload
Top port for emergency egress, complete with stirrup mount for spotlight or mounted weapon use
Radio and intercom for both interior and exterior broadcast
Radar
Police Scanner
Hidden compartments for weapons, gas masks, food, first aid, etc.
Adjustable seats with full safety harnesses
Top of the line satellite radio, bluetooth, and CD player
Top of the line air conditioning
Mini-fridge
Cupholders
CONTINUE TO SCROLL DOWN TO VIEW MORE PROGENY BIOS:
Backup Members: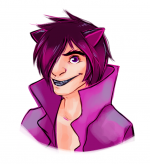 Name: Cait Sith
Abilities: Veils, Shapeshifting, Feline Agility and Senses, Spellcasting
"What else would you expect? I am a cat, after all. A talented cat of course, but a cat nonetheless."

Cait Sith is a cheshire cat, the 13th son of a cheshire cat who calls himself the King of Cats. While most of his siblings and family are tricksters in nature, serving as heralds and agents for various factions of the faerie dimension, Cait's whims and desires have him spending most (if not all) of his time in Millennium City. He is the black sheep in his family since he genuinely wants to help people with no strings attached. Playful, curious, this aloof creature has decided that he will put his abilities to good use by becoming a super hero.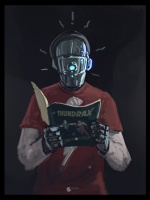 Name: Deviate
Abilities: Kinetic Manipulation, Style
"Beep boop robot noises!"

Deviate is, to all outward appearances, a robotic being. Standing at least a foot taller than most humans, lanky, rail-thin and with a segmented mechanical body, his is a conspicuous presence. His humanoid frame seems awkwardly proportioned, with long limbs, large hands and feet, and a rather bullet-shaped head. While his towering mechanical appearance tends to draw attention on its own, his sense of style (and the fact that he wears clothes at all) seems to garner still more stares and confusion. He has a fondness for bright colors, graphic t-shirts, and unique headwear.
Having spent the majority of his active existence at the SION campus among metahumans and other sapients with extreme mutations, Deviate has a strong tendency towards unconditional acceptance. Faced with the verbal ferocity with which Deviate will fight against social oppression, injustice, and bigotry, some might call him a social justice warrior. This wouldn't be an inaccurate label. He holds himself and those around him to a high standard of morals and ethics, and is not afraid to speak up for and act on what he feels is right.
The Progeny Missions 1-15
The Progeny Missions 16-30
The Progeny Missions 31-45
The Progeny Missions 46-60
The Progeny Missions 61-75
The Progeny Missions 76-90
The Progeny Missions 91-105
The Progeny Missions 106-120
Fashion Maven: Allegedly a former fashion designer, Fashion Maven stated he 'made a deal with the devil' to acquire powers. This remains to be seen if this is in fact true, but he possesses several supernatural abilities. His primary ability is that his body is constructed/ composed of an unknown amount of sentient bolts of colored cloth. Each cloth can be used to fly, bind and harm victims as well as possessing the tensile strength of titanium.
The Pinball Wizard: Current name unknown. The Pinball Wizard was the original owner of the Progeny's current base. He was supposedly brought to justice by Lash and somehow escaped custody. He returned to discover that the teen group was using his lair for their own purposes and tried to forcibly evict them. He suffered a head wound during the melee which rendered him an amnesiac. The Pinball Wizard displays magical abilities such as matter transformation, duplication, invisibility, arcane blasts and minor elemental control. He typically wears a suit of dark metal armor with a red hood and cloak.
Bystryy aka Speedy & Zhidkoye Testo aka The Batter: Two members of the Russian Mafia. While Speedy displays enhanced reaction time and super speed abilities, The Batter wields kinetic properties he can channel through objects to give him enhanced durability, strength and stamina. The Batter can also use his weapon to propel kinetic energy directly outwards if he smashes his bat into something. The duo were brought to the United States in order to kill Kid Ballistic for things both he and his father had done against their crime family. Speedy typically dresses in an all black track suit and has a bald head. The Batter has a buzzed head (black hair) and wears silver shades at all times.
The Power Pack: A gang of superpowered criminals who spent their days holding up banks and robbing fancy stores. Consisting of the de facto leader and Cryo-suit wearing Avalancer, the Low-level Speedster and Dynamokinetic Hypercharge, the Pyrotechnician and resident creep Burnout and the surprisingly mellow Metal behemoth known as Powercore. The Progeny first faced off against these while protecting a local jewelry store from being cleaned out, but that will certainly not be the last the Progeny has seen of the nefarious quartet.
Trygul and Bygul: Two of Cait's older brothers who originally crossed over from Faerie with a group of frost giants. They cursed Kid Ballistic with a love spell after he insulted them, but the Progeny were able to defeat the Cheshire cat twins and their giant posse. During the course of the fighting, their means of returning home was shattered. The twins agreed to lift the spell, in exchange for their freedom. Now they are roaming the human world, bearing a grudge against Cait and his team. Both twins possess the same skill set as Cait, allowing them to take advantage of shapeshifting, illusions and magical spells, though they certainly outclass their younger brother. Typically seen in cat form only, they look like large domestic cats, with black fur and teal colored stripes. True to Cheshire cat lore, they both bear terribly wide, toothy mouths.
Red-Hot: The crazy 'ex-girlfriend' that Oliver never even dated. Red-Hot, her real name is Eleanora Russell, is an international supermodel and superhero, possessing calokinetic powers that her daddy bought for her sixteenth birthday. In truth, she could not care less about helping people and behaves more like a villain. She will stop at nothing to gain the media's attention and views The Progeny, especially Lash, as her biggest competition in the battle for Oliver's affection.
Bloodshot: Bloodshot, or The Huntsman as he is also known as, is a ruthless mercenary whose favored targets are mutants. He collects them, hunts them for sport, sells them to the highest bidder or uses them as a resource. The Huntsman has been used as a bogeyman tale for mutants, but it is definitely not a story suited for young children. Bloodshot is known to supplement his arsenal of heavy weapons with power stolen from mutants, by having himself augmented through gruesome surgical procedures.
Monsterback: A beast the size of three men, and the strength of ten, "Monsterback" has an appetite for destruction, as well as high-calorie food. His origins are mysterious, but the creature appears to be Bobby O'Hara, a defensive lineman for the Stewartville Giants, who transformed into the hairy monster during a game in West Side. Monsterback doesn't seem to fall into any one category of monster: his feet are able to grasp things, like an ape, his teeth are reminiscent of a wolf's, and stranger still, his fur seems to rattle when aggravated, making a strange "hissing" sound that usually precedes an attack. Despite Monsterback's feral demeanor, he seems capable of speaking, and displays a certain machismo, as he usually attacks whatever appears strongest in the vicinity, and doesn't stop until he's won.
Quicksable: Quicksable is a rare breed. A youth with a mind for crime and cruelty, and a speedster entirely on the wrong side of the law. Sable aims to climb to the top of the underworld, and perhaps higher, and stops at nothing to achieve his goals. Many of his crimes are meant to be shows of status and power, to prove that Quicksable is the fastest, the most cunning, and the most fearsome of criminals. Dressed in a black and purple costume to protect himself from the rigors of super speed, Quicksable's face is almost always obscured. The criminal can run, fight, and think at incredible rates, and also violently vibrate his molecules to tear solid materials apart. At times, the villain's youth is laid bare, as Quicksable falls prey to his need to prove himself, a weakness Kid Ballistic has exploited in the past, making the two bitter rivals. Now that the Progeny has taken him down, Quicksable may come to view them all as enemies.
The Alchemist: Passing as the simple owner of a picturesque spice shop in Millennium City's Chinatown, Mister Fu - a seemingly harmless, tiny, old man - is known as The Alchemist on the streets. A feared Asian drug baron with the mighty power of chemokinesis; the ability to manipulate the state and reactions of (non-organic) chemical elements. As if that was not bad enough, Mister Fu is also a Kung Fu master who favors the style of the monkey. Or, as Starlet calls it, a Kung Fu Wizard!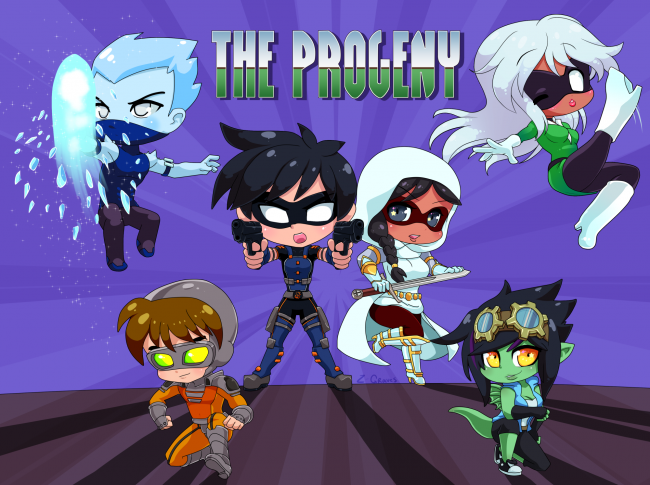 HAVE A COMMENT OR OPINION TO SHARE REGARDING THE PROGENY? WRITE BELOW!
"I would be a much different person than I am today were it not for the Progeny. Before I met them, I kept people at arm's length. I was... friendly to people, but didn't allow myself to form friendships. And then I joined the team. It was rocky at the first, but eventually, they grew to accept me for who I am, and I began to open up more to them. Now I can't imagine where I would be without people like Kid Ballistic, Lash or Silver Scar in my life. The Progeny is much more than just a group of friends to me: they're my family." - Faith
"We're a team. Feel free to fill in the mushy details; warm and fuzzy isn't really my shtick." - Black Ice
"It turns out, when you think you have a lot to teach other people, it usually means that they have even more to teach you. That's what joining the Progeny ended up being for me." - Strong Suit